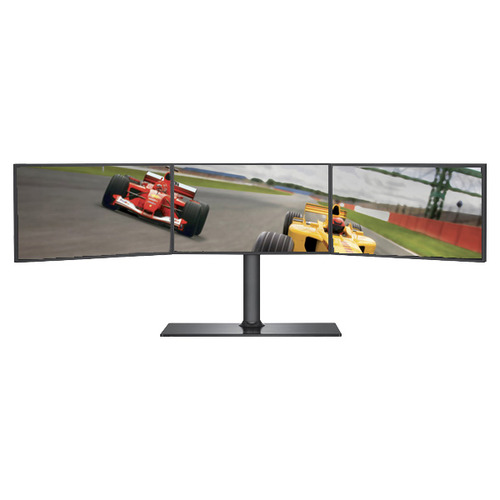 Over the past couple weeks we've done a lot of builds that are sane and reasonable, but today we bring you something a bit different. Yes, this is our ultimate gaming / video editing build. If you've got 10 grand lying on your couch, here's how you should spend it.
Core Components
CPU – Intel Core i7 3960X
As the the fastest consumer Intel CPU, the hex Core i7 3960X is the perfect slab of silicone to power our ultimate gaming and video editing build. This hex core processor is clocked at 3.3GHz (3.9GHz Turbo), includes 15MB of L3 Cache, and an unlocked multiplier for your overclocking pleasure.
Motherboard – ASUS Rampage IV Extreme LGA 2011
To match our beastly processor, we're needed a motherboard equally as beastly and there's nothing more beastly than the ASUS Rampage IV Extreme. This motherboard is fully decked out with the most premium features possible such as Extreme Engine DIGI+ II VRM design which includes Japanese 10K Black metallic capacitors, PCI-E 3.0 slots, support for 4 way SLI and even includes a "ROG OC KEY" to monitor the status of your motherboard in real time.
Memory – 4 x Corsair Vengeance 8GB 1600MHZ DDR3 Low Profile 1.5v
For the memory, we're going to go with 32GB of Corsair Vengeance DDR3 memory. It's low profile so we can fit our massive CPU cooler and with 32GB of memory, this PC will be able to handle even the most complex video editing projects.
Video Card – 4 x EVGA GTX 580 3072MB GDDR5
There's still a couple more days to go until the release of the AMD Radeon HD 7970 which means that the GTX 580 is still the current single GPU performance champ. And what's more awesome than having 4 in a single PC? That's right, nothing, so stop guessing.
Boot Drives – 2 x Patriot Wildfire 240GB SSD
Storage Drives – 4x Hitachi Deskstar 3TB 7200rpm
For storage we're going to go with 2 Patriot Wildfire 240GB SSDs and 4 Hitachi Deskstar 3TB 7200rpm hard drives. The two SSDs will be placed in a raid 0 array making the already blazing fast Patriot Wildfires even faster. The 4 Hitachi Deskstar 3TB hard drives will run in a raid 0+1 configuration to ensure access to fast storage as well as data redundancy.
Optical Drive – Pioneer 12x Internal Blu-ray Drive
Yeah, we'll be watching Blu-ray movies.
PSU – Silverstone ST1500 1500W
Since we'll be running 4 power hungry GTX580's in addition to the i7 3960X, we'll need a beefy power supply to keep this rig purring. This is where the Silverstone ST1500 power supply comes in. capable of providing 1500W of power and a 80 plus silver certification, this power supply is one of the only power supplies that can feed this power hungry extreme setup.
Case – Silverstone TJ11 Full Tower
Like ferocious beasts in a zoo, our epic components need a comfortable, sturdy, and roomy cage to rest in, and there's no better cage than the Silverstone TJ11 Full Tower. It comes with support for up to XL-ATX motherboards, 9+1 expansion slots, USB 3.0 ports, a unique 90 degree rotated motherboard mounting system, a large window to show off your brand new quad SLI system, and a solid body to keep your friend's drool of envy from damaging your system.
CPU Cooler – Phanteks PH-TC14PE + Phanteks PH-F140TS
There's a theme with this system and that's the best of everything, so we've also got the best air cooler on the market to go with. What else needs to be said?
Operating System – Windows 7 Ultimate Edition 64 bit
An "ultimate" (No pun intended?) OS for this ultimate machine.
Peripherals
Monitor – Samsung MD230X3 3 Panel Multi Display System
We wanted to push our 4 way SLI to the extreme, so what better way to do so than to play games at 5760×2160? After some debating, we opted for the Samsung MD230X3. These panels were designed for multi-monitor gaming featuring ultrathin bezels to make sure the transition from screen to screen is as seamless as possible.
Sound Card – Creative Sound Blaster Recon 3D USB External Sound Card
We admit it, we prefer PCI-E sounds cards. But, Houston we have a problem. This build has SO many graphics cards that we simply don't have  the physical space to drop one in with the 4 fat GTX580 blocking the slots. Luckily, Creative recently introduced the Sound Blaster Recon 3D external sound card, providing us with access to the incredible sound processing power of Creative's Sound Core technology without having to use an internal sound card.
Headset – Sennheiser PC 360
When it comes to acoustic gear, no one does it quite like Sennheiser. With over half a century of sound engineering expertise, it's a brand you can trust. The Sennheiser PC 360 is a prime of example of the crystal of their experience. Excellent looking and excellent sounding, it's the perfect gaming headset for our ultimate build.
Speakers – Corsair Gaming Audio SP2500 Series 2.1 Speaker System
For those of you who don't sit right with cans over your ears, or you like a "little" thump in your room, there's the Corsair SP2500 series 2.1 speakers. With custom developed drivers and Corsair's own smart speaker system, these speakers can pump out 232w RMS of pure audio bliss.
Mouse and Keyboard – Cyborg Rat 9 + Corsair Vengeance K90
No ultimate setup is complete without a good set of keyboard and mouse. While this is going to be your personal preference, we recommend the Cyborg Rat 9 gaming mouse and the Corsair Vengeance K90 Mechanical Keyboard. The Cyborg RAT 9 includes some seriously cool features such as zero latency wireless technology, a full range of weight and size adjustment options, a lightweight but sturdy aluminum chassis and a 5600 dpi twin eye sensor. The Corsair Vengeance K90 on the other hand features Cherry MX Red key switches, which are great for gaming as well as typing, a full backlighting system, and an uni body aluminum chassis.
The total current price on Amazon for this build is $9,847.62.
Live in Canada? Click here!
Remember, if you have any questions, need some help, or need to fit the build into your budget feel free to visit the forums at http://www.forums.custompcreview.com