ECS Z77 Black Extreme Series Motherboards Get Bling
Navigation: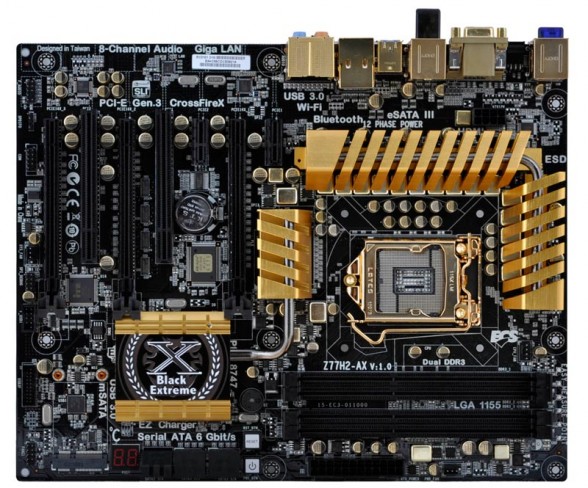 Think your PC got bling because your motherboard has a couple gold capacitors? Better think again!
ECS recently announced that they will be producing the new Z77 Black Extreme Series – Golden Limited Edtiton motherboard that will include tons of bling for you to really up your PC's gansta cred.
According to their recent press release, ECS is including triple thickness gold plated connectors for all the motherboard's connections, so even if you swap components frequently, rest assured the connectors won't wear out. Additionally, it looks like a whole ton of components are gold plated as well from the entire I/O panel, the heatsinks, the CPU socket, as well as the capacitors.
The Z77 Black Extreme Series - Golden Limited Edtiton motherboards are expected to come in 2 SKUs – Z77H2-AX and Z77H2-A2x. Both motherboards will support PCIee 3.0, SATA 3 6Gb/s, Crossfire/SLI support, USB 3.0, Bluetooth, Wireless LAN and much more. For the full details flip over to the full press release.
Pricing is unknown at this time, but I wouldn't expect this thing to come cheap seeing how ECS is only producing 200 of these and each one will include a certificate of authenticity personally autographed by the GM of ECS.