Thermaltake eSPORTS Level 10M Gaming Mouse Review
Vroom vroom!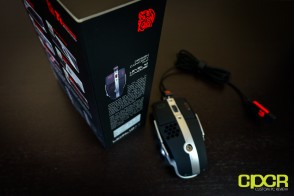 OK, so you own a decked out, ultimate driving machine that makes every car enthusiast droll with envy when you turn on the engine, but when you're not leaving your opponents in the dust on the streets, don't you wish you had a mouse that's as cool as your ride?
That's probably what one Thermaltake designer thought while driving to work one day and thankfully he wasn't a lazy bum who would let the idea slip through his head. Now, after a 5 year collaboration between Thermaltake and BMW DesignworksUSA, the Thermaltake eSPORTS Level 10M emerged.
That said then, today we'll be reviewing the new Thermaltake eSPORTS Level 10M gaming mouse. Since the Level 10M is designed in part by one of the most well known high performance auto manufacturers in the world, it's only natural that it's got that high performance car look, but just as an amazing car, the Level 10M's got some serious stuff under the hood, too. Come embedded in its aluminum belly is an 8200DPI sensor laser sensor with 5 adjustable settings, 7 programmable buttons, an adjustable frame, and an air-through ventilation design to keep your hand cool, and more.
It seems like the only thing this mouse is missing is a showgirl (or two), but can it perform as well as it looks?
Thermaltake eSPORTS Level 10M Specifications
8200 DPI Laser Sensor
7 Buttons
Air-Through Ventilation
3D Steering
Dynamic Color Range
Aluminum Base
1.8M USB Cable