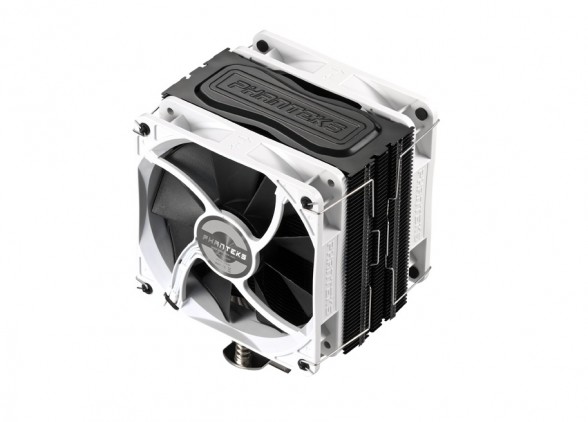 Press Release
Phanteks launches PH-TC12DX, a U-Type dual tower heat-sink with four 6mm heat-pipes allows for optimal airflow and cooling. PH-TC12DX's 6mm heat-pipes are linearly aligned and developed to have the least amount of air and thermal resistance. Incorporating P.A.T.S and C.P.S.C Technologies, PH-TC12DX delivers better heat dissipation and heat transfers. PH-TC12DX includes dual PH-F120HP PWM Premium fans to allow for higher performance and/or silent operation.
Features
Patented. P.A.T.S (Physical Antioxidant Thermal Shield) will greatly increase the cooling performance and reliability while deflecting other thermal radiation from other heat sources, such as the GPU, South Bridge, North Bridge, etc. P.A.T.S, ran at a long period, will display significantly better results in an enclosure, closed environment, than a tech station, open environment. In extreme conditions, PATS is able to withstand temperatures of up to 200 degrees Celsius. P.A.T.S is environmental friendly and non-toxic.
Patented. C.P.S.C (Cold Plasma Spraying Coating Technology) is a brand new technologic forming deposit that displaces heat onto corresponding metals at a quicker rate. With this technology, the Phanteks PH-TC12DX enhances thermal conductivity on the soldered surfaces of the heat-pipes through the copper deposits.
Phanteks PH-F120HP PWM Premium fans uses UFB (Updraft Floating Balance) bearing, Nine blades and MAFO (Maelstrom Air-Fort Optimization) drive system to achieve massive airflow and perfect dynamic balance.  The PH-F120HP fans with the support of the anti-acoustic rubber pad and rubber bar produces low level dB(A) and eliminates vibration. With PWM functions built in, PH-F120HP fans allows you to set speed adjustments for either performance and/or silent operation.
Compatibility
PH-TC12DX Series are compatible with Intel LGA 2011/1155/1156/1366/775 and AMD FM1/AM3+/AM3/AM2+/AM2
Technical Specifications
For more detailed data and specifications information, please visit our website at www.phanteks.com
Pricing and Availability
Now available at your local retailers. The recommended retail price for standard Phanteks, PH-TC12DX is $54.99 and Blue/Red/Black colors edition at $59.99.
For more information regarding the Phanteks PH-TC12DX, be sure to check out the product page here.