Review: Samsung Portable SSD T1 500GB
Ultrafast External Storage at Under 1 Ounce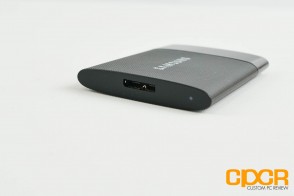 Let's face it. External hard drives kind of suck. They're slow, they're heavy (even the portable ones), and one drop no matter how minor may result in complete data loss. It's a reality of life that most of us have dealt with at least once or twice in our lives. While it's a consolation that flash drives are available to store your data instead, most flash drives these days cap out at 128GB or 256GB with only a few, really expensive drives capable of storing 512GB or more. Even then, performance isn't usually all that great since most flash drives use slow flash drive controllers and bottom of the barrel NAND.
Because of this void in the external storage market, Samsung recently introduced the Samsung Portable SSD (PSSD) T1, which utilizes the latest in SSD technology to provide content creators, enthusiasts, and professionals with access to extremely portable, extremely fast and extremely reliable external storage.
Samsung Portable SSD T1 Specifications
| | |
| --- | --- |
| Manufacturer | Samsung |
| Model | Portable SSD T1 |
| Capacity | 250GB, 500GB, 1TB |
| Interface | USB 2.0, USB 3.0 |
| Transfer Speed | Up to 450MB/s |
| Encryption | AES-256 |
| Dimensions | 71.0 x 9.2 x 53.2 mm |
| Weight | Up to 30g |
| Warranty | 3 Year Limited |
Physically, the Samsung PSSD T1 is a fairly small device, measuring in at less than 2.8″ long, just over 2″ wide, and 0.36″ deep. It also weighs in at about an ounce, so it's not the heaviest thing in the world either. Internally, the Samsung PSSD T1 utilizes a lot of the same components as the recently introduced Samsung 850 EVO. Although the PCB is being redesigned to fit into the PSSD T1's smaller chassis, Samsung will carry over the same MEX/MGX controller along with the 32-layer 3-bit per cell MLC (TLC) 3D V-NAND found in the Samsung 850 EVO.
The Samsung PSSD T1 will be available in capacities of 250GB, 500GB, and 1TB. The drives will support USB 3.0 and will be capable of up to 450MB/s for systems that support UASP (USB Attached SCSI Protocol).
Warranty on the Samsung PSSD T1 is 3 years, which is pretty standard for an external drive, but it's unfortunate that Samsung decided not to provide a 5 year warranty, which is the warranty period on the Samsung 850 EVO. That said, Samsung's 32-layer TLC 3D V-NAND technology is fairly high endurance and should last the life of the drive.
With that out of the way, let's take a closer look!