Samsung 830 Revisited: 256GB SSD Review
100% Samsung v2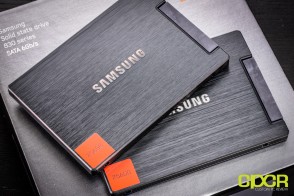 Many months back, I reviewed the Samsung 830 128GB SSD, which I thought was an amazing product capable of delivering top notch performance and a ton of value add for an extremely competitive price. At the time however, the 240GB/256GB capacity was still quite expensive and largely out of reach for most consumers looking to upgrade to an SSD. With numerous price drops occurring through the past few months, the 256GB capacity has become a lot more accessible to a larger majority of consumers, so here we are once again with a review of the Samsung 830 SSD. This time, the 256GB edition.
Similar to the 128GB edition of the Samsung 830, the 256GB edition is completely manufactured in house. Unlike every other SSD manufacturer out there who has to source at least one if not more components from 3rd parties, Samsung sources everything from themselves. Because of this, Samsung is able to control every aspect of their SSD from exactly what NAND goes into the SSD all the way to how the firmware on the controller interfaces with the NAND. This not only reduces cost for Samsung as they don't need to pay any 3rd parties, but they also don't need to rely on third parties when issues crop up, which was something OCZ took a lot of flak for with their SandForce SF-2281 based drives.
Since our review of the Samsung 830 128GB all the way back in early April, the SSD market has gone through a number of changes. As already mentioned, SSDs have greatly dropped in price with most top tier SSDs now in the <$1/GB range. Additionally, a number of new, highly competitive SSDs and SSD manufacturers have entered the SSD market such as the previously reviewed OCZ Vertex 4 256GB and the Kingston HyperX 3K 240GB.
Does the aging 100% Samsung 830 256GB SSD still stand a chance in today's rapidly evolving SSD market?
Samsung 830 256GB Specifications
| | | | | |
| --- | --- | --- | --- | --- |
| Capacity | 64GB | 128GB | 256GB | 512GB |
| Controller | Samsung S4LJ204X01-Y040 | Samsung S4LJ204X01-Y040 | Samsung S4LJ204X01-Y040 | Samsung S4LJ204X01-Y040 |
| NAND | 27nm Toggle Mode MLC | 27nm Toggle Mode MLC | 27nm Toggle Mode MLC | 27nm Toggle Mode MLC |
| Sequential Reads | 520 MB/s | 520 MB/s | 520 MB/s | 520 MB/s |
| Sequential Writes | 160 MB/s | 320 MB/s | 400 MB/s | 400 MB/s |
| Interface | SATA 3 6GB/s | SATA 3 6GB/s | SATA 3 6GB/s | SATA 3 6GB/s |