Samsung 830 Revisited: 256GB SSD Review
100% Samsung v2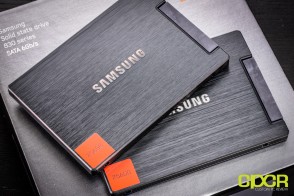 Many months back, I reviewed the Samsung 830 128GB SSD, which I thought was an amazing product capable of delivering top notch performance and a ton of value add for an extremely competitive price. At the time however, the 240GB/256GB capacity was still quite expensive and largely out of reach for most consumers looking to upgrade to an SSD. With numerous price drops occurring through the past few months, the 256GB capacity has become a lot more accessible to a larger majority of consumers, so here we are once again with a review of the Samsung 830 SSD. This time, the 256GB edition.
Similar to the 128GB edition of the Samsung 830, the 256GB edition is completely manufactured in house. Unlike every other SSD manufacturer out there who has to source at least one if not more components from 3rd parties, Samsung sources everything from themselves. Because of this, Samsung is able to control every aspect of their SSD from exactly what NAND goes into the SSD all the way to how the firmware on the controller interfaces with the NAND. This not only reduces cost for Samsung as they don't need to pay any 3rd parties, but they also don't need to rely on third parties when issues crop up, which was something OCZ took a lot of flak for with their SandForce SF-2281 based drives.
Since our review of the Samsung 830 128GB all the way back in early April, the SSD market has gone through a number of changes. As already mentioned, SSDs have greatly dropped in price with most top tier SSDs now in the <$1/GB range. Additionally, a number of new, highly competitive SSDs and SSD manufacturers have entered the SSD market such as the previously reviewed OCZ Vertex 4 256GB and the Kingston HyperX 3K 240GB.
Does the aging 100% Samsung 830 256GB SSD still stand a chance in today's rapidly evolving SSD market?
Samsung 830 256GB Specifications
| | | | | |
| --- | --- | --- | --- | --- |
| Capacity | 64GB | 128GB | 256GB | 512GB |
| Controller | Samsung S4LJ204X01-Y040 | Samsung S4LJ204X01-Y040 | Samsung S4LJ204X01-Y040 | Samsung S4LJ204X01-Y040 |
| NAND | 27nm Toggle Mode MLC | 27nm Toggle Mode MLC | 27nm Toggle Mode MLC | 27nm Toggle Mode MLC |
| Sequential Reads | 520 MB/s | 520 MB/s | 520 MB/s | 520 MB/s |
| Sequential Writes | 160 MB/s | 320 MB/s | 400 MB/s | 400 MB/s |
| Interface | SATA 3 6GB/s | SATA 3 6GB/s | SATA 3 6GB/s | SATA 3 6GB/s |
A Closer Look at the Samsung 830 256GB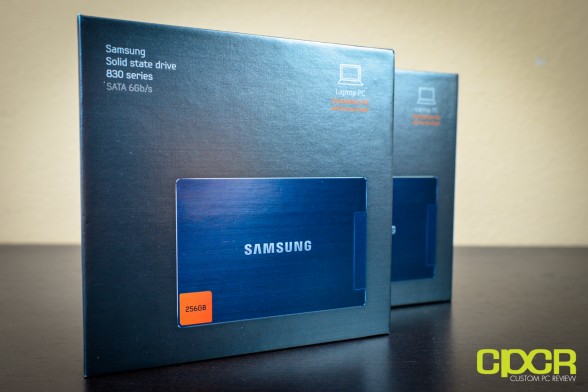 Here's a look at the Samsung 830 256GB box. It's quite similar to the Samsung 830 128GB with the exception that the product photo on the box is a 256GB SSD instead of a 128GB SSD. The specific model we have today is the notebook upgrade kit with the model MZ-7PC256N/AM. The Samsung 830 also comes in a desktop kit edition as well as a bare drive edition.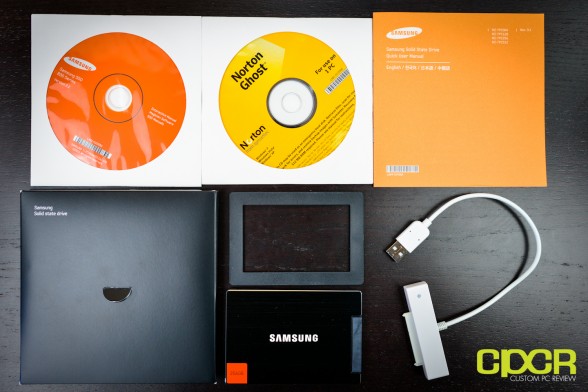 Included in the packaging for the notebook kit, you get some documentation, a copy of Norton Ghost, a copy of the Samsung's Magician software, and a USB to SATA adapter. Additionally, the SSD also comes with a 2mm riser as it's only 7mm thick to allow the SSD to fit into notebooks that are designed to use 9.5mm thick 2.5″ drives.
One thing to note is that when we previously reviewed the 128GB edition of the 830, it also came with a huge value add in the form of a free copy of Batman: Arkham City (~$25). With this new drive, it seems like Samsung is discontinuing the promotion, which is a huge bummer.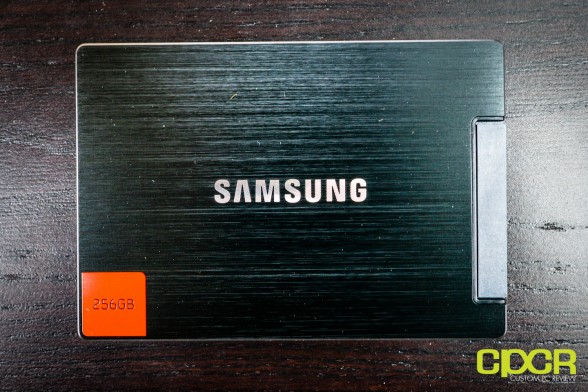 Here's a look at the drive itself. The entire top of the drive has a very sleek brushed aluminum finish with just the Samsung logo through the middle. At the bottom left corner of the drive, we also get information on the drive's capacity.
In terms of connectors, we get the standard SATA 3 6Gb/s connector along with the SATA power connector. Additionally, the Samsung 830 is especially thin, coming in at only 7 mm thick as compared to the more common 9.5 mm. This allows the Samsung 830 to fit into thinner notebooks and ultrabooks that only support 7 mm thick 2.5″ drives.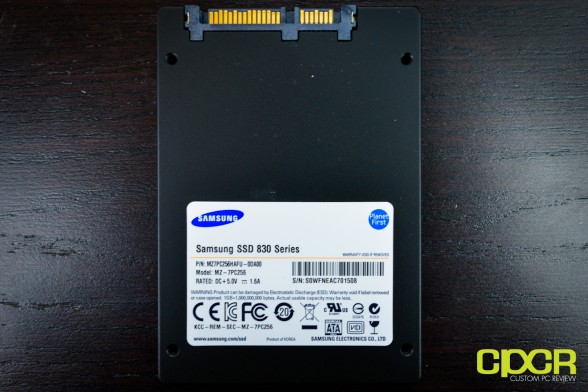 Here's a look at the back of the SSD. Just some information about the SSD here.
A Closer Look at the Samsung 830 256GB
As expected from the last time I opened up one of these Samsung 830 SSDs, Samsung has designed the casing so that you must destroy it to open it. As you can see, there are many little tabs inside the casing that must be broken to gain access to the PCB.
After opening the casing and pulling out the PCB, we notice that Samsung has included a large piece of thermal dissipation material to the top cover of the SSD to help dissipate heat.
Here's a look at the top and bottom of the PCB. The top of the PCB is quite busy while the bottom of empty. Because Samsung has crammed everything onto the top of the PCB, they're able to achieve the 7mm thickness.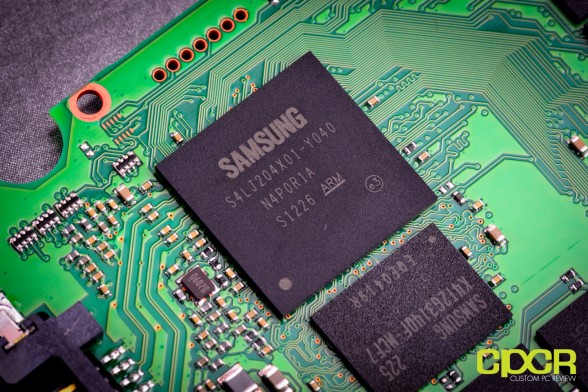 Here's a look at Samsung's very own S4LJ204X01-Y040 3 core ARM9 based controller.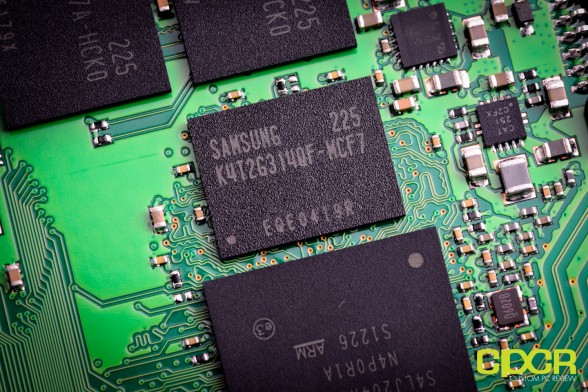 Here we have the Samsung 256MB DDR2 DRAM cache chip. According to Samsung, this cache helps maintain stable random read performance.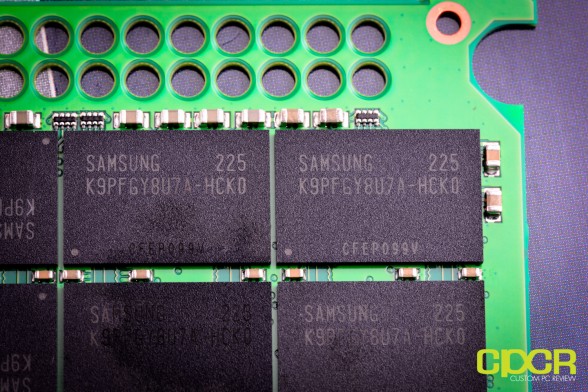 Here's a look at Samsung's 27nm Toggle Mode MLC NAND. According to Samsung, the NAND is rated at up to 133Mbps. As there's 8 NAND chips onboard, each NAND chip houses a total of 32GB storage capacity. The specific model for each NAND chip here is K9FGY8U7A-HCK0.
Because there's physically more NAND chips onboard the 256GB edition of the Samsung 830, more parallel writes can occur, which is probably the reason why the 256GB edition of the 830 is rated for faster write speeds than the 128GB edition.
Ivy Bridge Test Bench
Special thanks to Gigabyte, Kingston, and HSPC for sponsoring our test bench!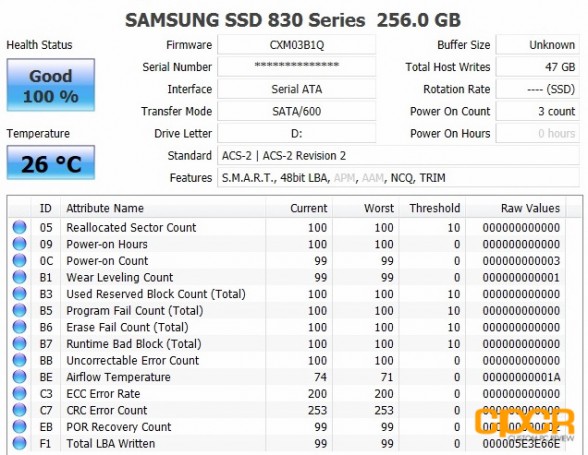 Samsung 830 256GB Performance
ATTO Disk Benchmark v2.46
ATTO Disk Benchmark is one of the industry's oldest and most popular benchmarks for testing disk read/write speeds. This benchmarks allows read and write testing using predefined block sizes and gives us a good idea of read/write speeds with different sized files. Most SSD manufacturers these days prefer using this benchmark when advertising SSDs as it tests using compressible data, which tends to yield better performance.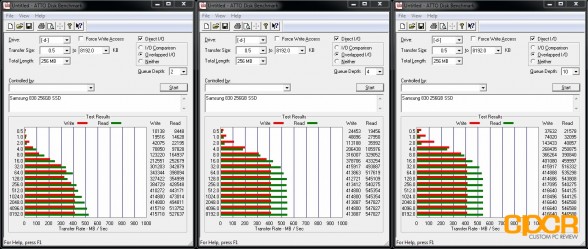 In comparison to the Samsung 830 128GB, the 25GB edition of the SSD is capable of similar sequential reads, but it's capable of about 100MB/s faster sequential writes. This makes the Samsung 830 256GB a lot more competitive as most SandForce based drives are capable of hitting around 500MB/s+ in both read and write speeds in Atto Disk Benchmark. That said, let's move on to some testing with incompressible data.
Samsung 830 256GB Performance
Crystal Disk Mark 3.0.1 x64
Crystal Disk Mark is another popular benchmark which allows us to measure both sequential read/write speeds as well as random read/write speeds. With this benchmark, tests can be run using both random fill (incompressible data) and 0 fill (compressible data). Realistically in typical computer usage scenarios, data being transferred will consist of a mixture of both incompressible and compressible data.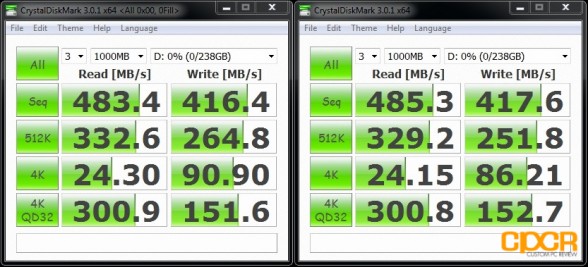 Unlike SandForce based SSDs, the Samsung 830 performs the same no matter if the data being read/written is compressible or incompressible. This is impressive because typically SandForce based drives will see incompressible writes dip to around the low 300MB/s range.
AS SSD Benchmark
AS SSD is a very commonly used benchmark used to measure SSD performance in a number of categories. Here, tests are run using incompressible data, which most simulate real world usage. It also outputs a final score at the conclusion of the test based off the read and write performance of the drive.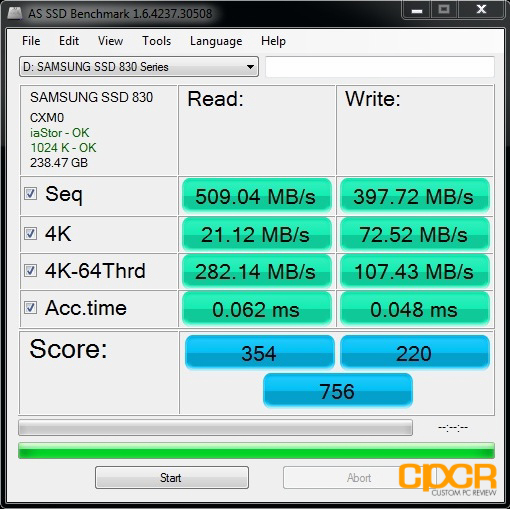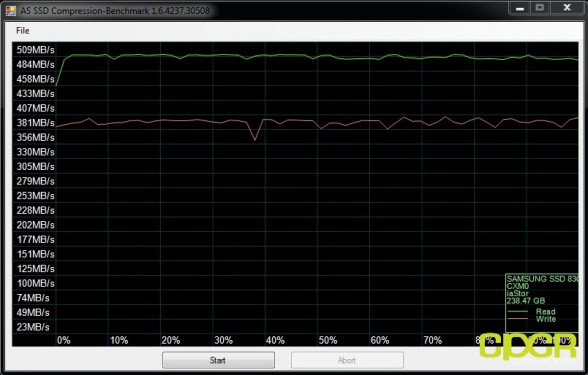 As expected from the results we've already seen in Crystal Disk Mark, the compression benchmark here features a very straight line. This means that performance will be identical across all levels of file compression be it compressible or incompressible.
Samsung 830 256GB Performance
Anvil Storage Utilities
Anvil Storage Utilities is an excellent all around benchmark for testing many different functions of SSD performance. For our purposes, we ran the benchmark through both 0 fill mode (compressible data) on the left and 100% compression (incompressible data) on the right.
Performance seen through Anvil Storage Utilities is quite similar to what we've already seen from Crystal Disk Mark, AS SSD, and Atto Disk Benchmark.
PC Mark 7
The PC Mark 7 storage test tests the SSD under many different real world tests such as gaming, video editing, etc. This is most representative of the SSD's performance under real world situations.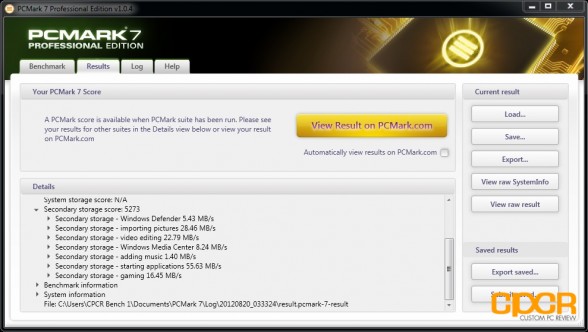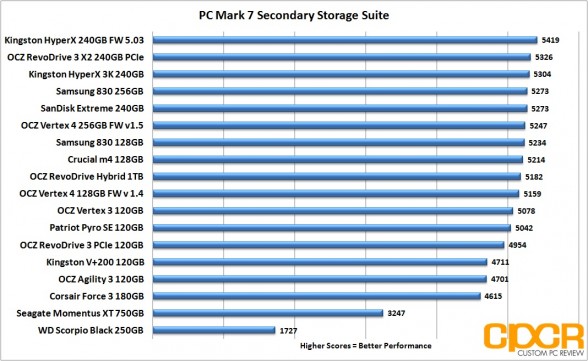 In PC Mark 7, the Samsung 830 256GB scores 5278, which is a score identical to the PC Mark 7 score of the SanDisk Extreme 240GB. It scored 44 points above the Samsung 830 128GB, no doubt due to the faster write speeds found on the 256GB edition.
Samsung 830 256GB Conclusions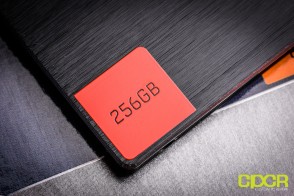 Since I've already reviewed the Samsung 830 128GB, I'll be mostly talking about the performance and pricing when it comes to the Samsung 830 256GB. Those interested in more details about the Samsung 830, be sure to check out the Samsung 830 128GB SSD review here.
So, let's talk about performance for a minute then. What's the major difference with the 256GB Samsung 830? Well, it's going to be the write speeds. With the 256GB Samsung 830, you'll be looking at around a 100MB/s increase in sequential write performance as well as smaller increases in write performance across the board all the way up from the 4k file size. Because of this fast write performance as well as the Samsung 830's ability to put out identically impressive performance while working with both compressible and incompressible data, those looking to do large file transfers of incompressible data will probably want to place the Samsung 830 256GB right at the top of their shopping list especially if the choice is between the 128GB or the 256GB Samsung 830.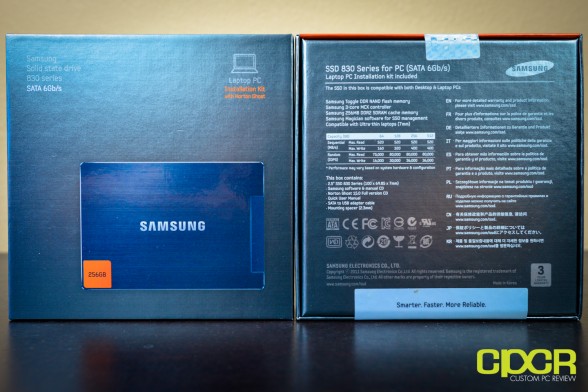 Current pricing on Amazon for the Samsung 830 256GB Laptop Kit is $228.54, the Samsung 830 256GB Desktop Kit is $218.99 and the Samsung 830 256GB bare drive is $219.99. This puts the 256GB Samsung 830 at that nice sub $1/GB price point. Looking at the prices here though, it's pretty obvious you should go with the desktop kit or the laptop kit over the bare drive as the kits include more value add and either costs less, or not much more. However, with all the price drops on SSDs lately, other top tier SSDs such as the OCZ Vertex 4 256GB ($189.99), Kingston HyperX 3K 240GB ($199.99), and SanDisk Extreme 240GB ($168.68) are currently priced even more competitively than the Samsung 830 256GB, so I'd definitely recommend doing some research on those SSDs as well.
The warranty on the Samsung 830 is 3 years, which is standard for most SSDs on the market, but with companies such as Intel and OCZ giving their flagship products 5 year warranties, it would be nice to see Samsung move in that direction for their next generation offering. That said, Samsung does have an excellent track record for reliability with their SSDs, so it shouldn't be too much of a concern.
Bottom Line
While the Samsung 830 256GB SSD isn't the fastest SSD on the market, isn't the cheapest SSD on the market, and doesn't carry the longest warranty, it's still a fast SSD with top notch looks, a 7mm design, tons of value add, and an excellent software package.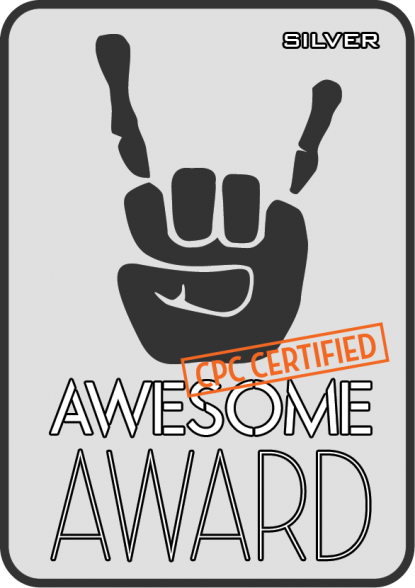 Special thanks to Samsung for making this review possible!
The Samsung 830 256GB, Samsung 830 256GB Laptop Kit, and Samsung 830 256GB Desktop Kit is currently available on Amazon.