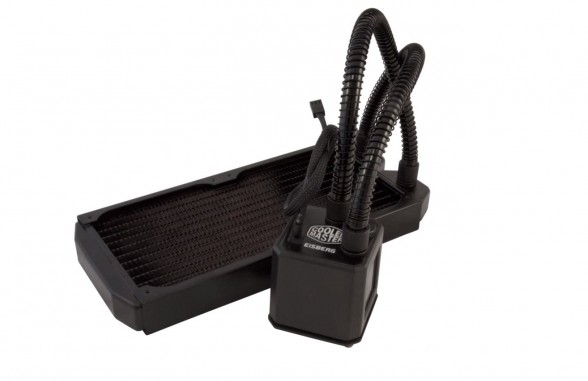 When companies these days look into adding all in one water cooling systems to their product lineups, they usually go to ODMs, namely Asetek and CoollIt Systems, who help design, produce, and manufacture the water coolers. This is why every all in one water cooling solution looks more or less the same no matter whose logo is plastered on the product.
Cooling giant Cooler Master on the other hand, develops their own. First seen on display at CeBit 2012, the Eisberg water cooler is a product developed by a collaboration between Cooler Master and German based company Eheim, who typically produces aquarium related products.
Below is a teaser trailer recently released by Cooler Master on their new product.
http://youtu.be/GleFHt6XzME
The Eisberg is expected to come in a couple different packages, a 120mm edition, a 240mm edition, and a waterblock only edition (Eisberg Prestige Single) designed to be used in existing water cooling loops. Because Cooler Master is planning on making the Eisberg compatible with existing water cooling loops, it uses standard fittings and the coolant will be user refillable. This is a huge contrast when compared to all in one water cooling solutions on the market today, which are fully sealed and aren't designed to be modified in any way. On one hand you are getting a lot more versatility, but on the other hand the system could possibly be more prone to leakage and may require more maintenance in comparison to fully sealed all in one water cooling systems currently out on the market.
Unfortunately, no official word on pricing or availability is available at this time; however, it does seem likely that Cooler Master may be planning to initially launch the Eisberg in the European market only.
For more information, check out Cooler Master's Eisberg mini-site here.