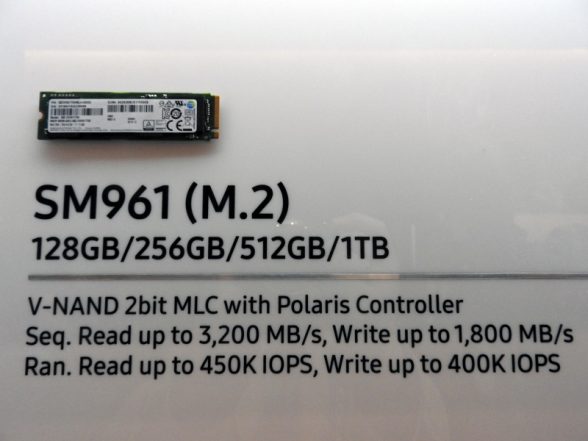 Over the past couple days, the storage world's been abuzz as Samsung's latest SM961 PCIe NVMe SSD has shown up online for pre-order.
The Samsung SM961 is the update to the Samsung SM951, and along with it comes with some huge improvements. Performance for example on the Samsung SM961's random read is marked at 450K IOPS, a 50% increase over the SM951's 300K IOPS. What's even more impressive is that the SM961 is expected to be able to hit 400K IOPS in random write, a 4x improvement over the SM951. Sequential read has also been bumped up to a whopping 3,200 MB/s.
The performance increase largely due to Samsung's new Polaris SSD controller (not to be confused with all the news about AMD's Polaris GPU). The Polaris SSD controller carries 5 cores with 8 channels, and will replace the UBX controller used on drives such as the Samsung 950 Pro.
Manufacturer
Samsung
Model
SM961
PM961
Controller
Samsung Polaris
Samsung Polaris
NAND
MLC V-NAND
TLC V-NAND
Sequential Read
3,200MB/s
3,000MB/s
Sequential Write
1,800MB/s
1,115MB/s
Random Read
450K IOPS
360K IOPS
Random Write
400K IOPS
280K IOPS
Capacity
128GB-1TB
128GB-1TB
Price
???-$489.73
 ???
The Samsung SM961 was originally revealed with the Samsung PM961, a lower-end but still blazing fast alternative to the SM961. It has the same Polaris controller but uses TLC NAND instead of MLC NAND.
The Samsung SM961 is currently only available for pre-order in the 1TB model (#MZVKW1T0HMLH-00000) and would set you back £429.95 (roughly ~$483.74). No actual release or shipping date has been released at this time. The Samsung SM961 is actually targeted towards OEMs, but consumers can still pre-order them here. If you do purchase a SM961, you likely won't get any support from Samsung, so it may be worthwhile to wait for the consumer friendly version expected to come out later this year.
Source: OC3D
Image Source: PCWatch