Now with 48-layer 3D V-NAND, Up to 2TB Capacity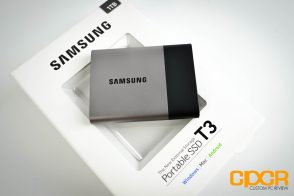 When I reviewed Samsung's Portable SSD T1 last year, I was very impressed with what it had to offer. Of all the external SSDs on the market, the PSSD T1 proved to be the best combination of speed, capacity, and physical size. Because it utilized Samsung's 32-layer 3D V-NAND, it was able to offer 1TB storage capacity in a form factor about the size of a business card. Furthermore, it had native encryption technology built in and since it wasn't a RAID-based solution, it didn't cost a boatload of money either.
Fast forward one year and what we have here for review today is the Samsung Portable SSD T3. Although the naming scheme gives the impression that it leaps two generations, the Samsung PSSD T3 is more of an evolution than a revolution.
Samsung Portable SSD T3 Specifications
| | |
| --- | --- |
| Manufacturer | Samsung |
| Model | Portable SSD T3 |
| Capacity | 250GB, 500GB, 1TB, 2TB |
| Interface | Type-C USB 3.1 (Gen 1), USB 3.0, USB 2.0 |
| Transfer Speed | Up to 450MB/s |
| Encryption | AES-256 |
| Dimensions | 74.0 x 10.5 x 58 mm |
| Weight | 51g |
| Warranty | 3 Year Limited |
The biggest change with the PSSD T3 is that Samsung has upgraded the cheap plastic casing to aluminum. This gives it significantly better durability albeit at a cost of a slight addition in weight. Furthermore, the PSSD T3 is also carrying Samsung's new 48-layer 3D V-NAND which now scales capacities up to 2TB. Its interface has been upgraded to USB 3.1 Gen 1 with a Type-C connector, but keep in mind that the newer interface doesn't change its performance as maximum transfer speeds are still rated at up to 450 MB/s.
Is the new drive a winner? Let's take a closer look.
A Closer Look at the Samsung Portable SSD T3 1TB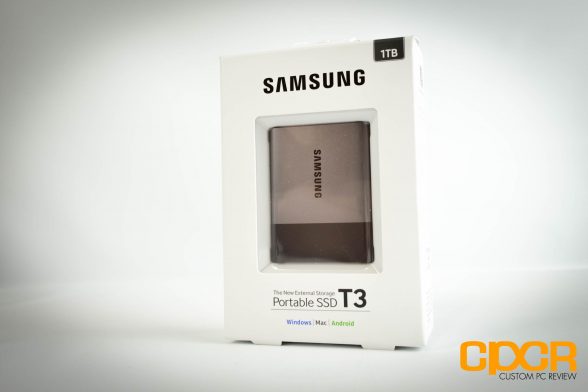 Here's a look at the packaging for the Samsung Portable SSD T3.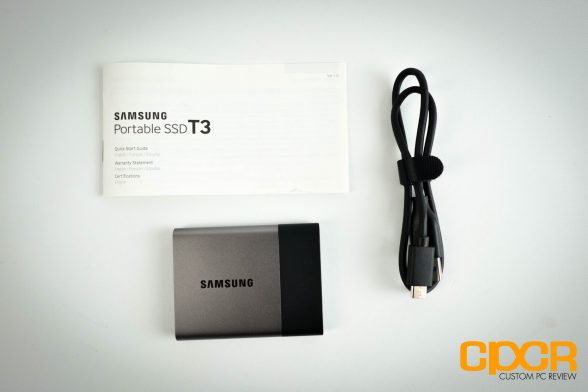 Included in the packaging is some documentation, a USB-C to USB-A cable, and the Samsung Portable SSD T3. Although the Samsung PSSD T3 is advertised as having Android compatibility, no Type-C to Type-C or Type-C to Micro-B cables are included. Those interested in using the drive with their Android devices will likely need to pick up a new cable.
The Samsung PSSD T3 carries a lot of the original design elements from the T1 however, the external shell now utilizes a more premium metal construction rather than the plastic found in the T1. It's still relatively small at just 2.8″ long, just over 2″ wide and 0.36″ deep. Thanks to the more heavy duty materials, the drive does gain a bit of weight, weighing in at 1.8 ounces – almost double the weight of the T1, weighing in at 1 ounce.
The only I/O port included on the PSSD T3 is a USB 3.1 (Gen 1) Type-C connector. There's also a small, blue status indicator LED to the right of the port.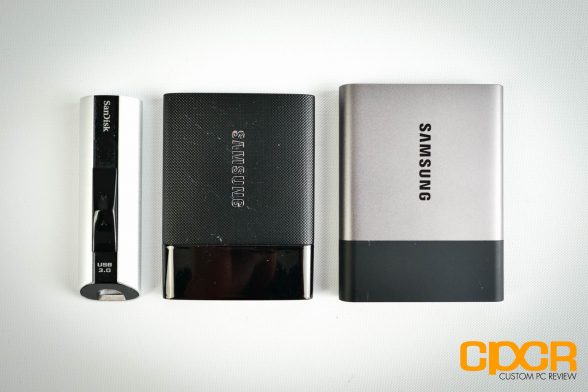 Here's a size comparison between the SanDisk Extreme Pro USB 3.0 flash drive (left), Samsung PSSD T1 (center), and the Samsung PSSD T3 (right). While the Samsung PSSD T3 did get slightly larger, it should still easily fit into a pocket.
Testing Setup
Special thanks to CyberPowerPC, Kingston, OCZ Storage Solutions and HSPC for sponsoring our test bench!
Samsung Portable SSD T3 1TB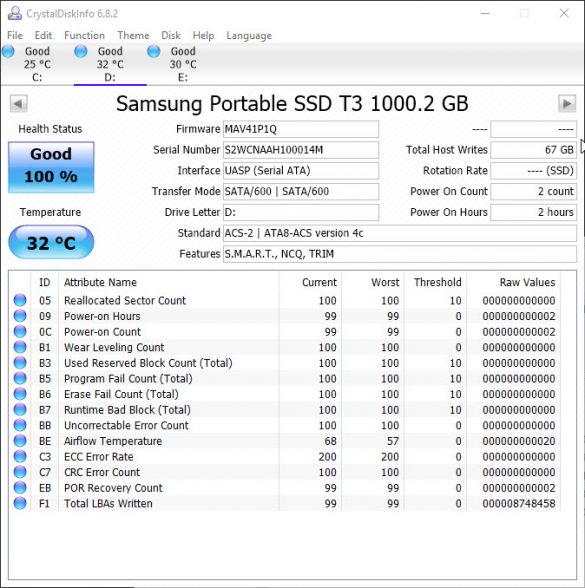 Our sample of the Samsung PSSD T3 1TB came with firmware version MAV41P1Q. Here we can also see that UASP (USB Attached SCSI) is enabled
Samsung Portable SSD T3 1TB Performance
USB 3.1 (Gen 1) Performance
ATTO Disk Benchmark v2.46
ATTO Disk Benchmark is one of the industry's oldest and most popular benchmarks for testing disk read/write speeds. This benchmark allows read and write testing using predefined block sizes and gives us a good idea of read/write speeds with different sized files. Most SSD manufacturers prefer using this benchmark when advertising SSDs as it tests using compressible data, which tends to yield best performance.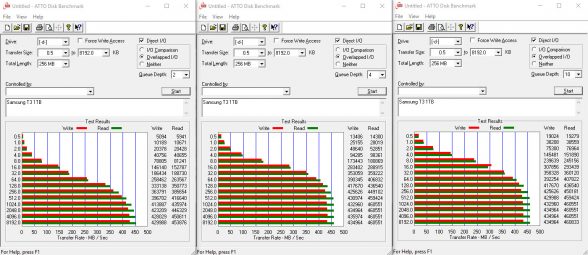 Performance Analysis
In ATTO Disk Benchmark, the Samsung PSSD T3 is able to reach 460MB/s sequential reads and 435MB/s sequential writes. It does well right off the bat, but there's no significant performance improvement over the previous generation PSSD T1.
Crystal Disk Mark 5.1.2 x64
Crystal Disk Mark is another popular benchmark which allows us to measure sequential read/write speeds, 512K random read/write speeds, 4K random read/write speeds, and 4K QD32 random read/write speeds. With this benchmark, tests can be run using both random fill (incompressible data) and 0 fill (compressible data). Realistically in typical computer usage scenarios, data being transferred will consist of a mixture of both incompressible and compressible data.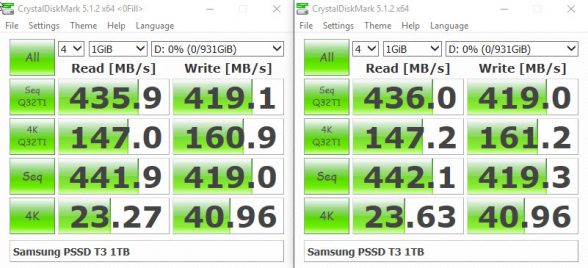 Performance Analysis
Performance in Crystal Disk Mark is superb as well. Random 4K reads is a bit slow compared to what we're used to seeing on SSDs, due mostly to the USB interface and the sequential performance optimized UASP protocol. Again, the PSSD T3 shows similar performance to the PSSD T1.
Real World Testing
Since it's difficult to translate what 450 MB/s, 250 MB/s, 120 MB/s, etc. means in minutes and seconds in real world applications, we've also prepared several real world testing scenarios transferring files to and from the drive, and recording the amount of time necessary to complete the operations.
In this test, we'll be transferring four different sets of files:
ISO – Single 1x Windows 7 x64 ISO totaling 2.2GB
Music – 1,007x MP3's totaling 5.0GB
Photo – 443x Sony ARW RAW pictures totaling 10.0GB
Video – 44x x264 1080p MP4 videos totaling 12.0GB
Copy From
In our copy from test, we'll be copying our filesets one at a time from our test drives to an OCZ RevoDrive 350 to reduce any chance of the host bottlenecking performance. The OCZ RevoDrive 350 is a PCIe Gen 2 x8 SSD capable of up to 1,800 MB/s sequential reads and 1,700 MB/s sequential writes.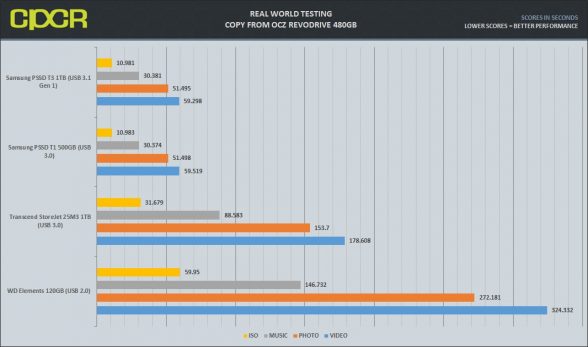 Copy To
In our copy to test, we'll be copying our filesets one at a time from the OCZ RevoDrive 350 to our test drives.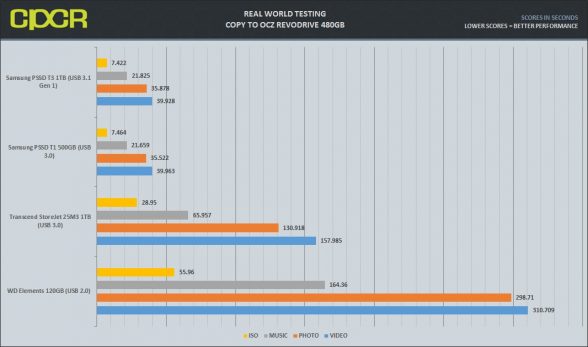 Performance Analysis
Clearly, the Samsung PSSD T3 is significantly faster than hard drive-based competitors, transferring files 2-4x faster depending on the fileset. Compared to the PSSD T1, the real world performance difference is negligible.
Encryption Performance
As a feature of the Samsung PSSD T3, Samsung also includes an easy to use encryption software which helps users to easily encrypt the drive by taking advantage of the SSD controller's built in hardware encryption engine. When enabled, the Samsung PSSD T3 encrypts all data on the drive using AES (Advanced Encryption Standard) 256-bit encryption, which is an encryption algorithm used by various corporations and government agencies to encrypt data. Most notably, it's approved by the NSA for encrypting top secret information.
Encryption support is available for systems with Windows 7 or higher, OS X 10.7 or higher, or Android KitKat (4.4) or higher. For Android support, Samsung has also released the new Samsung Portable SSD app, now available on the Google Play store.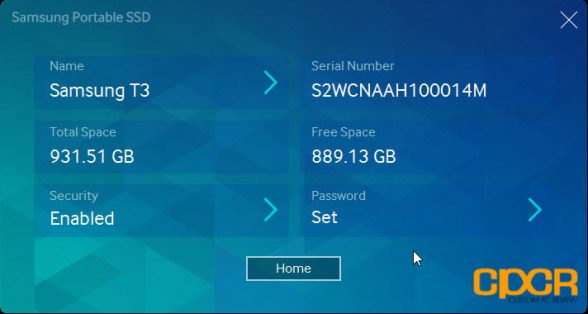 Samsung's software suite makes encryption a snap. Once the drive is plugged in, simply fire up the software suite included on the drive, then go to the "Security" tab to enable data security.
Once drive encryption is enabled, every time your drive is unplugged and replugged into a host device, the drive will prompt you for a password before being able to access any data. Be warned though, if you lose your password, the data on the drive will be lost. Forever.
ATTO Disk Benchmark v2.46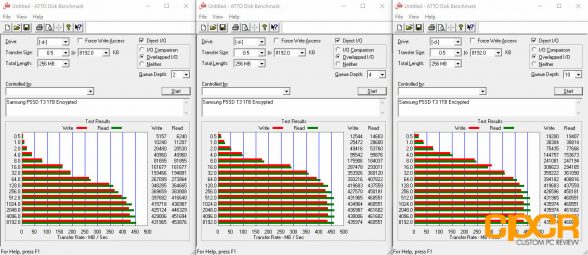 Crystal Disk Mark 3.0.3 x64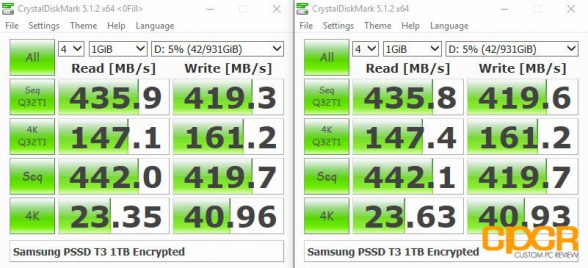 Performance Analysis
As the Samsung PSSD T3 utilizes hardware encryption, performance is unaffected when encryption is enabled. Unless there's a good reason not to, I'd highly recommend enabling encryption especially if you plan on keeping sensitive information such as bank documents, medical records, etc. on your drive.
Samsung Portable SSD T3 1TB Conclusions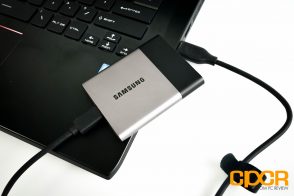 The Samsung Portable SSD T1 has garnered a lot of success, and it's not entirely surprising that the Portable SSD T3 is another winner. While the increase in NAND density provided negligible performance improvement, it did help double the maximum storage capacity yet maintain the same compact form factor. The premium aluminum shell also better suits professional attire – and it's significantly more durable, too.
Performance on the Samsung PSSD T3 is very good compared to most solutions on the market, but it is disappointing that no improvements have been made over the previous generation PSSD T1. With Gen 2 USB 3.1 capable of up to 10Gbps and Thunderbolt 3 capable of up to 40Gbps, Samsung could've taken advantage of the faster interfaces with a PCIe SSD. Hopefully, next year's revision will take advantage of the faster interfaces.
Manufacturer
Samsung
Model
Portable SSD T3
SKU
MU-PT250B
MU-PT500B
MU-PT1T0B
MU-PT2T0B
Capacity
250GB
500GB
1TB
2TB
Street Price
$97.99
$172.99
$344.90
$737.23
Price/GB
~$0.39
~$0.35
~$0.34
~$0.37
The Samsung PSSD T3 currently retails for ~$399.99, but a quick check at Amazon shows a price of ~$344.90, or ~$0.34/GB. This makes it just slightly more expensive than most internal SSDs, so pricing is still fairly competitive. Unfortunately with the dearth of quality external SSD solutions on the marketplace, the Samsung PSSD T3 is really the only option for this level of features and performance in an extremely portable form factor, especially for those looking for 1TB or 2TB external SSD solutions. Highly Recommended!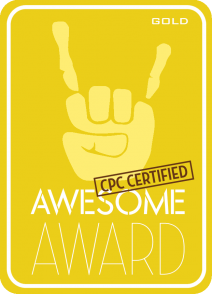 Sample provided by: Samsung
Available at: Amazon