[section label=1. Introduction]
Camera Bag for the Professional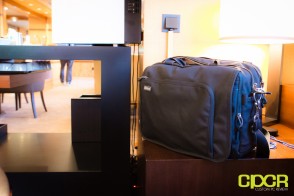 As requested by a number of my YouTube subscribers last year, I compiled a list of the equipment I keep in my camera bag and while cameras, lenses, microphones, etc. are covered, one thing I didn't do is cover the camera bag. The reason for this is because I simply didn't really like the camera bag I had. It was bulky, it was obvious it was a camera bag, and it just plain looked a bit ugly. Since it wasn't something I'd personally recommend, I decided to go out and search for something I would.
This then brings us to our review for the day, the Think Tank Photo Urban Disguise 50 v2.0 camera bag. For those unfamiliar with Think Tank Photo, they're a premium camera accessories company founded by a group of professional photographers and designers with one goal in mind – to produce the absolute best camera bags and accessories on the market. The Urban Disguise 50 that we're reviewing today is a medium sized camera/laptop bag belonging to Think Tank Photo's Urban Disguise series, which is designed for photographers out there looking for an all in one solution for carrying everything you'll need as an editorial photographer or a photojournalist. As its name implies, the Urban Disguise series of camera bags is designed to stay hidden so you're not announcing to that next third world country you visit that you've got over $10,000 worth of equipment in your camera bag.
Sounds good so far, but how did it perform? Let's find out!
Urban Disguise  50 Specifications
ID: 14.4" W x 10.5" H x 4.25" D* (36.5 x 27 x 10.5 cm) *Opening Expansion Zipper adds 2.25″ (5.7 cm) to main compartment depth **Laptop Compartment ID: 14.4″ W x 10.25″ H x 1.5″ D (36.5 x 26 x 4 cm) ED: 15" L x 11" H x 7" D (38 x 28 x 17.78 cm)
Weight: 3.3–4.0 lbs (1.5–1.8 kg)
No Rhetoric Warranty Policy
Exterior – All fabric exterior treated with DWR while fabric underside is coated with PU for superior water resistance, 1680D ballistic nylon, YKK® RC Fuse (abrasion resistant) zippers, antique nickel plated metal hardware, Ultra Stretch pockets, nylon webbing, 3-ply bonded nylon thread
Interior – removable closed cell foam dividers, 210D silver-toned nylon, PU backed velex liner, 2x PU coated nylon 210T seam-sealed taffeta rain cover, 3-ply bonded nylon thread
[section label=2. A Closer Look]
A Closer Look at the Urban Disguise 50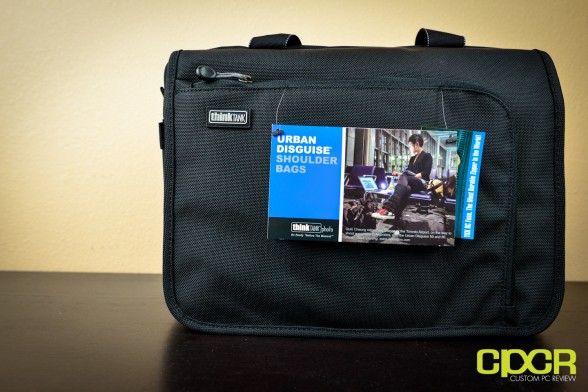 Brand spanking new! Looking good!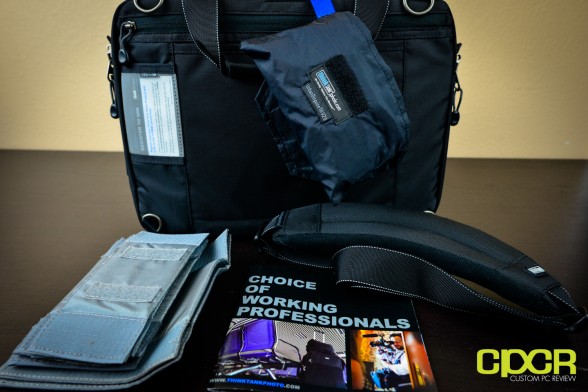 Included, we get a number of additional padding inserts for customizing the bag's interior layout, some documentation, a heavy duty shoulder strap (a lot of padding), and a rain cover.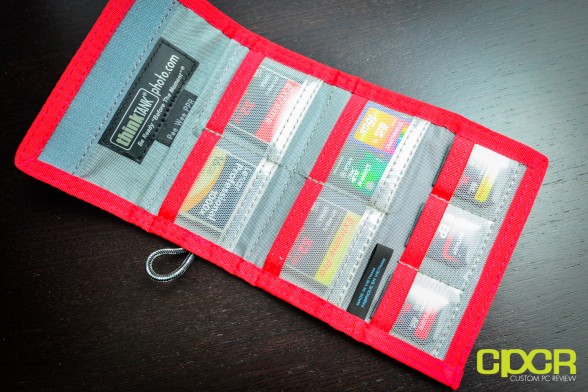 Also included with the bag Think Tank Photo Pee Wee Pixel Pocket Rocket. This little foldable memory card carrier as you can see can hold a LOT of memory cards.
Here's all the stuff I'm about to drop in the bag. We've got a Nikon 24-70mm f/2.8, Nikon 105mm f/2.8 Macro, Nikon SB-900 flash, Nikon SB-600 flash, Nikon D7000, Macbook Pro 15″ (late 2008), and an Apple charger as well. All in all, a pretty decent loadout with a couple extras included. Does it fit?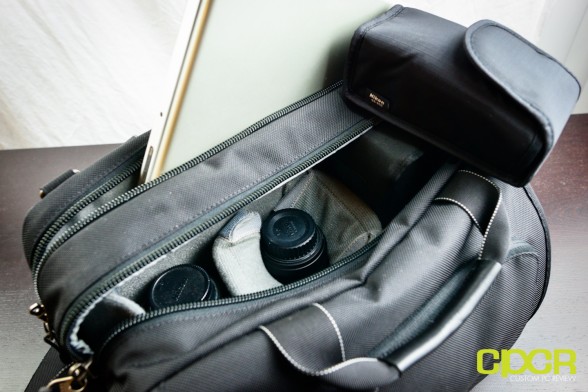 Yup! It all fits.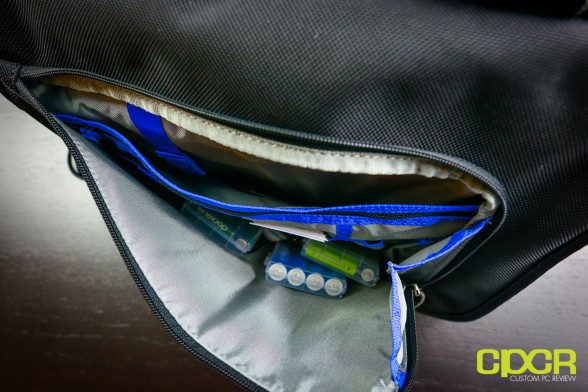 Up front, we've got a nice compartment for miscellaneous stuff like cell phones, business cards, extra batteries, pens, pencils, etc.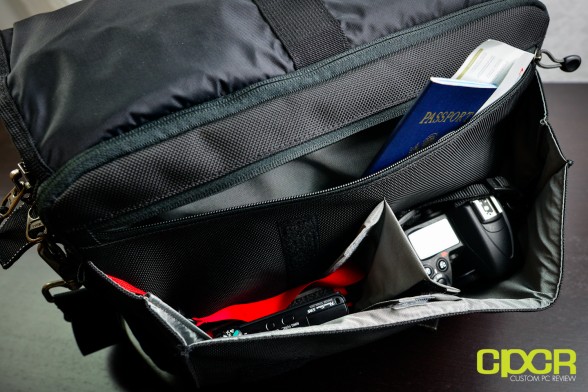 Pulling open the front flap we reveal a couple pockets up front, which can fit stuff like extra DSLR bodies, point and shoot cameras, the Think Tank Photo Pee Wee Pixel Pocket Rocket, etc. Behind the pockets there's also a fairly hidden compartment, which I found a good place to store more sensitive stuff like passports, money, plane tickets, etc.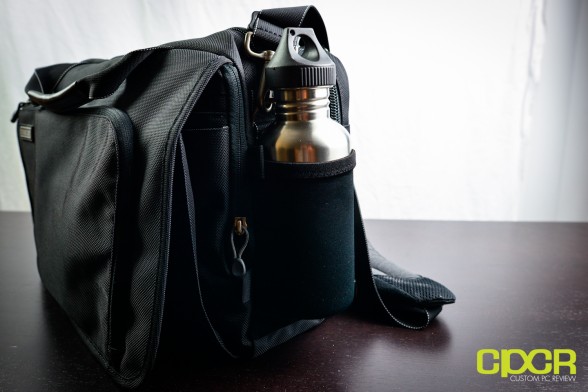 Here's a look at the side of the Urban Disguise 50 v2. Each side includes a water bottle carrier, which is extremely useful if you're planning on doing a lot of walking with the bag. As far as materials go, the bag is constructed of 1680D ballistic nylon coated with a layer of water repellant while all zippers are YKK.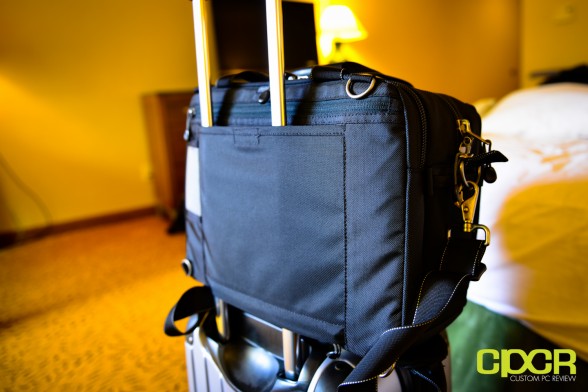 One very nice feature of the Urban Disguise 50 is that the rear compartment can be unzipped so that the bag can be secured on luggage roller handles or the rear compartment can be zipped up and used as an extra storage compartment for files and documents.
[section label=3. Conclusion]
Think Tank Photo Urban Disguise 50 Conclusions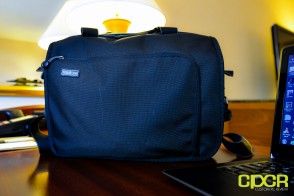 Alright, so now I've had the Urban Disguise 50 for about 3 months, I've attended a number of events and tradeshows including the Samsung 840 unveiling all the way out in Seoul, Korea, and I must say that from an editorial/photojournalist perspective, the Urban Disguise 50 is possibly as perfect of a camera bag as it gets for the purpose. For those already convinced that these bags are amazing, feel free to go buy it now. You won't regret it. For those who still aren't convinced, read on.
Let's start off with the appearance. Hands down, I absolutely love the professional looking design. For a number of days at the Samsung 840 event, I had to wear a suit and the Urban Disguise 50 was able to blend in extremely well with my professional attire. Despite its professional appearance, I found that it was also a great bag to lug around town as well.
Another feature of its appearance is exactly what the name implies – it's a disguise. When you take a look at most camera bags out on the market today, they practically go out of their way to advertise that you're carrying expensive camera equipment. With the Urban Disguise 50, it simply looks like a professional business bag or a travel bag. Personally, I think this is very important especially for those traveling to foreign countries where there's a big chance thieves may target foreigners who look like they're carrying expensive camera equipment.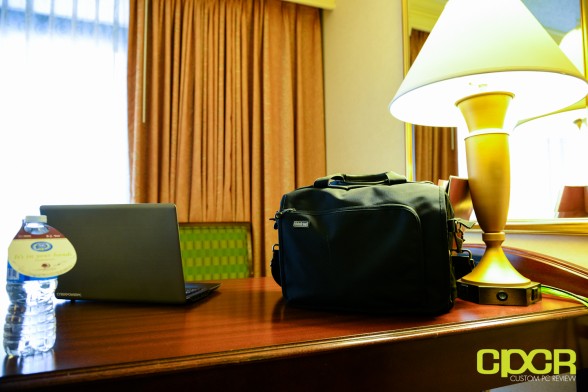 Design wise, I felt that the Urban Disguise 50 is very well thought out as it came with plenty of space for camera gear along with plenty of padding to protect said gear as well. There's plenty of space in the center (main) compartment for a standard traveling loadout and access to the bag's main compartment is quite easy as well. The only real complaint I have is that the rear laptop compartment could be made a tad bit larger for those who have larger 15″ notebooks. While my circa 2008 15″ MacBook Pro was able to fit quite nicely, the CyberPower PC Xplorer X6-9120 didn't have such luck. While I do realize that camera bag companies can't possibly design a bag that's compatible with everything out there, it would be nice if it had just a bit more space.
What I really liked about the bag is simply just the ease of accessing the gear inside. There's only one zipper, so simply unzip that, pull out the camera and you're good to go. After you're done, you can either zip it back up and carry the camera, or drop the camera back into the bag. For those with multiple lenses, the bag also has plenty of room for two more additional lenses, which in addition to the lens already mounted on the camera should be enough for any editorial/photojournalist assignment. After all's said and done, simply find a spot, pull out the laptop and start uploading/editing images right on the spot. Awesome.
| | | | |
| --- | --- | --- | --- |
| Manufacturer | Think Tank Photo | Think Tank Photo | Think Tank Photo |
| Model | Urban Disguise 35 V2.0 | Urban Disguise 50 V2.0 | Urban Disguise 60 V2.0 |
| Price | $159.75 | $199.75 | $214.75 |
| Purchase Link | Click Here | Click Here | Click Here |
In terms of pricing, the specific model tested today, the Think Tank Photo Urban Disguise 50 v2.0 retails for around $199.75, which is probably going to be as pricey as camera bags get. However, I think professionals will find that a good camera bag that lasts is well worth the small price to pay. Think  Tank Photo also offers a no rhetoric warranty, which is basically a lifetime warranty that covers the bag for as long as you use it.
Bottom Line
Hands down, I was extremely impressed with the Think Tank Photo Urban Disguise 50 in the time that I've used it and I wouldn't hesitate to recommend it to anyone looking for a solid, professional camera bag for carrying both camera gear and laptops.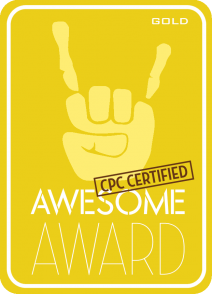 Sample provided by: Think Tank Photo
Available at: Amazon