Review: PowerColor Radeon R9 285 TurboDuo 2GB
Updating GCN for the Mid-Range Segment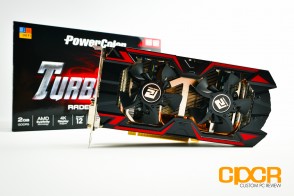 Late last year, AMD introduced the Hawaii based Radeon R9 290/290X along with the Bonaire based Radeon R7 260/260X which utilized AMD's updated GCN (Graphics Core Next) architecture. AMD's updated GCN architecture, which we'll refer to GCN 1.1, supported new features such as improved compute performance, on die audio processing, and improvements to AMD's PowerTune technology to offer a faster, more power efficient chip than its GCN 1.0 cousins.
Unfortunately, AMD's GCN update didn't cover the mid-range GCN 1.0 based GPUs such as the Radeon R9 270/R9 270X or the Radeon R9 280/280X, which meant gamers who wanted the GCN 1.1 architecture had to choose between the Radeon R7 260/260X or the Radeon R9 290/290X – cards that differed massively in both price and performance. At the time, AMD simply didn't offer a middle ground.
This is where AMD's latest Radeon R9 285 codename Tonga GPU comes in.
Today we'll be reviewing the PowerColor Radeon R9 285 TurboDuo 2GB graphics card – a PowerColor's custom implementation of the Radeon R9 285. PowerColor's Radeon R9 285 TurboDuo features a custom power delivery system as well as a custom dual fan cooler along with the obligatory mild factory overclock to 945MHz, a mere 27MHz above reference specs. It seems like AMD isn't offering reference designs on this model, which makes sense considering custom designs generally perform better anyway.
| GPU | AMD Radeon R9 270X | AMD Radeon R9 280 | AMD Radeon R9 285 | AMD Radeon R9 280X | AMD Radeon R9 290 |
| --- | --- | --- | --- | --- | --- |
| Codename | Curacao XT | Tahiti Pro | Tonga | Tahiti XT | Hawaii Pro |
| Fabrication | 28nm | 28nm | 28nm | 28nm | 28nm |
| Core Frequency | 1.05GHz | 933MHz | 918MHz | 1GHz | 947MHz |
| Architecture | GCN 1.0 | GCN 1.0 | GCN 1.2 | GCN 1.0 | GCN 1.1 |
| Stream Processors | 1,280 | 1,792 | 1,792 | 2,048 | 2,560 |
| Texture Units | 80 | 112 | 112 | 128 | 160 |
| Rasterizers | 2 | 2 | 4 | 2 | 4 |
| Tessellation Units | 2 | 2 | 4 | 2 | 4 |
| ROPs | 32 | 32 | 32 | 32 | 64 |
| Memory Configuration | 2GB GDDR5 | 3GB GDDR5 | 2GB GDDR5 | 3GB GDDR5 | 4GB GDDR5 |
| Memory Interface | 256-bit | 384-bit | 256-bit | 384-bit | 512-bit |
| Memory Frequency (Effective) | 5.0 GHz | 5.0 GHz | 5.5 GHz | 6.0 GHz | 5.4 GHz |
Tonga Has Arrived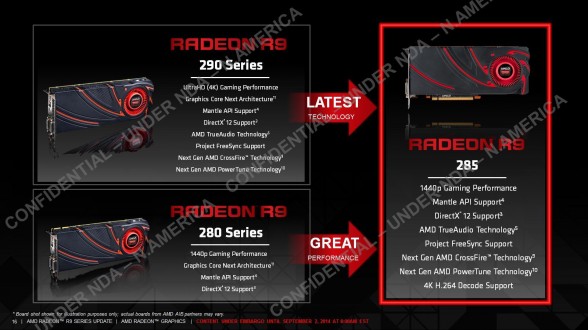 Before we get into taking a closer look at the PowerColor R9 285 TurboDuo, let's first talk about the architecture behind the new Radeon R9 285.
Nearly three years ago, AMD revealed their GCN (Graphics Core Next) architecture for the first time along with the introduction of their Tahiti based graphics cards. The new GCN architecture would feature a SIMD (Single Instruction Multiple Data) architecture rather than the traditional VLIW architecture which would give GCN huge improvements in compute performance without sacrificing graphics performance. Following the first generation GCN architecture in Tahiti, GCN 1.0, AMD made some improvements to the GCN 1.0 architecture late last year releasing the Hawaii and Bonaire GPUs which took advantage of an updated GCN architecture, GCN 1.1. GCN 1.1 includes improved compute performance, but also includes on die audio processing as well as updates of AMD's PowerTune technology.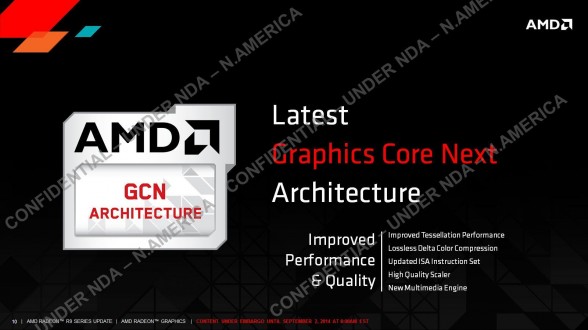 This then leads us to AMD's latest Tonga GPU which is yet another updated GCN which we'll refer to as GCN 1.2. GCN 1.2 offers several updates to the GCN 1.1 architecture which should improve performance, power efficiency and cost.
One of the big features is that GCN 1.2 now uses an updated instruction set which includes new 16-bit floating point and integer instructions, data parallel processing instructions, and improved compute task scheduling. This new instruction set is designed to improve low power GPU compute, media processing, parallel processing performance, and power efficiency.
Speaking of power efficiency, AMD is making some adjustments to PowerTune which is likely where most of the additional power efficiency will come from. Considering the Radeon R9 285 Tonga GPU is rated at 10w lower than the Radeon R9 280, but offers performance improvements over its predecessor, that's a very good thing. Once AMD shifts to a new process node, we should see even bigger power savings than ever.
With the Tonga GPU, AMD is also using lossless color compression on frame buffer which they claim will improve bandwidth efficiency by as much as 40%. By doing so, AMD can outfit the Radeon R9 285 with a less expensive 256-bit memory interface with a 2GB frame buffer despite the fact that it will offer substantially less memory bandwidth than the Radeon R9 280's 384-bit memory interface and 3GB frame buffer. AMD is also improving tessellation performance on the Radeon R9 285 by doubling the amount of tessellation units from the Radeon R9 280, which should allow it to better compete with Nvidia's GeForce GTX 760.
Additionally, the Radeon R9 285 also supports all the features introduced with GCN 1.1 such as XDMA CrossFire which allows CrossFire via PCIe only, TrueAudio on die audio processing, FreeSync support, and Mantle API support. New for GCN 1.2 is also support for 4K video encoding/decoding via the internal UVD (Unified Video Decoder) and VCE (Video Coding Engine).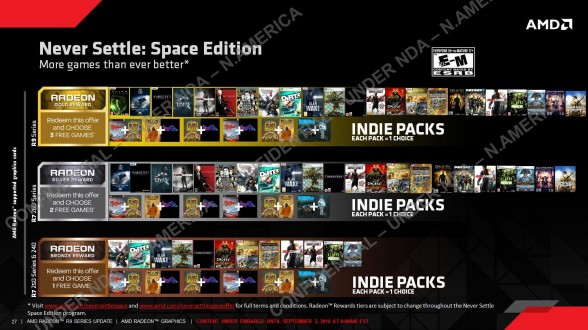 AMD is also updating the Never Settle bundle which they're calling Never Settle: Space Edition. AMD is basically adding Star Citizen, Alien: Isolation, Habitat and Space Run to its catalog of games that gamers can get for free with the purchase of an AMD graphics card. The purchase of a Radeon R9 285 entitles you to a Never Settle Gold code, which gives you three games. More info on the Never Settle bundle can be found here.
With that said, let's take a closer look at the PowerColor Radeon R9 285 TurboDuo.