[section label=1. Introduction]
Top Notch Backlit Mechanical Gaming Keyboard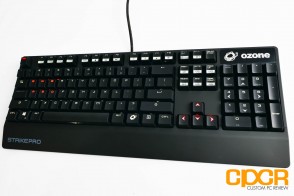 Anyone looking for a good keyboard will no doubt be drafted into the world of mechanical keyboards sooner or later. With a variety of key-switches to choose from and unmatched durability, mechanical keyboards have now become a staple for in-the-know typists and gamers.
Today we have the opportunity to review the Strike Pro mechanical gaming keyboard from Ozone Gaming. While we're not too familiar with Ozone Gaming since they mostly sell their products in Europe, I've been told that they recently partnered with an exclusive US distributor, 4 Gamer Gear, who will be bringing their products into the US. A quick search on Ozone Gaming reveals that they're a fairly popular peripheral manufacturer in Europe who sponsors a number of primarily European e-sports teams such as Gamers2, Origen, ANT, etc.
Ozone offers the Strike Pro in the usual flavors of Cherry MX keyswitches (Black, Red, Blue and Brown) and our sample was outfitted with Cherry MX Brown switches. In addition to the mechanical keyswitches, the Ozone Strike Pro also comes with many features including soft touch materials, macro functionality, gaming mode, USB and audio/mic pass-throughs and fully LED backlit keys.
Let's take a deeper look at the Ozone Strike Pro mechanical gaming keyboard.
Ozone Strike Pro Specifications
| | |
| --- | --- |
| Manufacturer | Ozone |
| Model | Strike Pro |
| Key Switch | Cherry MX Brown, Blue, Red, Black |
| Keycaps | ABS |
| Backlighting | White LED with Gaming Keys in Red LED / 6 backlit options (OFF/ 100% breathing/ 30%/ 70%/ 100% still / Gaming Key [ESC, QWEASD & 4 Direction Keys] light up only) |
| Key Rollover | NKRO |
| Polling Rate | 125Hz – 1000Hz |
| Interface | USB 2.0 |
| Ports | 1x USB 2.0 Port, 3.5mm mic in, 3.5mm audio out |
| USB Cable | 6ft, Braided, Gold Plated Connector |
| Dimension | 14.75 in x 6.5 in x 1.25 in |
| Weight | 2.86 lbs |
| Warranty | 1 Year |
| Additional Features | Game Mode, 6 Macro Keys, Fully Programmable |
| Additional Accessories | Additional rubber feet, driver disk |
| Check Pricing | Click Here |
[section label=2. A Closer Look]
A Closer Look at the Ozone Strike Pro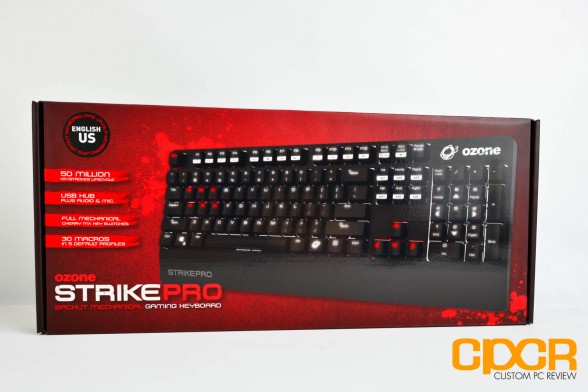 Here's a look at the packaging for the Ozone Strike Pro.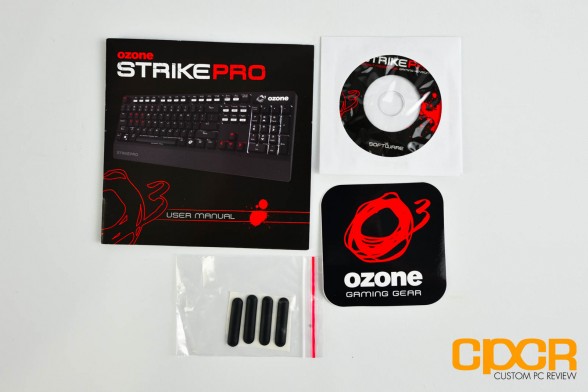 Accessories include a user manual, an Ozone sticker, a driver disk, and 4 replacement feet.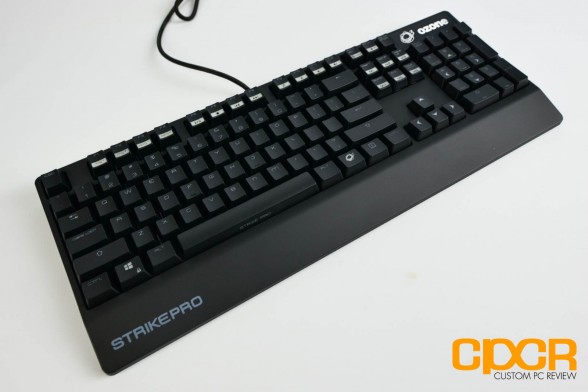 The Ozone Strike Pro is a very simple yet elegant looking keyboard. The first thing you'd notice out of the box is that the unit feels very solid and is fairly heavy – a sign that it has a quality backplate. In this case, Ozone is using a SPCC (Cold Rolled Carbon Steel) backplate which offers excellent strength and rigidity. Ozone also outfitted the exterior of the keyboard with soft touch materials which are comfortable to the touch.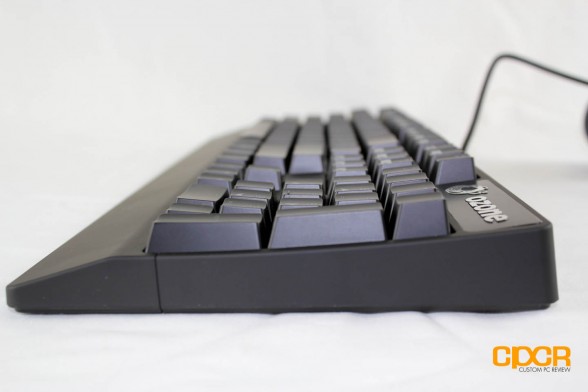 The profile shot of the Ozone Strike Pro reveals that the keyboard is naturally curved to improve ergonomics. The wristrest is built into the chassis and is not removable.
The back of the keyboard has some cable channels to help reduce cable clutter. While it doesn't feature a detachable cable, this shouldn't be much of an issue for a full sized keyboard. Ozone also equips the Strike Pro with six rubber feet – two on the riser feet and four more on the bottom of the keyboard to prevent the keyboard from sliding around.
On the top right side of the keyboard is a USB 2.0 pass-through and an audio+mic pass-through as well. Since the Ozone Strike Pro only uses a single USB connection here, higher powered USB devices should not be plugged into the pass through USB port on the keyboard.
In terms of connectors, there's a single USB connector and two 3.5mm jacks for the audio/microphone. All connectors are gold plated and the cables are braided for enhanced durability.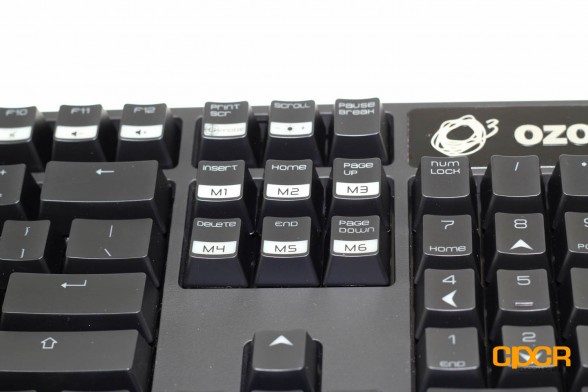 The Ozone Strike Pro's macro keys are placed in the control pad as opposed to a dedicated macro column. While it reduces the footprint of the unit, it's not very practical.
Here's a look at the Cherry MX Brown switches we all know and love. Each switch is LED backlit with either white or red LEDs. The keycaps are nothing fancy, but they're constructed of tried and true ABS plastic with the letters laser etched for greater durability.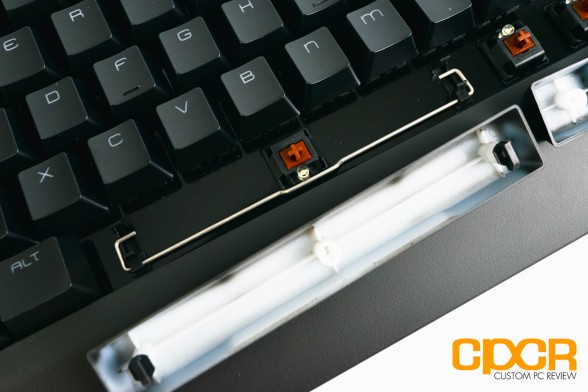 The larger keys utilize Costar stabilizers. Ozone doesn't grease the stabilizers so if the keys feel stiff, I'd recommend adding a bit of grease to loosen it up.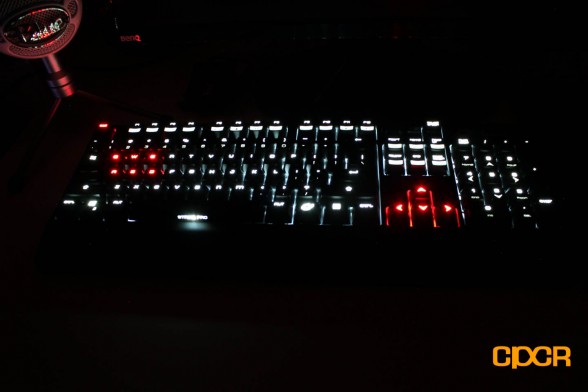 Once plugged in, the Ozone Strike Pro looks quite pretty and a bit unique with the blend of the red and white LEDs. There's a few brightness levels to choose from, and you can choose to have the entire board light up, just the gaming keys (Q,W,E,A,S,D and the arrow keys), or none. There's also the usual breathing mode we all know and love where the LEDs fade in and out. The LED indicators for Num, Scroll, and Caps lock only light up when they're turned on.
Ozone Strike Pro Software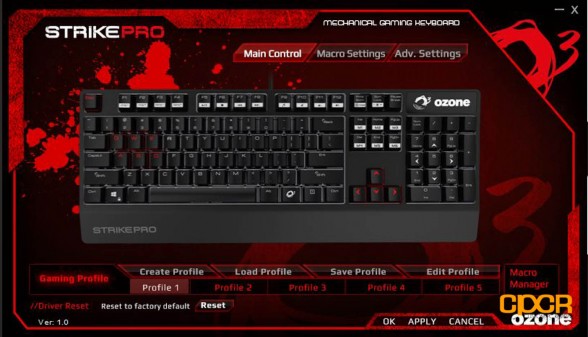 The Ozone Strike Pro includes a fairly basic software utility.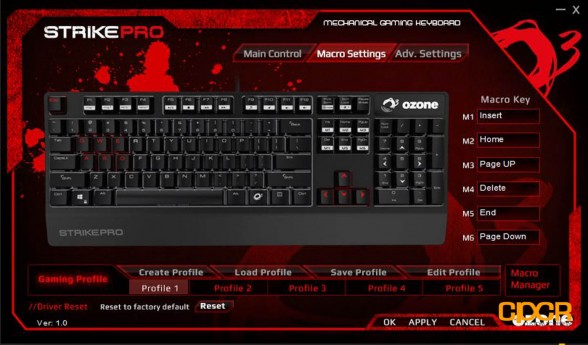 The onboard macro buttons can be programmed via the macro settings menu. Unfortunately, there's no dedicated macro keys onboard and I found no use for the macro keys that overlap with the control pad (Insert, Home, etc). Almost seems like a feature that was just added to tick a feature box saying that macro functionality exists.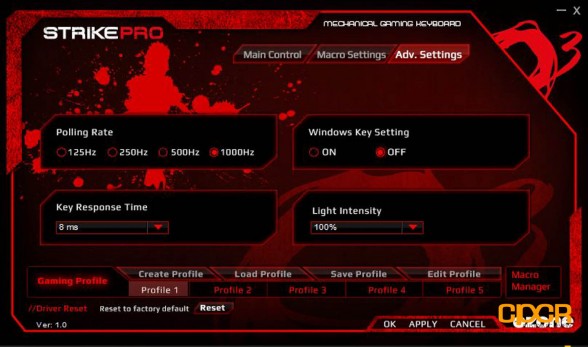 Ozone also provides some more advanced settings for the Strike Pro such as polling rate and key response time.
[section label=3. Performance]
Ozone Strike Pro Performance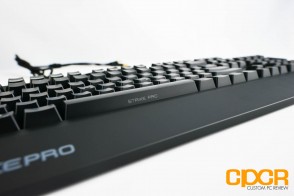 For testing the Ozone Strike Pro, I used the keyboard for several weeks in a variety of typical use scenarios including coding, writing articles, and gaming.
Since we're all pretty familiar with Cherry MX Brown switches by now, I probably won't go into too much detail here. Cherry MX Brown switches are Cherry MX Brown switches. They're all pretty much the same. With an medium actuation force of 45g and a silent tactile feedback, the Cherry MX Brown switch is one of the best for general/mixed use. As expected, typing and coding with the Ozone Strike Pro was excellent, exactly what you'd expect from a Cherry MX Brown switch. In addition, the matte soft touch keycaps felt very nice on my fingertips.
Gaming performance was equally good. Playing Battlefield 4 with the Ozone Strike Pro was fantastic as well with no ghosting detected. Playing Starcraft II produced similar results. Key travel and responsiveness was smooth and fast. Keystrokes were fairly quiet when I wasn't bottoming out the switches and didn't wobble under force. One downside is that the wristrest is way too small for my hands, but luckily, the edge of the palm rest is rounded so it didn't cut into my wrist. The wristrest is also made of a soft touch material so it's very comfortable to rest on.
Generally speaking, I see ~11% increase in typing performance after using a mechanical keyboard with Cherry MX Blue or Brown switches for at least week. Since I've now switched all my keyboards to either Cherry MX Blues or Browns, typing performance on the Strike Pro is consistent with other Cherry MX Brown keyboards. Those interested in testing your own typing speed can go to typrX to  benchmark your own typing speed. I'd suggest taking the test 5 times and taking the average for best results.
NKRO/Anti-Ghosting Testing
To test the NKRO/anti-ghosting functionality of the Ozone Strike Pro, I'll be using a web app developed by Microsoft's Applied Science Group. More information about the webapp, ghosting, and NKRO may be found here. The NKRO/anti-ghosting test is conducted using the USB connector.

Here I tested a variety of different button press combinations and found no ghosting. In order to test NKRO, I pressed the back of a book against the Strike Pro. All keys registered simultaneously without issue.
[section label=4. Conclusion]
Ozone Strike Pro Conclusions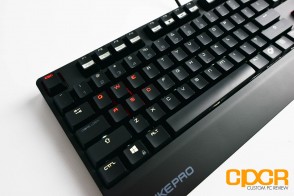 While it doesn't win any award for innovation, the Ozone Strike Pro is a fantastic backlit keyboard that checks all the boxes for a fantastic keyboard. Quality is good, fit and finish is top notch, and the matte soft touch finish on the keycaps and wrist rest looked and felt great. Not only did it do a good job at warding off fingerprints, it provided plenty traction during furious typing sessions. While I didn't use it, users meticulous about wiring will appreciate the cable channels on the back. The white and red LED blend looked pretty cool too although I wish more LED color combinations were offered.
There's nothing to complain about when it comes to usability. Whether you're a gamer or typist, you're going have a great experience with the Ozone Strike Pro. Leaving the great tactility and responsiveness of the Cherry MX Brown switches aside, the keycaps were stable, grippy, and felt quite durable. Costar stabilizers also did a great job ensuring even actuation force between the smaller and larger keys. In testing, the Ozone Strike Pro proved to be a valuable asset for gaming and everyday use. Critical to all types of games, ghosting was a non-issue on this keyboard. The Strike Pro registered every keypress without a hitch even when nearly all of its keys were held down simultaneously. USB and audio pass-throughs are very useful as well for those who want to quickly plug in a flash drive or a gaming headset without having to move too far.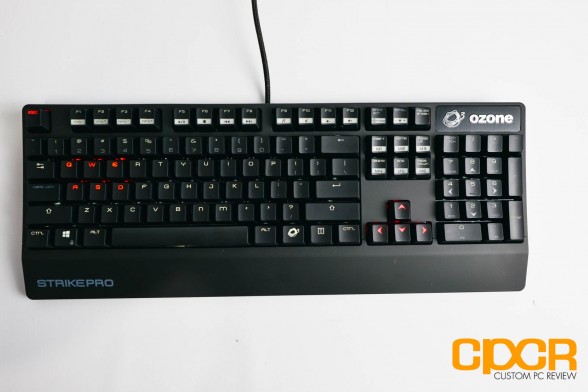 Software isn't as fancy as some of the stuff we've seen from Razer, but since most settings could be accessed physically on the keyboard, software isn't too necessary. In fact, I got by just fine without the software installed for the most part. The macro assignment/management however does require the software, and if you're hardcore enough to require adjusting the polling rates then you might need the software, but otherwise the Ozone Strike Pro is pretty much plug and play.
Speaking of macros though, the Strike Pro's macro keys were in a strange spot, which isn't all that useful for gaming. While you can still program them to do things outside of gaming, I believe placing them in a dedicated macro column on the left side would greatly increase its usability since that's generally where my hands tend to be.
There's no denying that the Ozone Strike Pro is a fantastic backlit mechanical keyboard and at ~$100, it's not too expensive either. Those looking for a high quality backlit mechanical gaming keyboard should definitely check this one out.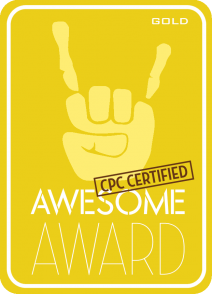 Sample provided by: 4GamerGear, USA Distributor of Ozone Gaming Gear
Available at: Amazon