Warning
: Undefined array key "width" in
/var/www/vhosts/custompcreview.com/public_html/wp-includes/media.php
on line
1381
Warning
: Undefined array key "width" in
/var/www/vhosts/custompcreview.com/public_html/wp-includes/media.php
on line
1386
Warning
: Undefined array key "height" in
/var/www/vhosts/custompcreview.com/public_html/wp-includes/media.php
on line
1386
Warning
: Undefined array key "width" in
/var/www/vhosts/custompcreview.com/public_html/wp-includes/media.php
on line
1381
Warning
: Undefined array key "width" in
/var/www/vhosts/custompcreview.com/public_html/wp-includes/media.php
on line
1386
Warning
: Undefined array key "height" in
/var/www/vhosts/custompcreview.com/public_html/wp-includes/media.php
on line
1386
One Size Fits All RGB LED Case Lighting
[section label=1. Introduction]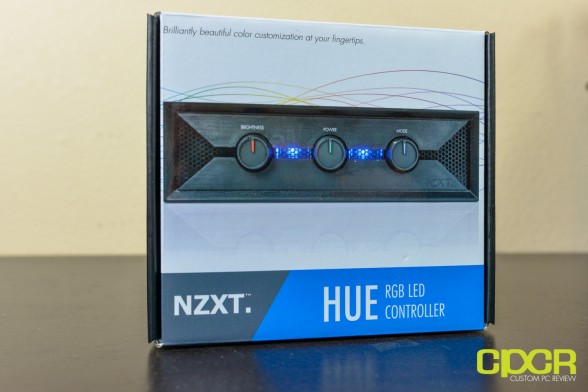 Since 2004, NZXT has been bringing all kinds of unique and innovative case accessories, cases, and CPU coolers to the enthusiast/gamer markets. One such case accessory of course is case lighting, which is probably one of the easiest ways to give your windowed case a brand new look.
This is why today, we're going to be taking a look at NZXT's latest case lighting kit, the NZXT HUE. The HUE, unlike most LED lighting kits on the market, is a fully customizable RGB (Red Green Blue) LED light strip. Because the HUE uses LEDs to produce lighting, it allows the HUE run cool and be very power efficient while still being able to pump out a lot of light. Additionally, since it uses RGB LEDs, it's also capable of producing an infinite number of color options.
For those who want additional lighting options, the NZXT HUE is also capable of allowing users to select varying levels of brightness, flashing modes, color changing modes,and more. Does it perform as advertised? Let's find out!
Specifications

[section label=2. A Closer Look]
A Closer Look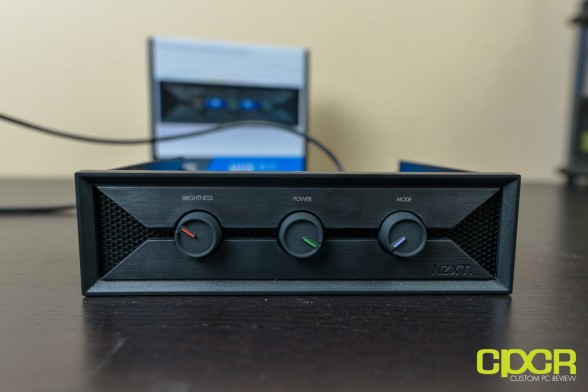 Included in the package is some documentation, a couple mounting screws, the LED strip and the control unit. Shown above is a closer look at the control unit. As you can see, it's very basic up here with only three control knobs – red, green, and blue. While these knobs adjust the amount of light emitted by a certain color, they also double up as buttons to control the brightness of the lights (5 brightness modes), change lighting mode (5 modes in total), and of course a power on and off switch as well. As for the unit itself, it's made of plastic despite the mesh portion of the front looking like painted steel.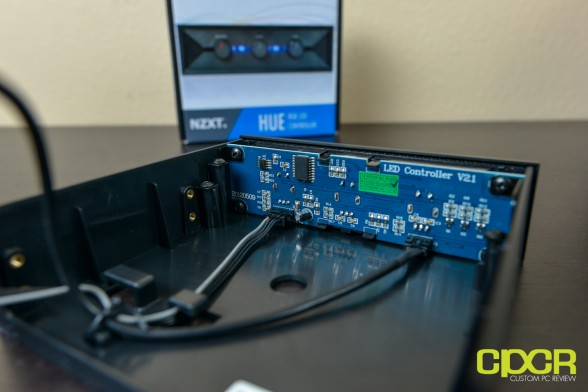 In the back of the unit, we get all the awesome circuitry that powers the unit. Anything that needs to be connected to the PCB itself is already connected so all that's needed to get going is a SATA power connector along with the connection to the LED strip. Also, the HUE's side rails are full length so tool-less installation is possible.
While not a negative at all, I would've liked seeing 2.5″ drive mounting holes on the huge tray back here. Seems like a ton of wasted space.
Here's a look at the strip of LED lights. It has an adhesive backing so you can stick them to the case. Unfortunately, this means that the LED kit is one time use only, but since the LED strip and the control unit is separate, I could definitely see the possibility of NZXT selling replacement LED strips in the future.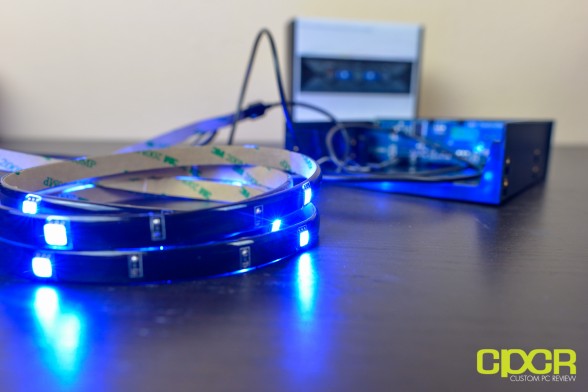 As usual, before actually installing anything like this, you'll want to test the LED strip out to make sure there aren't any dead LEDs or anything like that. Here we can see that the LEDs are pretty bright in their brightest setting and the colors look stunning as well.
[section label=3. Installation, Performance and Conclusion]
Installation
As you might guess from the length of this section, installing the NZXT HUE was very simple. All you have to do is slide your control box in any free 5.25″ drive bay, remove the adhesive backing on the LED strip and stick it in your case however you want it. Then just plug the LED strip into the control unit, plug the control unit's SATA power connector to your power supply and you're good to go. I literally had the kit installed within two minutes.
Performance
The NZXT HUE really does everything it's supposed to do. I honestly couldn't think of a single color combination that I couldn't make with this thing. You might have to play with the kit for a while to get it to adjust to exactly the way you want it, but you'll eventually get it. Since I know most of you will only want to use the basic colors, here's a showcase of what can be achieved with the HUE. Also showcased here is of course none other than NZXT's Phantom full tower case.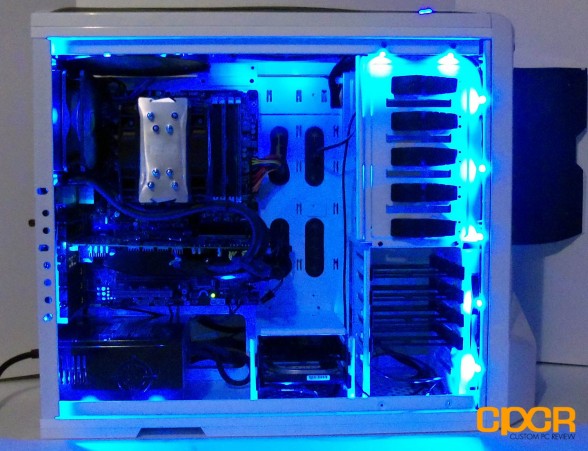 We started out with light blue. This was achieved with maximum blue settings, and about 1/4 green.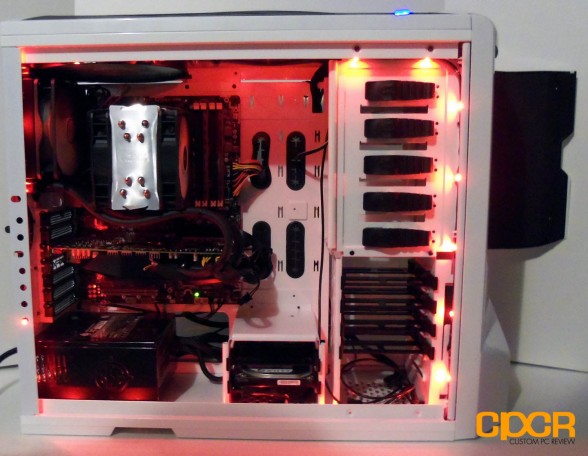 Next we went straight into red. As you can imagine this was done with red on max and all other colors completely disabled.
We then transitioned into green, which I found to be one of the better colors. In our white case, the green really seemed to pop a bit more than the other colors we tested.
Our last color setting we did was pure blue. This was achieved with no other colors enabled, however it almost turned out to be a purple color on our camera.
Additionally, there were other modes as well such as flashing, fading (breathing), and more. Personal favorite? Gotta be the fading mode with the changing colors. Stunning… be sure to watch the unboxing video if you'd like to know more about the different modes!
Conclusion
Installing the NZXT Hue was very simple. As I said previously, I had the HUE installed and was toying around with the colors within minutes. Generally speaking, lighting systems like this take a while to install as you'll need to first install all the clips for the light strip then the lights themselves; however NZXT has made the HUE really easy to install with its adhesive backing.
The performance on the Hue was everything I was expecting it to be and maybe a bit more. The LEDs were very bright and I was able to sit down and literally come up with tons of colors that looked amazing in my white Phantom case. The fading (aka breathing) and flashing patterns were well balanced and added a nice contrast from the boring, but standard single color option.
The NZXT Hue is expected to be priced at $32.99 MSRP when it arrives on store shelves within 1-2 weeks (according to NZXT). As far as competition goes, something like this doesn't really have any competition. I know Phobya has a set available, but it's pretty difficult to find whereas NZXT has a much better distribution network so I'll be expecting to see the HUE at Amazon, Newegg, and other major retailers within the next couple weeks.
Bottom Line:
For those of you who want to change your computer's case lighting as frequently as your mood, the NZXT HUE will be well worth the price. With a never ending selection of colors to choose from and five different lighting modes on top of that, you won't ever have to worry about seeing the same color in your case twice… if you don't want to. Highly recommended!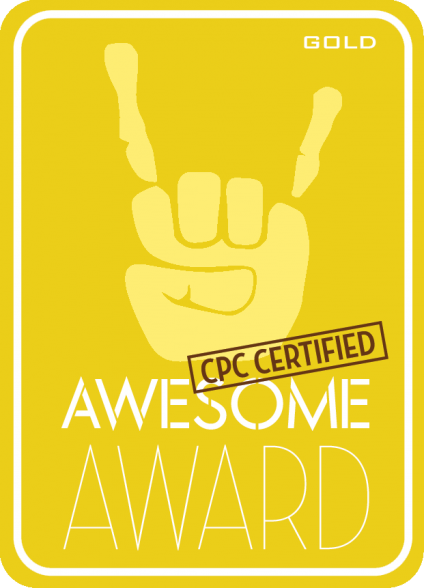 Special thanks to NZXT for making this review possible.