Apple's MacBook lineup has received much more than a fresh coat of paint at this year's San Francisco press event, which showcased the tech giant's latest iteration of their staple notebook, seeking to redefine portable computing.
As an all new design, the all-metal 12.1″ Macbook is a full 24% thinner than the current Macbook Air, measuring in at only 13.1 mm and weighing a mere 2 lbs. In addition to the new chassis, Apple also outfitted the notebook with a brand new 12.1″ Retina Display which features a strange 2304 x 1440 pixel resolution for a total of 3.3 million pixels. Apple claims that the new Retina Display provides stellar contrast, brightness and color reproduction while simultaneously consuming less power than previous models.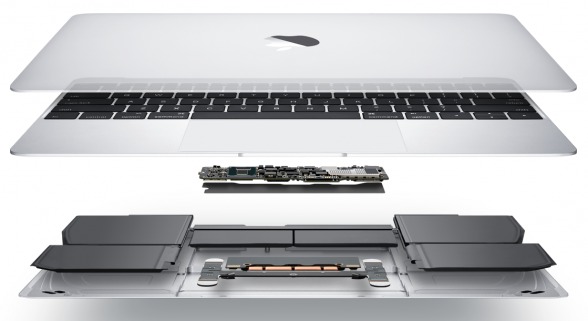 Core specifications on the new 12.1″ Macbook includes Intel's latest 5th Generation Broadwell M processor, a chip geared towards light everyday tasks without draining battery life nor producing bothersome noise due to the fanless heatsink design. Moreover, Apple's "terraced battery cell" is said to utilize more of the available space in the enclosure and promises up to nine hours of web browsing. Flash memory also comes standard so it can be expected that boot times will be fast and working with programs will be snappy and responsive.
Interestingly, Apple has also equipped the new 12.1″ Macbook with the latest USB-C connector which outputs video, transfers data, and charges the unit. There's no other ports aside from a headphone jack on the system which makes it difficult to say whether this is a good or bad thing considering the current lack of device support for the new connector and the fact that there's only one physical connector on the device.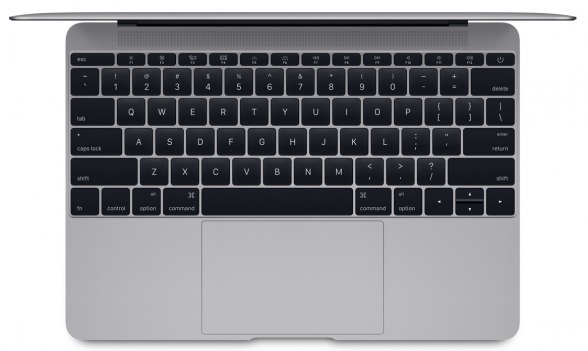 In addition to all the other new features, the keyboard has been revamped as well to accommodate for the reduction in thickness of the chassis. Apple was still able to still retain the full size backlit keyboard despite the notebook's compact size however, they will be transitioning to butterfly switches rather than the traditional scissor switches, so it'll be interesting to see how well the new butterfly key switches compare against traditional scissor key switches in terms of tactile response and ergonomics. Apple is also introducing their new Force Touch touchpad which will offer a bit more customization than current touchpads, allowing the user to define the amount of pressure needed to be exerted for clicks to be registered alongside the standard multi-touch gestures Mac users have grown accustomed to.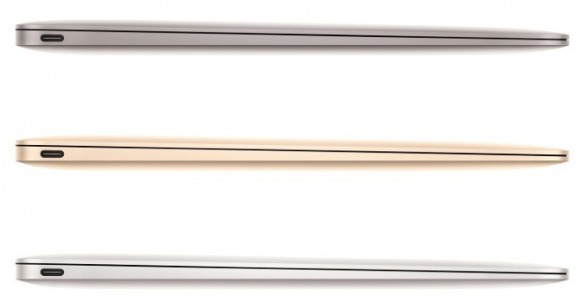 Overall the new MacBook looks like a promising portable solution for students and professionals who are constantly on the go. It'll be available starting April 10 and will come in silver, gold and space grey. Pricing will start at $1,299 for the base model which includes a 1.1GHz Intel Core M processor, 8GB of memory, and 256GB SSD.
Source: Apple