Warning
: Undefined array key "width" in
/var/www/vhosts/custompcreview.com/public_html/wp-includes/media.php
on line
1381
Warning
: Undefined array key "width" in
/var/www/vhosts/custompcreview.com/public_html/wp-includes/media.php
on line
1386
Warning
: Undefined array key "height" in
/var/www/vhosts/custompcreview.com/public_html/wp-includes/media.php
on line
1386
Warning
: Undefined array key "width" in
/var/www/vhosts/custompcreview.com/public_html/wp-includes/media.php
on line
1381
Warning
: Undefined array key "width" in
/var/www/vhosts/custompcreview.com/public_html/wp-includes/media.php
on line
1386
Warning
: Undefined array key "height" in
/var/www/vhosts/custompcreview.com/public_html/wp-includes/media.php
on line
1386
Warning
: Undefined array key "width" in
/var/www/vhosts/custompcreview.com/public_html/wp-includes/media.php
on line
1381
Warning
: Undefined array key "width" in
/var/www/vhosts/custompcreview.com/public_html/wp-includes/media.php
on line
1386
Warning
: Undefined array key "height" in
/var/www/vhosts/custompcreview.com/public_html/wp-includes/media.php
on line
1386
As more and more companies are focusing on cramming features into budget cases, sub 100 dollar cases are no longer the flimsy, boring, featureless enclosures that look like they're better off serving as letterboxes. Today's budget cases are packed with features and often look better and carry much higher end features than what their actual price tag suggest.
Today we'll be taking a look at yet another entry in the sub $100 dollar case market, the BitFenix Outlaw.
Designed as a lower end case, the Outlaw is very economically priced at only $50. That however, does not mean that it's short on features. It has a number of attractive highlights such as painted interiors, a mostly tool-less design, black cables, a CPU cutout and plenty of fan mounts.
Then again, anything can be made to look good on paper. So, is this Outlaw worth your attention? Lets find out in the full review.
Specifications
Here we'll take a look at the specifications and features. Nothing other than the "inverted motherboard tray" sounds interesting. Take a look if you want. Otherwise, let's move on.
| | |
| --- | --- |
| Materials | Steel, Plastic |
| Color (Int/Ext) | Black/Black |
| Dimensions (H x W x D) | 438 x 180 x 478 mm (ATX Mid Tower) |
| Motherboard Sizes | Mini-ITX, mATX, ATX |
| 5.25″ Drive Bays | x 4 |
| 3.5″ Drive Bays | x 4 |
| 2.5″ Drive Bays | x 1 |
| Cooling Front | 2 x 120mm (optional) |
| Cooling Rear | 1 x 120mm (included) |
| Cooling Top | 2 x 120mm (optional) |
| Cooling Bottom | 1 x 120mm (optional) |
| Cooling Side Panel | 2 x 120/140mm (optional) |
| PCI Slots | x 7 |
| I/O | 4 x USB2.0, Audio |
| Power Supply | PS2 ATX (bottom, multi direction) |
Features
Inverted motherboard tray
Lots of storage options
4x Front USB 2.0 ports
Motherboard Cutout
Black interior/cabling
Unboxing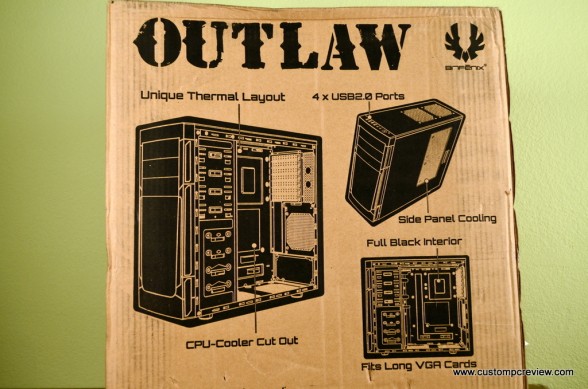 The box arrived in a fairly good condition. The box includes some features of the case.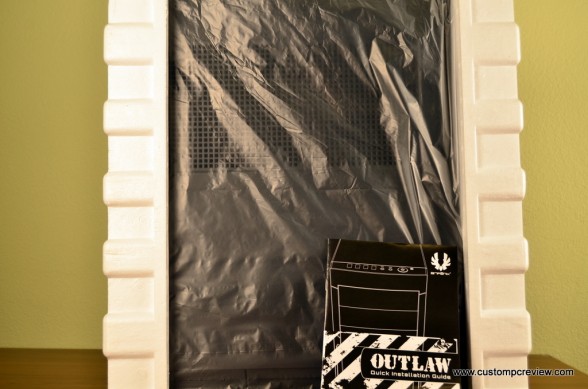 The case come encased in plastic foam padding. We also get a users manual.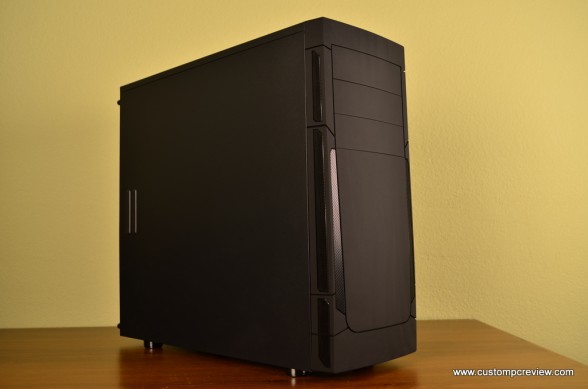 The BitFenix Outlaw looks quite attractive at first glance. The non-reflective surface gives it a very solid look and the soft touch rubbery material on the front of the case feels very nice.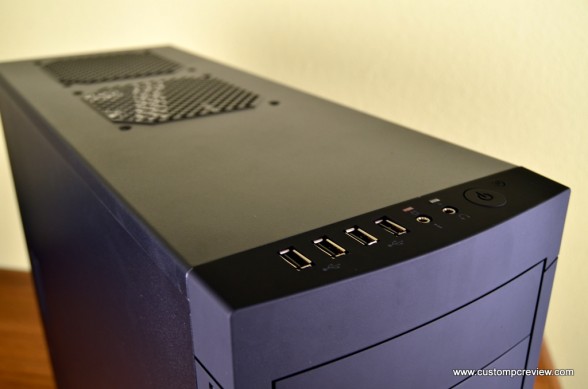 Here's a look at the front USB ports, the front LEDs, the headphone/mic port, and the power/reset buttons. They're up top which is nice for those of us who place our computer towers on the floor. The USB ports are also spaced out, which should prevent your USB plugs from squishing each other.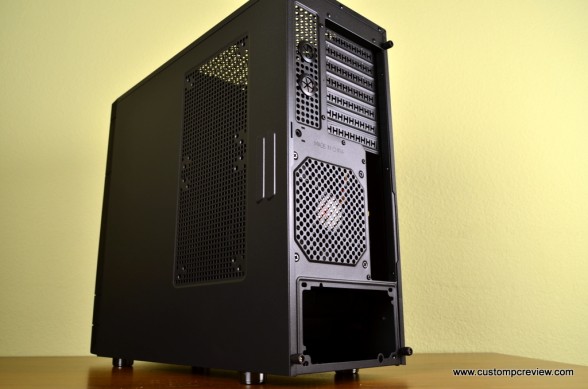 Plenty of mesh and fan mounts to keep the interior nice and cool. Thumb screws on the sidepanels are a nice touch on a $50 case.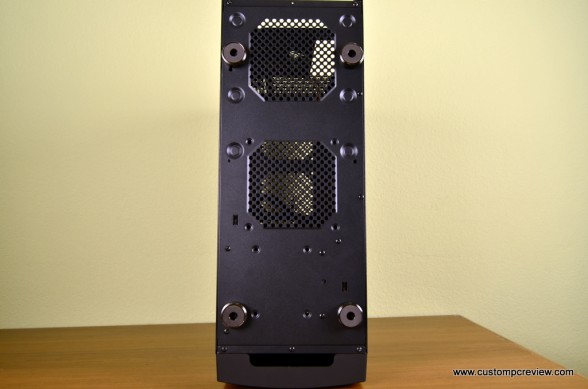 Interestingly, the bottom of the case has 2 fan mounts: one of the power supply and another for an optional 120mm intake fan. The feet are nice. Grippy and shiny.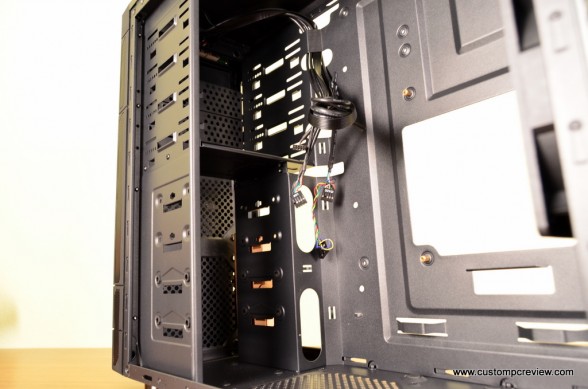 Props to BitFenix for including painted interior in a budget case. More props for including color matching cables. But then again, there's no side window so nobody will be able to see. Sad panda.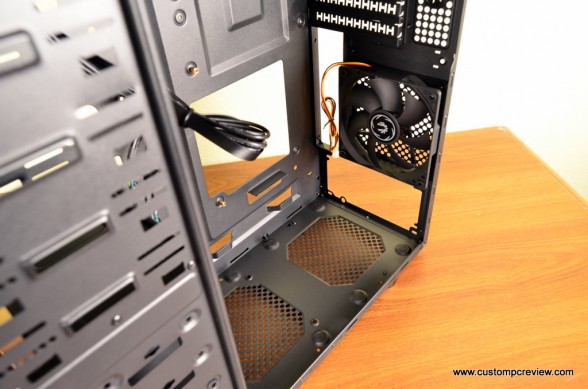 The entire case only comes with one 120mm rear exhaust fan. Somewhat disappointing, but considering its ridiculously low price tag, we are not going to flip tables.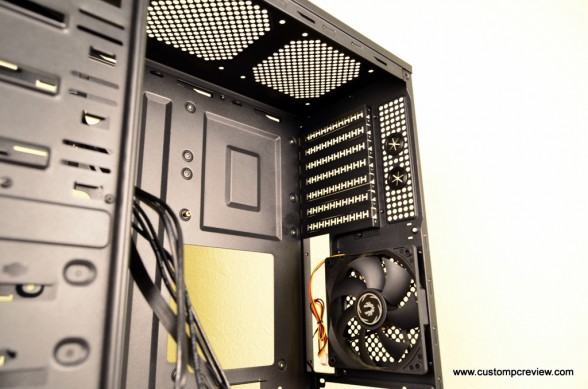 The seven expansion slots and the top fan mounts, which takes both 120mm and 140mm fans. The expansion slot covers are quite interesting. They're one time use only, So if you punch them out, you can't re-install them.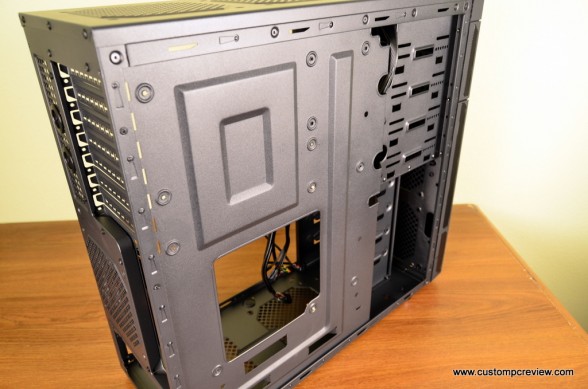 The other side of the case. With the exception of the front of the case, the case doesn't leave much room for cable management.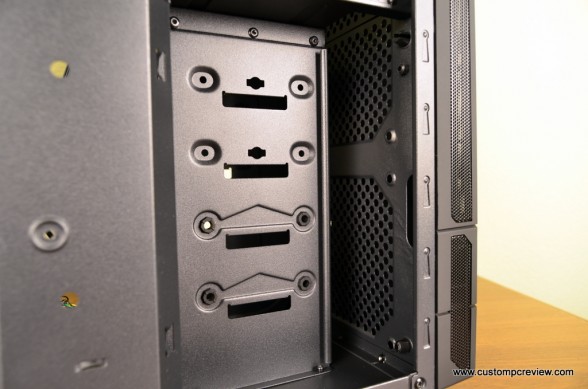 The four 3.25″ drive bays. These aren't tool-less either.

Removing the front panel was quite easy: just put your hand in the notch at the bottom and lift. But you must do this to remove the 5.25″ drive bay punchout covers. The front intake fans accept both 120mm and 140mm fans. Something we found odd though: There's a punchout under the 3rd 5.25″ bay that also contains mounting holes for a fan. If the punchout is removed, the mounting holes are permanently gone and the fan will only be held by only two screws, making it very unstable. An engineering miss or a power play to boost case stats?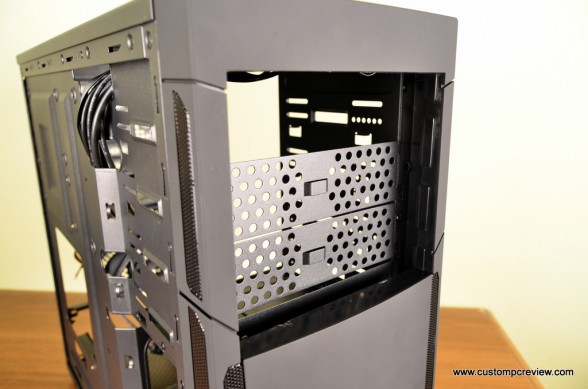 The front with the drive bays are covered by punchouts. There's no bay cover for the 4th 5.25″ drive bay.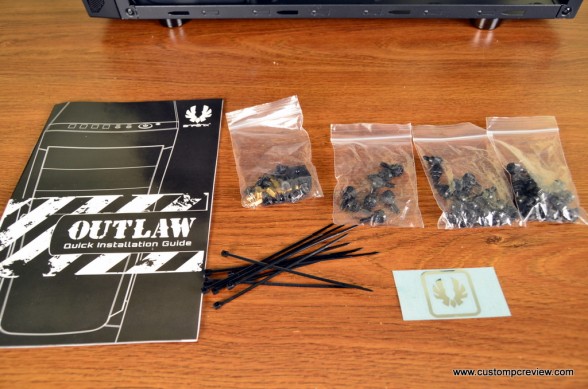 All the accessories. Here you get your usual dose of motherboard standoffs, case screws, cable ties, drive screws, thumb screws, and a BitFenix sticker. Notice all the thumb screws? I guess this case is actually tool-less after all. Sweet!
A Closer Look
Almost can't believe how much stuff fits in here. You can literally drop like $2,000 on parts into this $50 case.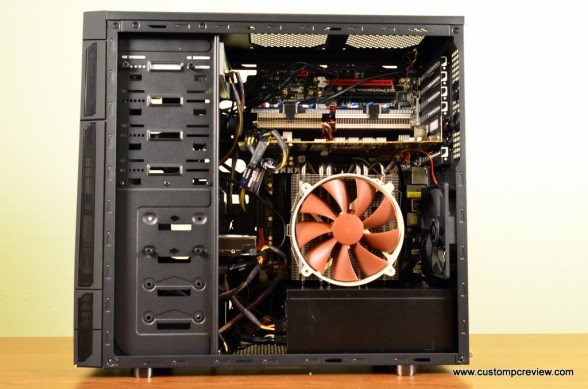 As you can see, it's pretty crammed in here, especially with a large cooler like the Noctua NH-C14, but everything fits.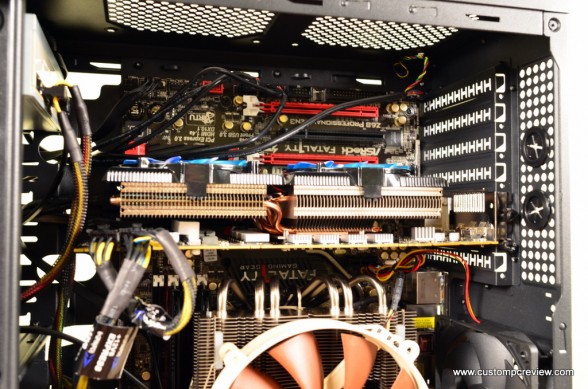 Our MSI Radeon HD6970 fit nicely into the case with room to spare. Make sure you store or tie the cables down, or they'll get tangled in the heatsink's fans.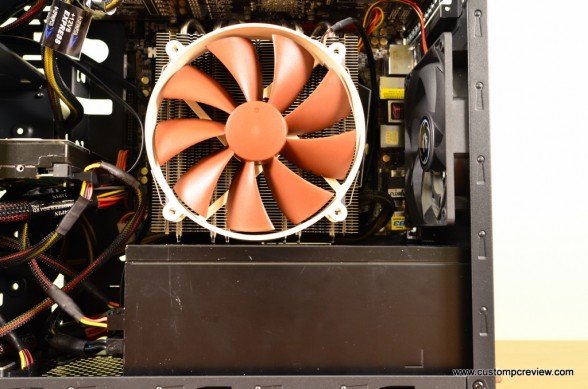 The huge Noctua NH-C14 and the Silverstone Strider ST-1500 power supply fits into this case. Very impressive. However, as you will see later, there is a caveat…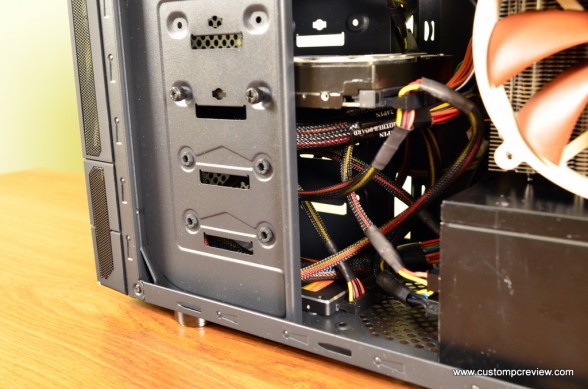 With almost no room for cable management at the back, we had to cram all the wires into the 3.5″ hard drive bay area. I could definitely see how this would be a problem had 3 more hard drives been installed.

The 5.25″ drive area look rather clean…compared to the rest of the system. The GPU still has plenty of room to go. Go BitFenix design team!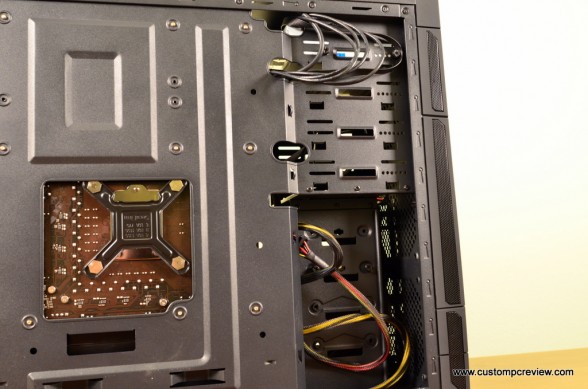 The backside of the case is quite tidy, since there's no room for cable management. There's a HUGE CPU cooler cutout, but it didn't work for us. As you can see, the screws are still blocked. Fail.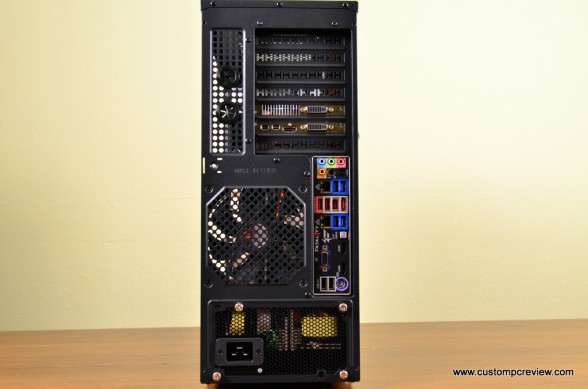 The rear of the case. Nothing eye popping here. It's strange for me to see the backwards mounted motherboard though.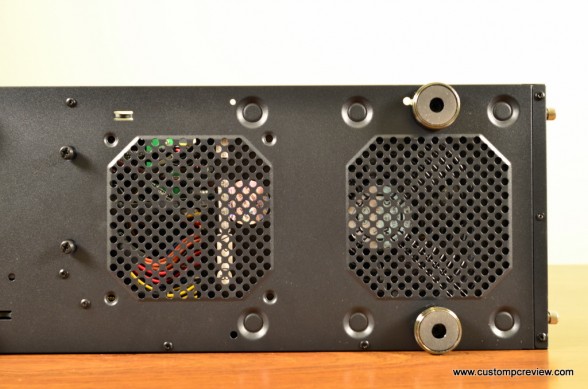 If you have a large power supply (like the Silverstone ST1500), then you may lose the option of installing a bottom intake fan. Also, BitFenix needs to extend the mesh area through the middle. As you can see here, the power supply's fan is half blocked at the bottom. Not good.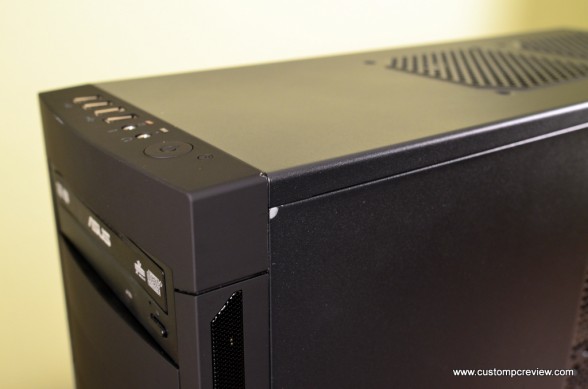 A piece of paint came from the factory chipped off. There's also a couple more areas with paint chips. Cheap paint or bad QC? Either way, it's very disappointing.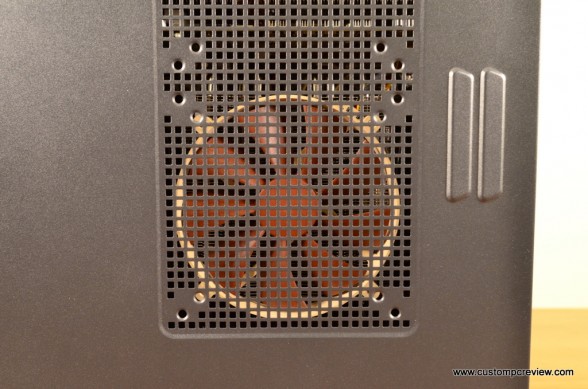 Through the mesh, you can see the interior of the case. Guess interior lighting could work. Also, notice you can drop in some 120mm or 140mm fans, but only if you don't have a giant CPU cooler like this one.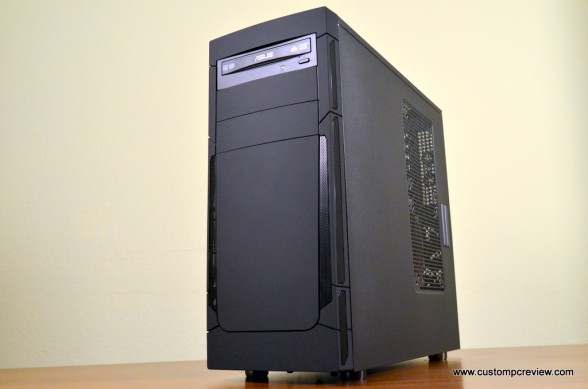 After everything's installed, the Outlaw stands rebelliously.
Conclusion
What's Hot
For a budget case, the Outlaw has a lot going for it.
It's the first budget case we've seen in a while to have black painted interiors and color matching case wires, making the inside of the case as appealing as the outside. Speaking of aesthetics, the Outlaw looks great. The whole case gives you an aggressive, solid, and stern look, making anyone who lays eyes on it immediately think that it's housing some beastly hardware. Little do they know, you only shelled out $50 for it. The front of the case also features BitFenix's soft-touch material which is awesome to touch.
Installation was also fairly painless and, although not completely tool free, BitFenix did the next best thing by providing us with plenty of thumbscrews. I can't say I've seen a single case company do that. Props to BitFenix.
In the design department, we have the inverted motherboard design of the case gave us plenty of space to fit large graphics cards. (Up to 12″) We also have top mounted front I/O which is awesome as well. There's also plenty of mesh everywhere for ventilation.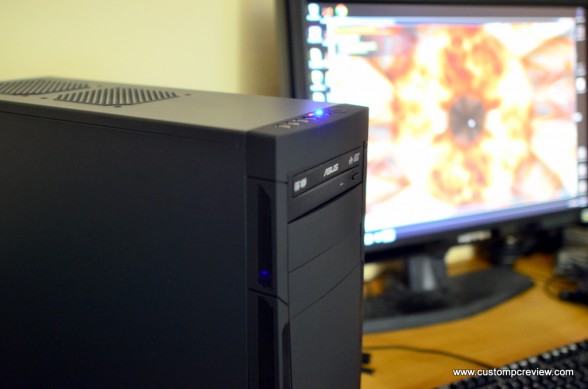 The power and hard drive LEDs are bright, but not annoying. Acoustically, the case isn't too loud and the amount of airflow through the case was quite mediocre. There's only a single exhaust fan, so you can't really expect too much. It did manage to survive a 60 minute Prime95 / Furmark stability test so it's good enough for me.
Whats Not
Strong points aside, lets move on to the the problems we faced with this case.
*See cable management update on the next page* First off… cable management was quite poor. With no space between the back panel and the chassis, the wires from the PSU to the drive cage were forced to clump up in a giant ball in the hard drive area, blocking 2 drive bays. Of course, we were using quite a large power supply, so with something more reasonable, it shouldn't be such a big issue. Any cables in use such as the SATA power cables to the optical drives, PCIe power cables, or fan power cables cannot be routed through the back and could potentially block airflow. It would definitely be nice to see BitFenix create a bit of space back there for cable management. Please note that there is a bit of space next to the hard drive area designed for cable management, so a couple extra wires may be placed there if you have a non modular power supply. Speaking of power supplies, the fan on our power supply was blocked because the mesh area wasn't large enough. Again, we were using a gargantuan power supply, so it won't be as big of a problem with something more reasonable.
Manufacturer's Response: 
To bunch up unused cables, the designated spot beside the hard drive bays are where they should be bunched.
Using the holes pictured in the middle, you can route your optical bays. Another picture of the cable management holes: Link
Any holes along the side back panel of the motherboard beside the hard drive and optical bays are used for cable management. Because of the inverted design, traditional methods of "cable management" isn't quite applicable and a different style must be applied, hence the lack of space directly behind the CPU. There shouldn't really be anything bunched inside the hard drive racks, taking up hard drive space. This is why the zip tie holes were designed on the inside of the case to direct cables instead of having them dangle.
The side panels did have a bit of flex, but at only $50, it was within the realm of acceptance. The paint job isn't exactly top notch. The case came from the factory with a couple chips. Ouch. Can't imagine what'll happen to this thing after a year.
The case came with only one fan. This kinda sucks because if you really want proper cooling, you'd really need to buy at least 2-3 more fans, or at least one up front. Even if we bought bottom of the barrel $5 fans, 2 or 3 of them does effectively increase the effective cost of this case to $10 or $15. It's still a good value at $60 or $65, but it's not the same as $50.
No USB 3.0 is a real bummer, but not a deal breaker.
Manufacturer's Response:
A USB 3.0 upgrade kit is available for purchase. The IO panel is the same design as the Shinobi's. 
Lastly, there's no fan filters. It probably isn't going to ever going to happen on a $50 case, but I thought I'd put it out there anyway.
Bottom line:
Despite some of the problems we faced, the BitFenix Outlaw is still an excellent case for a budget build. Yeah, it came with some compromises. (What doesn't?) But at the end of the day you won't find anything better for $50.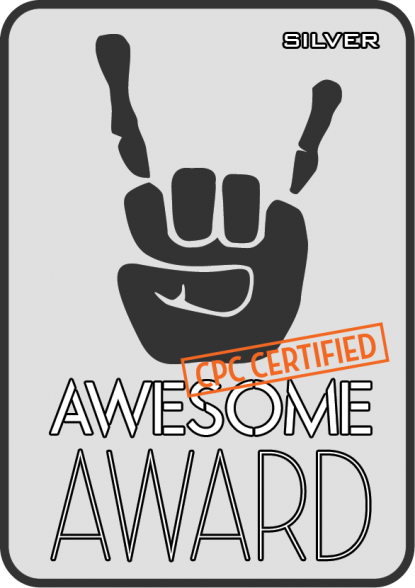 The BitFenix Outlaw is currently available at NCIX.
Special thanks to BitFenix for making this review possible!
Update: 02-09-12
Here at Custom PC Review we are very open to manufacturer suggestions, so after receiving the response posted earlier from the manufacturer about cable management, I decided to take a second look at the Outlaw. It really speaks volumes when companies are willing to take time out of their day to read reviews, so the least I can do is take a second look. After all, we all make mistakes.
So this time around, I pretty much dropped the exact same build into the system, but I decided to use a much more reasonable power supply – something that would actually be installed into this case. While it's nice to test out the case with a 1500w power supply, it's unlikely users would actually drop one into a $50 case.
As you can see here, I used a Corsair HX650 instead of the massive SilverStone Strider Series ST-1500. The result? Much, much more space to work with.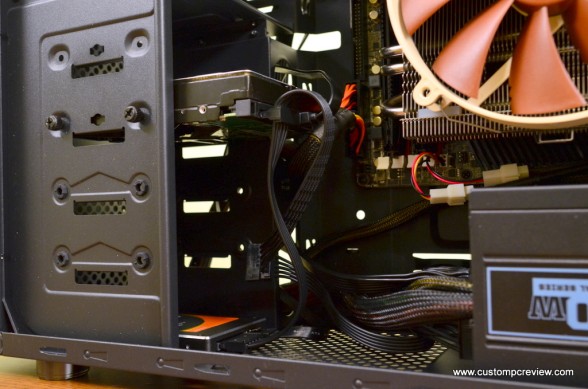 With the additional space from using the smaller HX650 power supply, the cables were much less bunched up around this area and there was definitely a lot more room to breathe here. Installing a fan down here probably won't be very effective considering all the cables, but it's nice to have the option.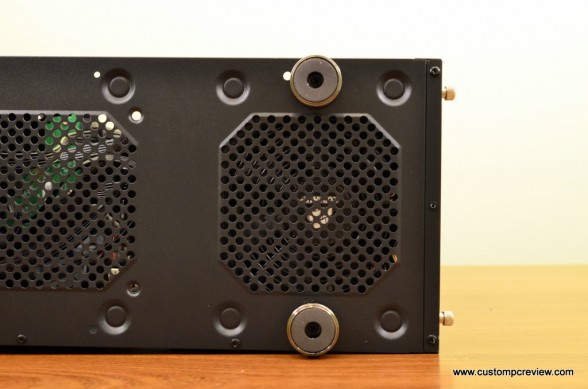 The power supply fan is now in its proper place and not blocked off anymore.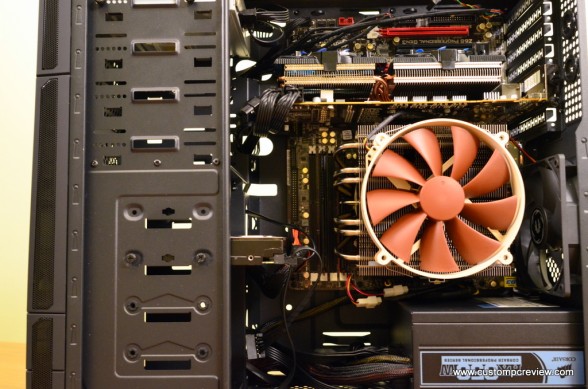 Did a bit more work to the cabling itself here. The guys at BitFenix were definitely right. Cable management isn't bad at all. The strange orientation of the motherboard does require you to route cables differently. Make sure to keep that in mind.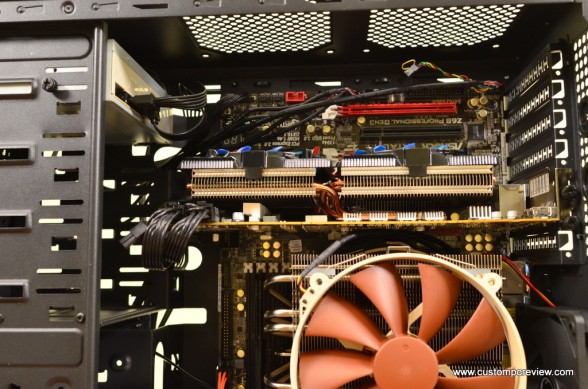 Up top we still have the front panel header cables which don't look so clean, but they're out of the way so they shouldn't affect airflow at all. Wish those were routable through the back through for an even cleaner look though.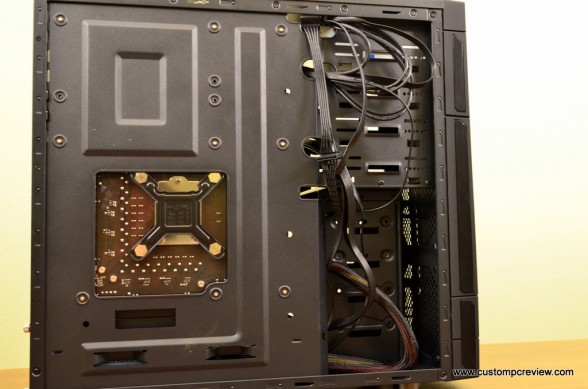 Before I end, here's a quick look at the back. I missed a couple things the first time, but I'm now actually quite happy with the cable management. Definitely glad I took a second look!
With that, I'm going to eat my words regarding cable management issues. Again, I would highly recommend anyone looking for a budget case to seriously consider the Outlaw.