Introduction
For those of you cooling enthusiasts, you probably know Noctua by now and they make great cooling products, so when they decided to introduce their new NF-F12 PWM fan, we were more than happy take a look at it.
For most companies, the introduction of a new fan is quite simple – find an OEM to produce your fan and you put your branding on it when you find one you like. However, at Noctua, the philosophy is quite different. They produce their own fans in house and drop tons and tons of research and development on the product. That's what makes Noctua one of the leaders in cooling technology.


Letter from Noctua
Included with each fan comes this letter, which in a paragraph summarizes Noctua's dedication towards producing the world's best pc cooling products:
Dear customer,

Congratulations on choosing the Noctua NF-F12 PWM. This fan is the result of over two years of intensive deveopment and our engineers have worked hard to create what is perhaps the most technically advanced Noctua fan for pressure demanding applications today. Each fan is double checked for flawless operation by our quality control team before it leaves the factory and I'm confident that you will be able to sense some of the research, attention and care we've put into making this product.

Enjoy your NF-F12!

Yours sincerely,

Roland Mossig, Noctua CEO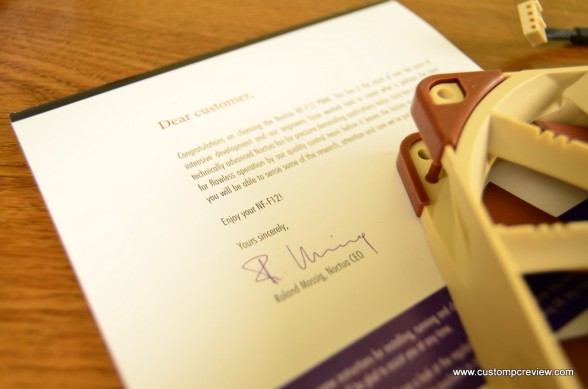 Video Unboxing
A Closer Look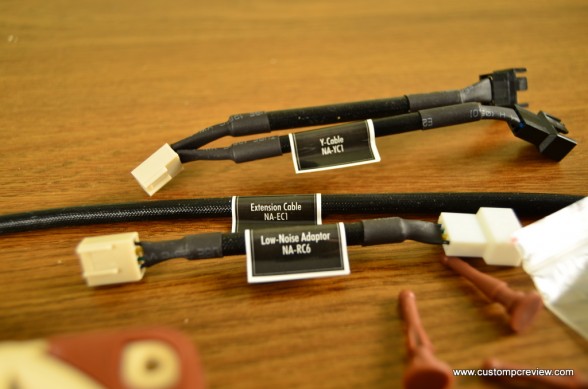 Y splitter, extension cable, low noise adapter, etc.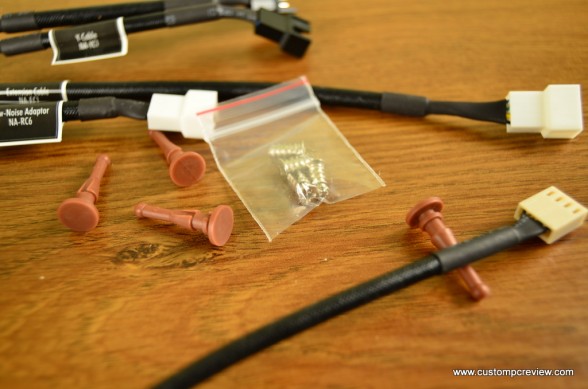 Wow, a lot of accessories. I'm impressed!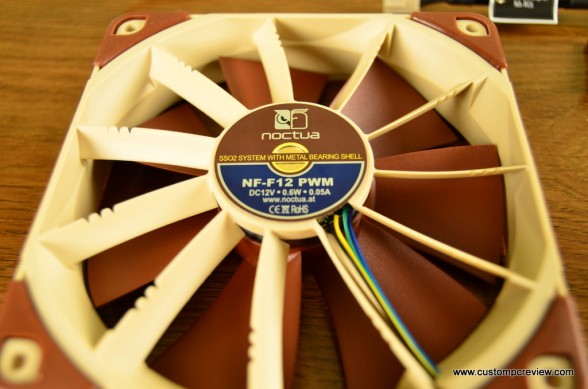 The fan is still sporting Noctua's traditional tan and brown. All 4 corners of the fan sport a rubber casing to reduce vibrations thereby reducing noise as well.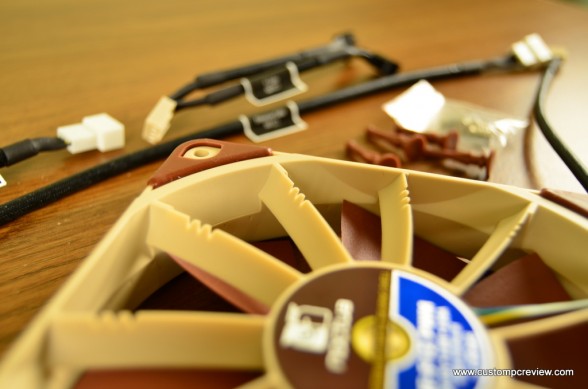 Each of the fan's stability arms are constructed in specific angles and include "vortex control notches" both of which help make fan noise smoother and more "agreeable" to the human ear.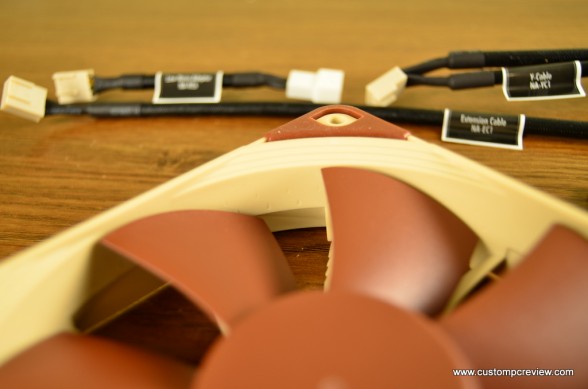 Here we can see a stepped inlet design and inner surface microstructures (little notches in the frame) to improve airflow and reduce noise.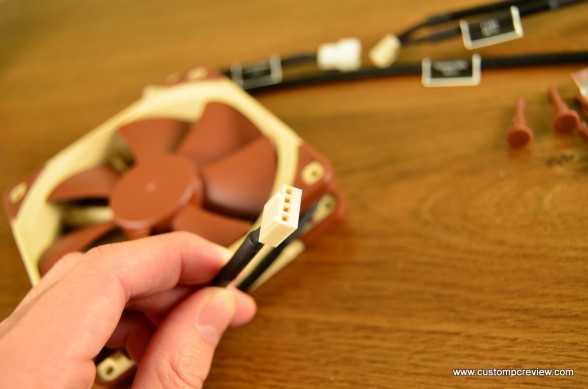 Here we see the 4 pin PWM connector with sleeved cabling.
Specifications
Size
120x120x25 mm
Connector
4-pin PWM
Bearing
SSO2
Blade Geometry
Heptaperf™
Frame Technology
Focused Flow™
Rotational Speed (+/- 10%)
1500 RPM
Rotational Speed with L.N.A. (+/- 10%)
1200 RPM
Min. Rotational Speed (PWM)
300 RPM
Airflow
93,4 m³/h
Airflow with L.N.A.
74,3 m³/h
Acoustical Noise
22,4 dB(A)
Acoustical Noise with L.N.A.
18,6 dB(A)
Static Pressure
2,61 mm H2O
Static Pressure with L.N.A.
1,83 mm H2O
Max. Input Power
0,6 W
Max. Input Current
0,05 A
Voltage
12 V
MTBF
> 150.000 h
Scope of Delivery

Low-Noise Adapter (L.N.A.)
4-Pin Y-Cable
30cm Extension Cable
4 Vibration-Compensators
4 Fan Screws

Warranty
6 years
A couple interesting things about the fan specifications:
The fan's static pressure is very high at 2,61 mm H2O. This means that this fan is very well suited for pulling and pushing air through heatsinks with dense fin arrangements such as the radiator of water cooling setups.
The fan uses 4-pin PWM technology meaning that the fan speeds can be automatically adjusted through the motherboard's bios based on temperature targets
The fan includes a 6 year warranty which shows the amount of confidence Noctua has in their fans.
Features
Pulled directly from Noctua's website, this is a list of the technology that is included in this fan. While we've seen most of this technology in previous Noctua fans, the newest addition to their feature lineup is the inclusion of the NE-FD1 PWM IC which is responsible for the PWM function in the NF-F12 PWM. This is one of those technologies that we'll probably see rolled out to more and more Noctua fans within the next couple months so keep your eyes peeled on that as well.
| | |
| --- | --- |
| | Focused Flow™ FrameDesigned for pressure demanding applications such as heatsinks and radiators, the Focused Flow™ frame features eleven stator guide vanes that straighten, channel and focus the airflow, which allows the NF-F12 to rival the performance of conventional fans running at much faster speeds.  |
| | Varying Angular Distance and Vortex Control NotchesThe NF-F12's stator guide vanes are set out in Varying Angular Distance and feature Vortex-Control Notches. Both measures help to spread the noise emission over a broader frequency spectrum and thus make the fan's sound pattern more agreeable to the human ear.  |
| | Heptaperf™ ImpellerCustom designed for the new Focused Flow™ frame and to work in tandem with the eleven stator guide vanes, the NF-F12's seven blade Heptaperf™ impeller has been carefully optimised to achieve a perfect balance between power and quietness. |
| | Stepped Inlet DesignNoctua's Stepped Inlet Design adds turbulence to the influx in order to facilitate the transition from laminar flow to turbulent flow, which reduces tonal intake noise, improves flow attachment and increases suction capacity, especially in space restricted environments.  |
| | Inner Surface MicrostructuresWith the tips of the fan blades ploughing through the boundary layer created by the Inner Surface Microstructures, flow separation from the suction side of the blades is significantly suppressed, which results in reduced blade passing noise and improved airflow and pressure efficiency. |
| | Integrated Anti-Vibration PadsIntegrated Anti-Vibration Pads made from extra-soft silicone minimise the transmission of minute vibrations while maintaining full compatibility with all standard mounting systems and fan clips used on heatsinks. |
| | SSO2 BearingThe NF-F12 is the first fan to feature the further optimised second generation of Noctua's renowned, time-tested SSO bearing. With SSO2, the rear magnet is placed closer to the axis to provide even better stabilisation, precision and durability. |
| | Metal bearing shellIn order to guarantee the highest possible degree of manufacturing precision, minimum tolerance and excellent long-term stability, the NF-F12 sports a CNC milled bearing shell made entirely from brass.  |
| | Custom designed PWM IC with SCDSupporting fully automatic PWM speed control, the NF-F12 uses Noctua's novel, custom designed NE-FD1 PWM IC that integrates Smooth Commutation Drive (SCD) technology. By providing smoother torque impulses, SCD suppresses PWM switching noises and thus makes the fan quieter at lower speeds.  |
| | Ultra-Low Power ConsumptionThe NF-F12 draws only 0.6W, which is more than 50% less than many fans in the same speed range. This doesn't only make it eco-friendly but also cuts down the electricity bill: Compared to a typical 2W fan, this allows you to save about half the price of the NF-F12 after 5 years of continuous use. |
| | Low-Noise AdaptorThe NF-F12 is supplied with a Low-Noise Adaptor (L.N.A.) that reduces the maximum fan speed from 1500 to 1200rpm. The L.N.A can be used either to run the fan at a fixed speed of 1200rpm or to cap the maximum speed when using automatic PWM control. |
| | Extensive Cabling OptionsThe fan's short 20cm primary cable minimises cable clutter in typical applications while the supplied 30cm extension provides extended reach when necessary. Both cables are fully sleeved and a 4-pin y-cable allows to connect a second NF-F12 fan to the same PWM fan header for automatic control. |
| | 6 years manufacturer's warrantyNoctua fans are renowned for their impeccable quality and outstanding longevity. Like all Noctua fans, the NF-F12 features an MTBF rating of more than 150.000 hours and comes with a full 6 years manufacturer's warranty. |
Testing
Noctua designed the NF-F12 PWM to produce as much static pressure as possible with the lowest noise possible so for our testing, we decided the best test for this fan was to compare it to the stock fans on the H70.
| | | | | | |
| --- | --- | --- | --- | --- | --- |
| CPU Cooler | Ambient | Idle | Burn 3.4GHz Stock (1.104v) | Burn 4.7GHz OC (1.392v) | Burn 5GHz OC (1.520v) 5 min |
| Corsair H70 (Stock Fans) | 21 | 27 | 42 | 67 | 83 |
| Corsair H70 (Noctua NF-F12 PWM) | 20 | 27 | 43 | 67 | 85 |
*All temperatures recorded in Celcius
Based on pure temperature measurements, the performance of the NF-F12 PWM fans is roughly equal to the performance of the stock H70 fans. However, the Noctua NF-F12 PWM was able to produce almost the exact same performance as the stock fans on the Corsair H70 with 32% less fan speed. The only major difference in temperatures occurred at the end of the testing where the H70's stock fans were able to successfully outperform the NF-F12 PWM.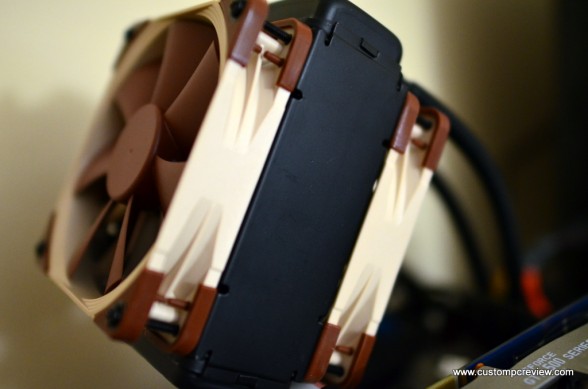 Conclusion
What we liked
While the Noctua NF-F12 PWM weren't able to outperform the stock fans on the H70, it was able to do nearly the exact same job as the stock fans on the H70 with 32% less fan speed. While we didn't have the equipment to properly measure the exact amount of sound (decibels) the fans created at full blast, subjectively speaking, the fans on the NF-F12 PWM even at full blast are fairly quiet while the stock H70 fans on full blast were intolerably loud.
The PWM function works as expected and the NF-F12 PWM fan has the special ability to spin to as low as 300rpms. Whereas many fans will produce some sort of mechanical whine in the bearings or some other sort of noise when lower than full power is applied to the fan, the NF-F12 PWM did not have any issues even when operating at 300rpms, or 20% maximum fan speed. This is extremely impressive as the fan is practically inaudible at 300rpm.
Additionally, we were impressed with Noctua's decision to add a variety of accessories with the fan such as the extension cable, the Y splitter, etc. We were also impressed with Noctua's decision to warranty their fan for 6 years. There aren't many companies on the market with such confidence in their products and we commend Noctua for that.
What we didn't like
Well, we admit it, we really liked these fans; however, it remains a fact that ultimately, the NF-F12 PWM wasn't able to defeat the stock fans included with the H70. During our 5GHz run on the i5 2500K, the NF-F12 PWM actually performed slightly worse than the stock fans. Of course, for most people, running an i5 2500K at 5GHz/1.520v 24/7 probably isn't very common.
Another issue with this fan is the cost. Current street price of the NF-F12 PWM is ~$25 making two of these fans ~$50. Yes, you are getting a lot of features, a lot of quality, and a lot of accessories from this fan, but is it $25 worth? Well, that's something you'll have to decide on.
Bottom Line
The NF-F12 PWM is a very expensive, very quiet, and very efficient fan. Some may say it's the Cadillac of pc fans, but it really isn't. It's more like the Rolls Royce of pc fans. If you're running a full water cooling setup or an in one water cooler such as the Hydro series from Corsair and have some money to spare, take a look at these fans. You'll be getting almost the same performance with a WHOLE lot less noise. Guess Noctua's 2 years of development paid off.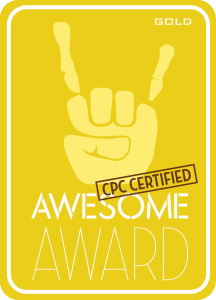 The Noctua NF-F12 PWM is currently available at Amazon.
The product sample used in this review was provided by the manufacturer.