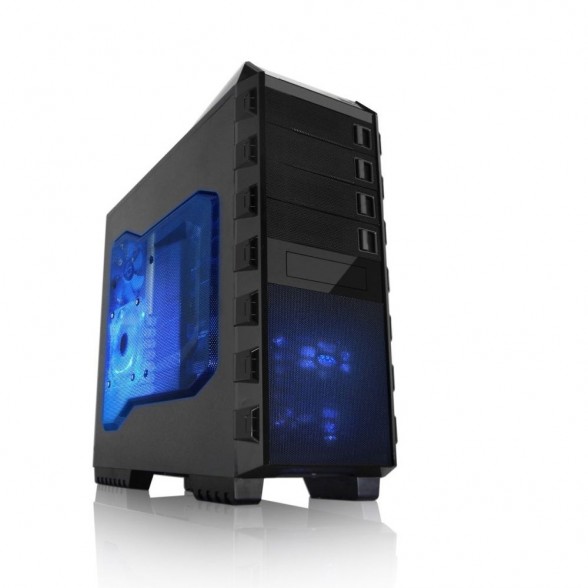 Well, a lot of you have been clamoring over a budget gaming PC with an AMD chip in it, so I decided to finally build one for you guys and I thought it actually came out REALLY well.
Budget: $600 $700
CPU – AMD Phenom II X4 960T
Since this one's going to be an AMD build, the first step is to choose the perfect processor and so we have the AMD Phenom II X4 960T. This processor is an excellent value considering it's a quad core processor coming in at only $114.99 on Amazon and it's a Black Edition processor which means it includes unlocked multipliers for easy overclocking as well.
Motherboard – ASRock 970 Extreme3
Well, originally I was going to look for a last generation 870 or 880 motherboard, but I was shocked when I found this motherboard at under $90 on Amazon which is an absolute steal for such a high quality board. Despite the low cost of this board, it's got Bulldozer support (140w TDP), Crossfire which means it also has dual PCI E x16 slots (One running at x16 and one running at x4), 4x DDR3 DIMM slots, and much more. It also has that really awesome looking black PCB that goes well with pretty much everything.
Memory – Kingston Technology HyperX Blu 4GB DDR3 1333MHz
For the memory, we're going to go with the HyperX Blu. These sticks are high quality HyperX sticks and they're currently only $23.99! Unbelievable how cheap memory is these days.
Video Card – XFX Radeon HD6770
The HD6770 is a pretty good low end budget video card and considering it's $109.99 and includes a $20 rebate, it's a steal. Just make sure you stick to Left for Dead or Starcraft 2 and you should be fine. You might even pull off Battlefield 3 at low settings if you're lucky. Don't expect too much outta this though. If you have a couple bucks to spare, upgrade to the Radeon HD 6850 or HD 6870. It's way better.
Hard Drive – Seagate Barracuda 7200rpm 500gb
Well, the hard drive shortage sucks. Especially if you're building a budget system. $84.99 for 500gb? Ouch =/
Optical Drive – OEM DVD Drive or OEM Blu Ray Drive (Any Manufacturer)
Basic dvd drive. Borrow one to save another $20 if you can.
PSU – Corsair CX430 v2
High quality power supply at an uber low price. Just pick this one up and be done with it.
Case – Raidmax Altas
While I don't recommend buying Raidmax power supplies, their cases are actually quite good and this one is a perfect example of a high quality case at a very, very low price. If you got the cash though I'd step up to the Cooler Master HAF 912. Your choice.
OS – Windows 7 Home Premium 64 bit Home Premium
I think everyone knows what Windows is. If you don't need a copy, save yourself another $100.
Optional, but highly recommended
CPU Cooler – Hyper 212 Plus
Since you're getting a black edition processor you probably wanna overclock right? Overclocking generates heat so you'll probably want an aftermarket cpu cooler. Do I recommend anything other than the Hyper 212 Plus? Well, in a budget build, nope! It's probably one of the best value CPU coolers out there. Nuff said, just buy it.
This build came out to $632.91 with the operating system so if you don't need one you could have a very decent system for only $532.92. We're talking tax and shipping included too! That's crazy! Of course, don't forget that $20 rebate on the graphics card too!
If you have any questions or requests visit our forums!
Looking for more builds? Check out our Computer Builds page for more!
[signoff1]