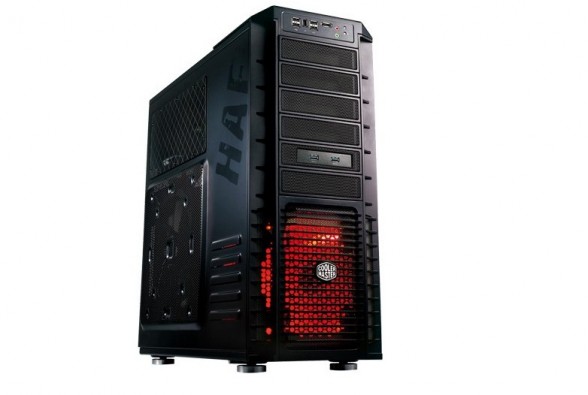 It's been a couple weeks since our last build here and I know some of you are antsy to see what I'm going to come up with this time, so today we'll be doing a build on a budget that I see very often these days – $1500. The idea of today's build is solely to play games such as Battlefield 3, Skyrim, Crysis, Call of Duty, etc. at the best possible quality settings (Ultra/Highest/High/AA/MSAA 8x/16x) at the lowest possible cost, so what have I come up with? Well, let's take a look!
Budget: $1,500
When it comes to performance/$, the i5 2500K is unbeatable, so it isn't a surprise that when overclocked, the i5 2500K can match the i7 2600K's performance when it comes to gaming. So, what are you waiting for?
Motherboard – MSI Z68A-GD65 (G3)
I have to admit, this build is quite similar to the build we did earlier at a budget of $1,200 or so, but I really like this board which is why we're again going to go with the MSI Z68A-GD65 (G3) again. The quality of this board, the overclocking capability and the value with the $30 MSI rebate makes this board the perfect choice for this high performance, value minded build.
Memory – 8GB Corsair Vengeance 1600MHz DDR3 Low Profile 1.5v Memory
Any sort of 1.5v DDR3 memory would work in this scenario, but I am going to recommend the 8GB Corsair Vengeance DDR3 1600MHz Low Profile memory. The sticks are extremely stable and a very good value. It is also low profile which means we'll have excellent compatibility with pretty much every aftermarket CPU cooler on the market.
Video Card – Sapphire Radeon HD 7950 3GB
Since we have a bit more of a budget when compared to the $1,500 build earlier, we are going to use that extra budget to go big on the graphics. With the HD7950, you're getting the second fastest GPU in the world. Yes, second fastest. Doesn't that sound awesome? Second fastest? In the world? Yeah, safe to say this is one of those graphics cards that will last you for some time to come.
Boot Drive – Corsair Force GT 120GB SSD
Chugging along with the fast & furious theme (no affiliation with the movies whatsoever), we'll go with the Corsair Force GT for the boot drive and for budget reasons we're going to forego the storage drive. Storage drives are always additions that can be made later as the budget opens up or the option of an external drive is always available if necessary. I'm sure everyone has an external drive lying around… somewhere, right? 120GB should be marginally enough to install at least Windows and enough games to keep any gamer satisfied for a while. Maybe I'd recommend going 180GB or 240GB if you've got the cash. Otherwise, 120GB is the lowest I'd personally go.
Of course, if you do find yourself needing a second drive for that 40GB music collection (Obtained legally, of course!) you can always opt to add in a second Seagate Barracuda 7200RPM 1TB Hard Drive for storage.
Optical Drive – OEM DVD Drive or OEM Blu Ray Drive (Any Manufacturer)
The trusty 'ol optical drive. Yup… Got Blu Ray DVDs you wanna watch? Grab the Blu Ray drive instead.
Grab the TX650 or step up to the Corsair AX850 if you're planning SLI. It's pretty much all I recommend these days. Corsair's power supplies feature Seasonic's crazy build quality in combination to Corsair's legendary warranty. Can't go wrong here.
Case – Cooler Master HAF 932
The one, the original, the HAF 932. This case just never goes out of style. Tons and tons… and tons of airflow/space at a very good price. If only every case could be like the HAF 932…
Oh and you could opt for a CM Storm Trooper, which like the HAF 932 offers plenty of airflow and space. It's also $30 off since Cooler Master is celebrating their 20 years in existence. Hooray for Cooler Master! Way to share the happiness!
CPU Cooler – Cooler Master Hyper 212 Plus
I think this CPU cooler has quite possibly been in almost every build I've put together for you guys and you know what? I'll keep putting it in there. Honestly, there aren't many coolers out there that can top the performance of this cooler for the kind of price that's asked. Anybody have any suggestions for alternatives? (Other than the Hyper 212 Evo!) Leave it in the comments below!
Operating System – Windows 7 64 bit
Total current price on Amazon for this build is $1,542.01 – $40 rebates which puts it a couple bucks above $1,500 shipped (Most states are tax and shipping free with Amazon). If you're REALLY die hard about keeping it under $1,500, you can always go with the Corsair Force 3 120GB which runs for about $15 cheaper than the Force GT. Of course, keep in mind the Force 3 being an asynchronous NAND based SSD will perform slower than the synchronous NAND based Force GT.
Finally, remember that if you have any questions, need some help, or need to fit the build into your budget feel free to visit the forums at http://forums.custompcreview.com. I'd be more than happy to help you out with your own custom build or answer any computer questions you may have.
Looking for more builds? Check out our Computer Builds page for more!
[signoff1]