The New Best in the Entry Level Segment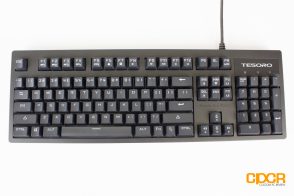 As awesome and essential as mechanical keyboards are, it's often difficult to justify tossing a benjamin or two on a keyboard when a cheap $10 one works just fine. However for PC enthusiasts, gamers and typists, a good mechanical keyboard is not just a commodity, but a necessity.
So what's out there for those who aren't looking to drop some serious money on a keyboard? Well, there honestly weren't a whole lot of options for a long time until recently when Cherry's mechanical switch patents expire making way for cheaper cloned designs.
| | |
| --- | --- |
| Manufacturer | Tesoro |
| Model | Excalibur V2 |
| Layout | ANSI 106 Key |
| NKRO | Yes |
| Switch | Kailh Brown |
| Dimensions | 450x150x34mm |
Today we'll be reviewing the Tesoro Excalibur V2 which is one of the newest mechanical keyboards in Tesoro's lineup. Tesoro caught our attention several years ago as an excellent keyboard manufacturer offering top quality keyboards for an affordable price.
On paper, the Tesoro Exaclibur V2 checks all the boxes. It comes in both Kailh Brown or Kailh Blue mechanical switches, full backlighting, full board macro programmability, keyboard profiles, and double-injected keycaps. Does it meet our expectations? Let's take a look!
A Closer Look at the Tesoro Excalibur V2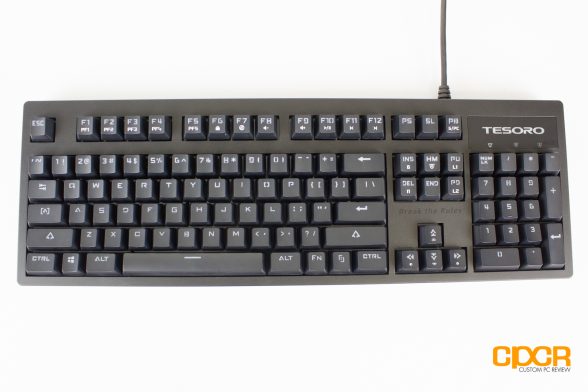 As with many of my favorite keyboards, the Tesoro Excalibur V2 prefers the modest and simple aesthetics. The entire board is covered in a matte black finish and there's a very simple TESORO logo on the top right corner. One thing I did notice right off the bat is that Tesoro used some strange big, blocky font for the keycaps which I'm personally not a huge fan of.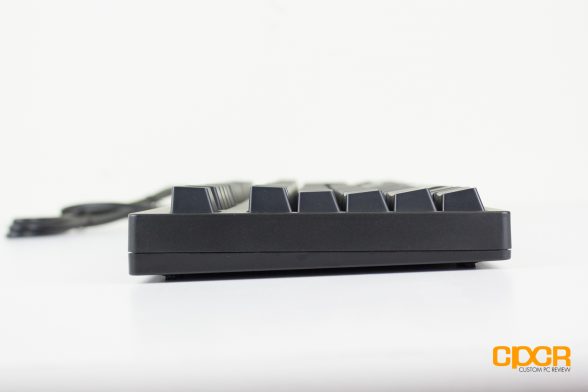 The Tesoro Excalibur V2 measures 34mm tall on its side. This is the typical height for most mechanical keyboards and I'd highly recommend getting a good wrist rest before hammering away at the keys for maximum comfort.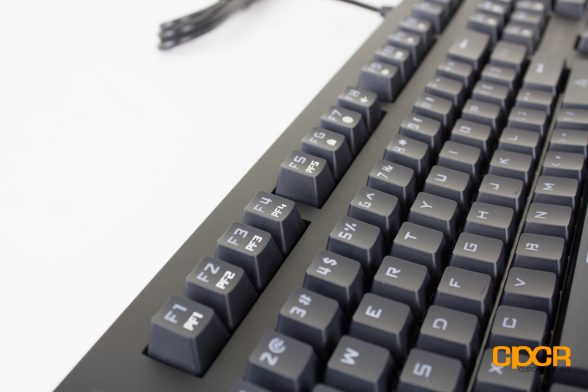 Here's a look at the F Keys, some of which double up as profile keys. The Tesoro Excalibur V2 can store up to 5 banks of profiles via the F1-F5 keys.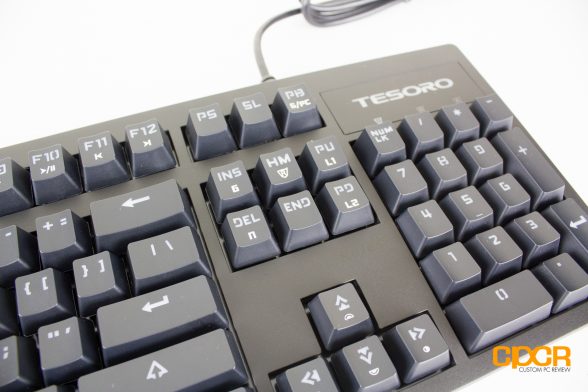 There are several functions doubled up on to the keys to the right. NKRO can be enabled or disabled depending on motherboard compatibility.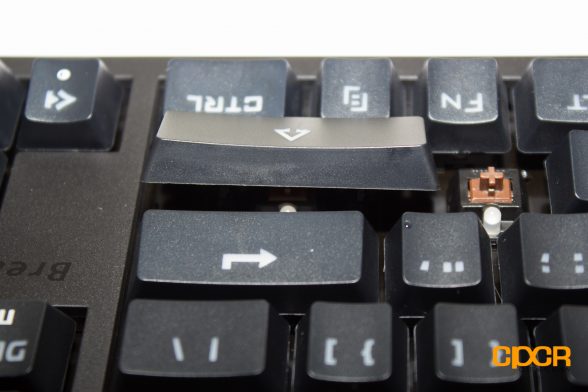 It's a bit difficult to see in this shot, but the Tesoro Excalibur V2 uses Costar stabilizers for the larger keys. I'm a huge fan of Costar stabilizers as they tend to provide a more consistent feel compared to Cherry MX stabilizers.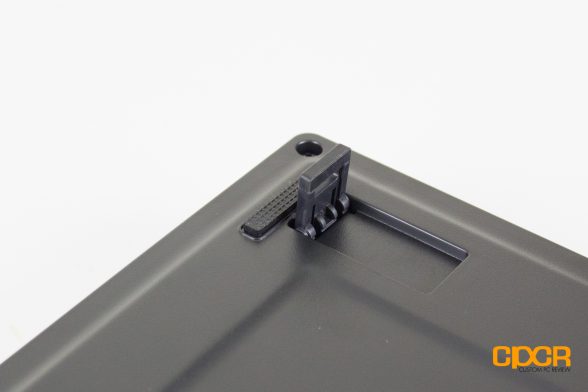 At the bottom we get a pair of single position flip-up elevator stands and rubber feet which prevent the keyboard from sliding around.


With the introduction of cheaper Kailh switches which are essentially clones of Cherry switches, Tesoro chose Kailh switches over Cherry to reduce cost. The Kailh Brown switches on the Excalibur V2 also comes with blue LEDs.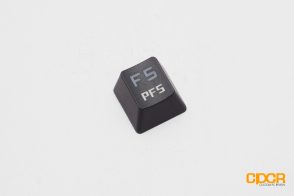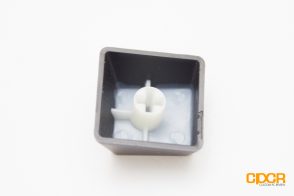 Here's a closer look at the keycap. I was pleasantly surprised to see that the Tesoro Excalibur V2 comes with double-injected keycaps. Double-injected keycaps layers two plastic on top of one with the bottom layer showing through the top layer to act as the key printing. This ensures that the prints on the keycaps never wear out. Because this method of production increases the overall cost, we rarely double-injected keycaps in even top-end keyboards. How Tesoro managed to squeeze in quality caps onto a budget keyboard is nothing less than impressive.
For keys with top and bottom prints, only the top portion is double-injected. The bottom portion is laser-etched.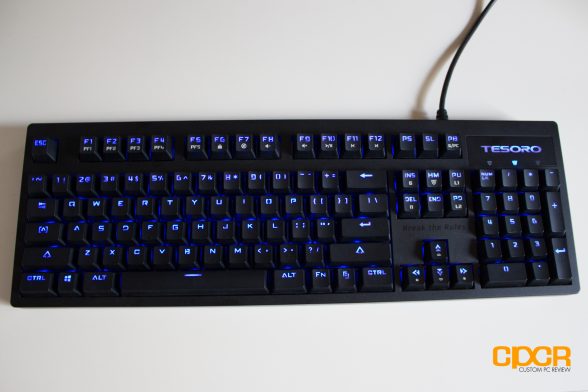 Here's a look at the Tesoro Excalibur V2 plugged in. Lighting modes and brightness can be adjusted with the arrow keys. The LEDs are very bright and beautiful when turned to full brightness. Also just as a sidenote, the blue backlighting appears a little purple in this picture, but rest assured they're indeed blue.
Tesoro Excalibur V2 Performance
Our testing section comprises of two subjective tests in gaming and typing, along with a synthetic test to check for NKRO and ghosting.
The switch used on the Tesoro Excalibur V2 is the Kailh Brown switch, which is the quiet version of the clicky and tactile Kailh Blue. Featuring a tactile bump in the middle of the switch, the Kailh Brown requires 55g of force to actuate and a depth of 1.9mm to register. When the switch is actuated, it produces a dampened "thud" instead of a crisp "click".
The Kailh Brown has proved itself to be a capable gaming switch time after time and the ones on the Tesoro Excalibur V2 is no different. When I'm doing heavy productivity tasks in Starcraft 2, the keystrokes feel consistent and punctual under the intense spamming. Though I prefer key switches with linear travel (without the tactile bump) in this scenario, I have no problem recommending the Tesoro Excalibur V2 to anyone looking to play even the most spam intensive games. Typing performance using the Kailh Brown switches is very good as well. The Kailh Brown switches perform very similar to Cherry Brown switches which along with Kailh Blue/Cherry Blue switches are generally the best switches for typing/productivity.
As for macro functionality, since there's no dedicated macro column. You'll have to sacrifice some keys to hold programmable macros. Macros can be recorded through the software or directly from the keyboard via the macro record function. I've bound a few helpful Lightroom shortcuts to the number pad and although they're not as convenient as a dedicated macro column, they work well.
NKRO/Anti-Ghosting Testing
To test the NKRO/anti-ghosting functionality of the Tesoro Excalibur V2, I'll be using a web app developed by Microsoft's Applied Science Group. More information about the web app and the relationship between ghosting and NKRO can be found here. The NKRO/anti-ghosting test is conducted using the USB connector.

No ghosting or strange key registering/not registering issues were detected.
Tesoro Excalibur V2 Software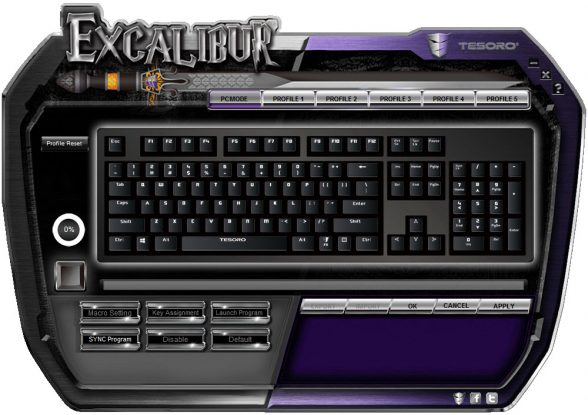 While the Excalibur V2 is an excellent plank physically, its software could use some work. Its dated interface looks cluttery, unintuitive and it's just plain ugly. With that said, you do need it to take advantage of the full-board macro programmability that it offers.
The Excalibur V2 can store up to five different profiles of macros and has a lighting mode dedicated to each. The lighting modes can only be cycled using Fn+arrow keys. Lighting effects include ripple, radiation, breathing, wave, custom, and macro. Custom lighting lets you choose the specific keys to light up which is useful if you're only going to be using a handful of keys. Macro recording actually records a set of keystrokes and replicate the lighting based on how you pressed the key.
Tesoro Excalibur V2 Conclusions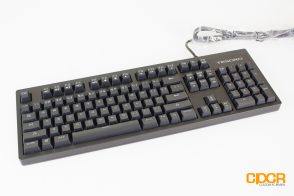 I've come across a lot of budget mechanical keyboards from a variety of manufacturers, but striking that perfect balance between build quality and performance is still a daunting task for any manufacturer. This is exactly what's so impressive about the Tesoro Excalibur V2.
There doesn't seem to be any flaws when it comes to construction. Not only is the Tesoro Excalibur V2 well-made, it actually looks good.  Its straight edges give it a rugged, blocky look, curving only ever so slightly at the corners. Also impressive is the high-quality, double-injected keycaps. They're a unicorn on high-end keyboards and are practically non-existent in the budget end. The matte finish keeps the keyboard easy to clean and fingerprint free – though you might still want to wipe it once in a while.
The only thing I would actually dock points on is the awkward sci-fi font on its keycaps. It may just be an acquired taste, but I couldn't get used to it. Luckily, any Cherry MX compatible keycap will work, so you have plenty of options to replace keycaps down the line. I'd also be nice to see a more durable cable and connection to the keyboard, but given that this is an entry level keyboard, I'm not too worried here. Aside from that the only other flaw is in the software. Tesoro's software has a decent macro manager but that's about it. Its tab organization, options layout, and color scheme could all use a serious facelift.
The Tesoro Excalibur V2 overcomes its lack of RGB lighting with some nifty lighting options. The coolest mode is probably macro lighting mode, which reproduces the pattern of keystrokes the user enters. While I personally prefer setting up the macros through the software, they can be recorded on the fly directly through the keyboard. Beware though, you'll have to give up a few keys in order to store the macros.
As for the switches, there's really nothing to complain about. Despite the controversies surrounding their build quality, the Kailh Brown switches are very responsive and satisfying to use. The silent tactile bump in the middle of travel provides significantly more feedback than a linear switch such as Kailh Reds and Kailh Blacks – a huge asset for the typists who want to hammer out reports without disturbing others. The Costar stabilizers are also very quiet and did a phenomenal job at keeping the longer keys stable and consistent in feel compared to the normal sized keys.
Pricing on the Tesoro Excalibur V2 is currently ~$64.66, which is a very reasonable price for a backlit mechanical keyboard. How exactly did Tesoro manage to keep the price of the Excalibur V2 so low? I can point my fingers at its choice of going with Kailh instead of Cherry, but I'm genuinely surprised that Tesoro didn't price the Excalibur V2 any higher than it is. With everything factored in, the Tesoro Excalibur V2 is a fantastic keyboard worthy of any gamer and its tremendous value makes it a top choice for anyone looking at an entry level mechanical keyboard.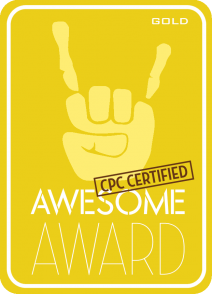 Sample provided by: Tesoro
Available at: Amazon