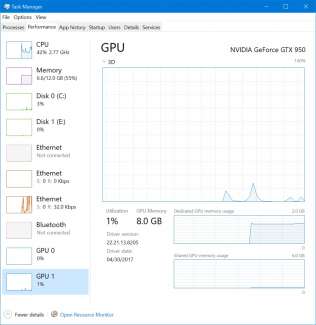 Windows Insiders will be happy to see that GPU utilization is now being tracked in the task manager in the latest version of Windows 10 Preview Build (16226).
The GPU utilization graph is located under the "Performance" tab under task manager. It shows core utilization of different GPU workloads (3D, encoding, etc), GPU memory utilization, and driver version. The resource monitor includes a more detailed breakdown of individual GPU processes.
Keep in mind that you'll have to be signed up with Windows Insider to get this update now or you'll have to wait until Microsoft releases the next Windows update.
Read the full patch notes at Microsoft Blogs.