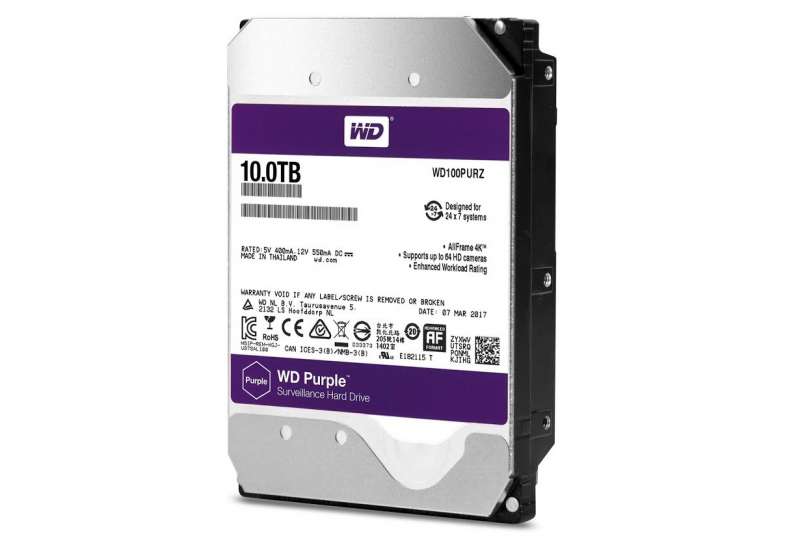 According to a recent announcement, Western Digital is bumping up the maximum capacity of its WD Purple HDD to 10TB.
The WD Purple 10TB, designed for home/business video surveillance applications, has a slew of technologies catered towards video recording. These technologies include tarnish-resistant components to improve reliability, storage platters encased in helium to reduce resistance when spinning, and AllFrame 4K technology to enhance ATA reduces video frame loss and pixelation. As a result, the WD Purple 10TB is capable of operating 24/7 and can support recording up to 64 simultaneous HD streams.
"Advanced imaging technology advancements are expanding the value that video surveillance provides for applications ranging from retail and public safety monitoring to smart-city infrastructure, all of which are driving new storage needs," said Brendan Collins, vice president of product marketing. "Our new 10 TB drive inherits the high performance, reliability and endurance qualities of our WD Purple family, with maximum capacity to offer VARs, integrators and consumers a 4K-ready solution for current and next-generation surveillance systems."
The new WD Purple 10TB drive is now available for $399.99 and comes with a 3-year limited warranty with a workload rating of up to 180 TB/year. For applications requiring less storage, the WD Purple drives are offered in lower capacities as well.
More information about WD Purple HDDs are available at the WD website here.