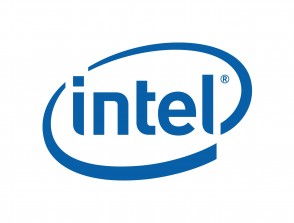 For all of those looking forward to reading all the wonderful reviews of the upcoming Intel Core i7-6700 flagship processor aka Skylake, the wait is still on, but one Chinese tech website, TechBang, published a host of benchmarks on the upcoming CPU way ahead of its supposed launch. While the review has now been pulled, it wasn't until after practically everyone had an opportunity to take their obligatory screenshots.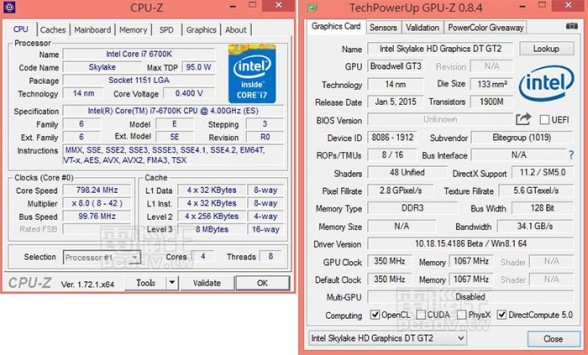 The screenshot above of CPU-Z and GPU-Z provides some insight on the specifications of the Intel Core i7-6700 including the onboard graphics. As expected, the Intel Core i7-6700 has four cores, eight threads, and 8MB of L3 cache. Similar to the current Intel Core i7-4790k, it's also clocked at 4GHz although the older Haswell counterpart can be turbo'ed slightly higher (200 Mhz to be exact). That said, Skylake's improved 14nm manufacturing process and IPC performance improvements promises even greater performance despite similar characteristics with its predecessor.
Running through the benchmarks, the results range from expected to quite surprising. For the Skylake benchmarks, TechBang claimed to be using an Intel Core i7-6700, ECS Claymore Z170 motherboard, 16GB of DDR4 2133MHz and a Nvidia GTX 970. For the Haswell benchmarks, TechBang claims to be using an Intel Core i7-4790K, MSI Z97A Gaming 6 motherboard, 8GB DDR3 1600MHZ, and a Nvidia GTX 970.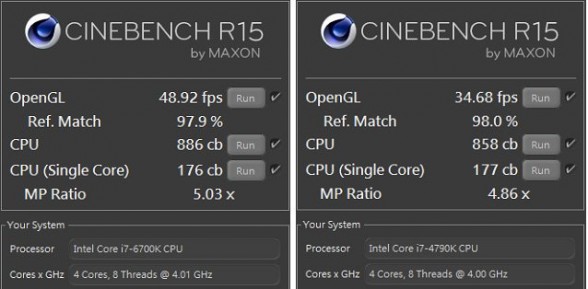 In CineBench the OpenGL performance of Skylake is significant to say the least as it takes a commanding 41% lead over Haswell. We did expect significant improvements in iGPU performance and such huge improvements are good to see.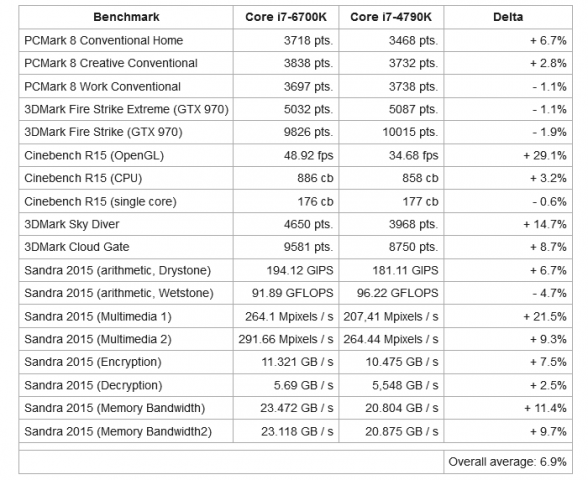 Other tests show an average performance increase of ~6.9% (which includes the ~29.1% improvement for Cinebench OpenGL and huge performance increases in 3D Mark as well). Compute performance improvements however, seems minor with most benchmarks revealing improvements of less than 10%. That being said, these performance numbers still leave a lot more questions surrounding overclocking potential and real world usage of the long awaited processor.
The first wave of official releases are expected to arrive on August 5th at this year's Gamescom so keep your eyes peeled for more as we will continue to cover any updates on the topic. As usual for leaked information, take the news with a grain of salt. More information to come in a few weeks.