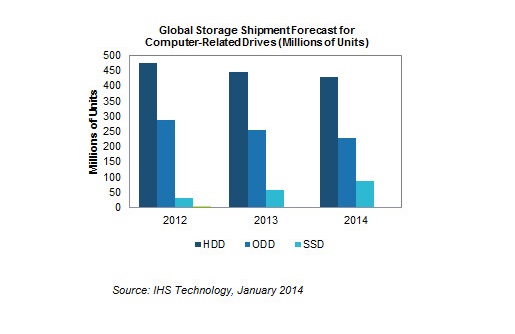 The numbers are out and according to a recent report published by global information company, IHS Technology, SSD (Solid State Drive) shipments in 2013 have gone up a whopping 82% while HDD (Hard Disk Drive) and ODD (Optical Disk Drive) shipments fell 7% and 12% respectively. While the news isn't a big surprise for those familiar with the computer storage industry, it's always good to see solid numbers backing projections.
"In contrast to the stable but declining HDD market, the SSD industry is in aggressive expansion mode… Improved price points have led to a recent decrease in the cost of SSDs and a resulting higher adoption of the drives by Ultrabooks and similar ultrathin PCs. And new enterprise products, ranging from drives to caches to arrays, have given many I.T. departments greater flexibility to integrate SSDs into corporate storage systems."
In addition to the 82% increase in shipments in 2013, IHS believes that SSD shipments will continue to increase at an explosive rate growing of at least 50% in 2014. IHS has predicted that SSD shipments will rise up to 189.6 million units in 2017, which will be close to half the size of the monolithic 397 million unit per year HDD market. ODD shipments on the other hand will continue to freefall with shipments expected to be down 40% in 2017 compared to 2012 levels.
Source: IHS