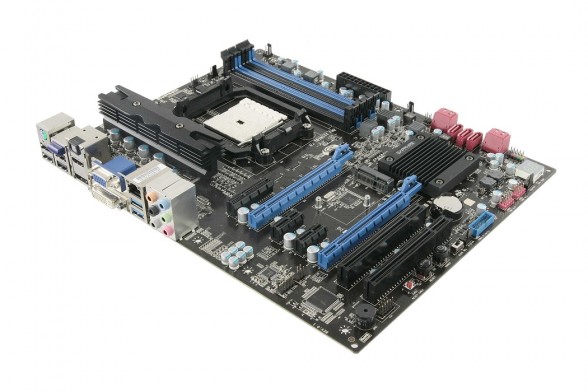 Press Release
Support for new AMD Trinity Series APU
SAPPHIRE Technology, a leading manufacturer and global supplier of graphics, mainboard and multimedia solutions has just announced a new mainboard developed to support the latest Trinity family of APUs from AMD.
The SAPPHIRE Pure Platinum A85XT is a full ATX sized board that supports the latest generation AMD APU A10/A8/A6/A4 series Trinity processors using socket FM2. It includes full implementation of the A85X chipset features, including USB 3.0, SATA 6G, PCI-Express expansion and extensive I/O support.
"SAPPHIRE is very excited about the launch of the Trinity platform and the new architecture it introduces," said Adrian Thompson, SAPPHIRE VP of Marketing. "We will shortly be adding a new product to our Edge mini-PC range to take advantage of the new performances levels Trinity brings."
AMD's Trinity APU family supports up to four independent high resolution DirectX 11 displays with its integrated Southern Islands graphics. Outputs provided on the SAPPHIRE Pure Platinum A85XT back panel are DisplayPort, Dual Link DVI-D, HDMI and VGA. Triple view is supported with VGA, DVI and either HDMI or DisplayPort.
The SAPPHIRE Pure Platinum A85XT mainboard has seven SATA III 6Gb/s ports, featuring AHCI and RAID support and including one eSATA connection. Four dual channel memory sockets are provided, supporting up to 32GB of DDR3 memory. There are four USB 3.0 ports (two at the rear and two on a header supported by a high quality front panel kit) as well as eight USB 2.0 ports (4 on the rear panel). Connectivity is provided by one Gigabit Ethernet LAN port and integrated Bluetooth. The rear panel carries optical SPDIF output as well as the standard I/O configuration for the on board 8-channel HD 7.1 Audio.
Extensive expansion support is provided by multiple PCI-Express slots. There are two PCI-Express Gen 2.0 X16 slots, which support AMD CrossFire or AMD Dual Graphics together with the APU. In addition there is one PCI-Express 2.0 x4 slot, two PCI-Express 2.0 x1 slots, two PCI Slots, and one Mini PCI-E x1 (or mSATA) connector.
Many user friendly features have been incorporated in the SAPPHIRE Pure Platinum A85XT, such as seven-segment digital debug display and a push button reset for the BIOS, as well as start and system reset buttons. These are especially useful for enthusiasts interested in performance tuning or overclocking. The provision of a Dual BIOS allows for experimentation and updates. This board features the SAPPHIRE QBIOS, an easy to use UEFI BIOS with many overclocking features, and includes S_BIOS which allows the user to update and back up the BIOS from within the BIOS – there is no need to boot from an external disk.
The build quality of the SAPPHIRE Pure Platinum A85XT is high. It has a black multilayer PCB, and uses high quality gold plated connectors for USB 3.0 and LAN. It incorporates many of the high end features associated with the SAPPHIRE brand, such as the use of high reliability solid capacitors throughout. The multi-phase PWM voltage regulation circuitry for both the APU and memory modules incorporate the SAPPHIRE Diamond Black chokes with coolers that have featured on SAPPHIRE's high end graphics cards. The chipset has a totally passive cooling solution and low profile coolers on the PWM section give users a wide choice of APU cooler without risk of obstruction.
Hardware monitoring tools and the SAPPHIRE proprietary Mainboard TriXX software allow users to review and adjust a range of system parameters while optimizing performance of the APU.