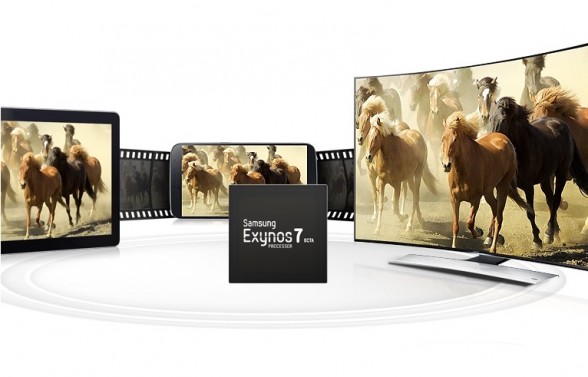 A recent article from Bloomberg claims that Samsung is dropping Qualcomm's latest 64-bit Snapdragon 810 SoC for their upcoming Galaxy S series (Galaxy S6?) smartphone . Citing "…people with direct knowledge of the matter…", Bloomberg reports that the reason that Samsung is dropping Qualcomm's Snapdragon 810 is because the chips are overheating during internal testing.
Instead, Bloomberg's sources believe that the "…new Galaxy S will be equipped with Samsung's most advanced chips…" suggesting that Samsung may equip the upcoming smartphones with their own Exynos SoC. Samsung's Exynos SoCs are already employed in a number of Samsung smartphones and tablets including current flagships such as the Galaxy S5 and the Galaxy Note 4; however, Samsung's Exynos SoCs based smartphones have always been sold only in Korea and various other parts of Asia while Qualcomm's Snapdragon SoCs have been used in the US. The reason for this is because Qualcomm's Snapdragon SoCs not only have LTE modems baked in, but they're also superior to alternatives currently on the market.
Despite Bloomberg's conviction in their sources however, many analysts are not convinced. Cowen analyst Timothy Arcuri told ZDNet that they consider Samsung switching to Exynos "…UNLIKELY as Samsung would have to use a different modem and RF in addition to the SoC – this is a very big undertaking and our work suggested Samsung was not ready with a complete solution…" Similarly, Moor Insights & Strategy principal analyst Patrick Moorhead told PCMag that "I'm not buying into the 'too hot' argument. It sounds a bit like FUD to me as Qualcomm is the market share leader in smartphones. They know mobile and I don't see them making a mistake like this."
Personally, we're not quite sure who to believe. It would be beneficial for Samsung to keep things in-house to keep costs low, but their modem options are really limited to either Intel or Qualcomm to be competitive. Samsung could potentially introduce a new modem with the launch of their new phone, but we haven't heard anything on that just yet. That said, we're not quite convinced the Snapdragon 810 is having such debilitating heat issues. The Snapdragon 810 is currently being shipped in both the Xiaomi Mi Note Pro and the LG G Flex 2 without issue. The LG G Flex 2 was recently demo'ed at CES and it didn't seem like it was using a processor that was suffering from intense heat issues.
Source: Bloomberg