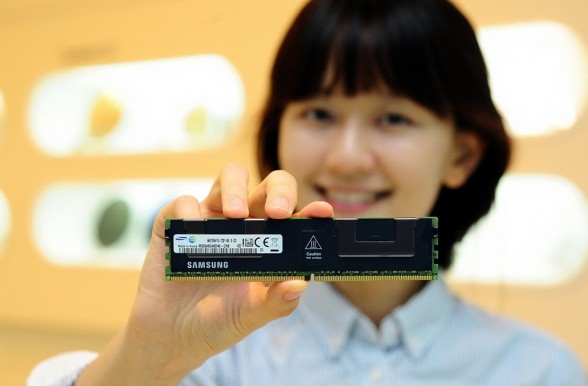 According to a recent press release, Samsung has announced that they've begun mass production of the industry's first 64GB DDR4 RDIMMs using their latest 3D TSV (Through Silicon Via) packaging technology. This next generation packaging technology will allow Samsung to produce memory packages that are smaller, faster, and more power efficient than current generation PoP (Package-on-Package) technology.
Unlike Samsung's new 3D V-NAND technology which uses 3D stacking technology at the die level, 3D TSV is a packaging technology that still uses 2D planar dies, but vertically stacks them in the package.
According to Samsung:
"To build a 3D TSV DRAM package, the DDR4 dies are ground down as thin as a few dozen micrometers, then pierced to contain hundreds of fine holes. They are vertically connected through electrodes that are passed through the holes. As a result, the new 64GB TSV module performs twice as fast as a 64GB module that uses wire bonding packaging, while consuming approximately half the power."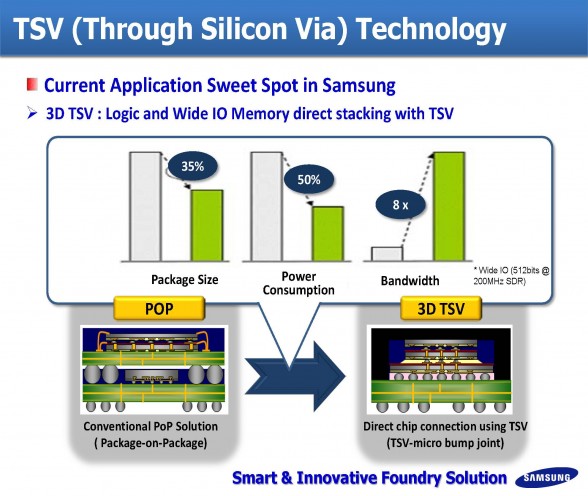 Currently, the only product Samsung is mass producing using 3D TSV packaging is their server oriented 64GB DDR4 RDIMMs (Registered Inline Memory Modules). By using 3D TSV technology, Samsung is able to stack four, 4Gb dies per package which allows Samsung to achieve 64GB of DRAM on a single RDIMM. Samsung claims that they'll be able to stack even more dies in the future which will lead to even higher density DRAM modules.
No word on when 3D TSV packaging will become available in consumer oriented unregistered DDR4 modules, but I wouldn't be surprised to see 3D TSV packaging to trickle down sooner than later with DDR4 becoming more mainstream in the next couple years.