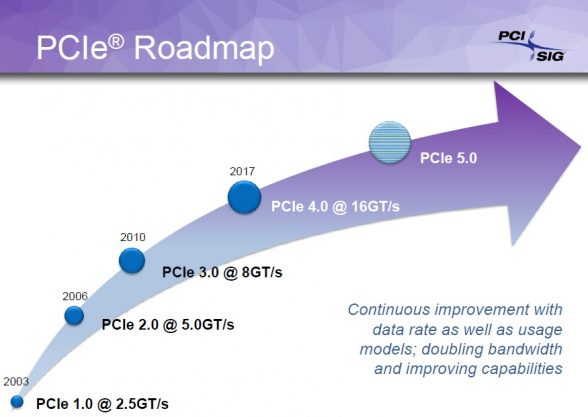 Ever since PCIe was launched back in 2003, it's become the de-facto standard for most expansion cards, and with high speed storage now adopting the standard, it's become more important than ever. It's only natural then that PCI-SIG, the group behind PCIe, has been working on a new PCIe 4.0 standard which aims to continue to solidify its importance in the computing world. In a recent interview conducted by Tom's Hardware with PCI-SIG Vice President, Richard Solomon, Solomon revealed some interesting developments for the upcoming PCIe 4.0 standard.
As expected, PCIe 4.0 will double the bandwidth of PCIe 3.0, carrying on the tradition of doubling performance every generation. PCIe 4.0 will now offer up to 16GT/s per lane which translates into approximately 1.97GB/s. A typical PCIe 4.0 x16 slot then will be capable of up to 31.5GB/s. This is exactly double the performance of PCIe 3.0.
Another interesting development is that PCIe 4.0 will for the first time also receive an increase in the amount of power delivered by the slot. Up to PCIe 3.0, only a maximum of 75W was able to be delivered by the slot, but PCIe 4.0 is expected to deliver at least 300W if not more. This is very important for high power draw expansion cards such as graphics cards which currently use external connectors for power. A significantly higher power ceiling from the slot may remove the need for additional power connectors.
The final PCIe 4.0 standard is expected to be released in 2017.
Source: Tom's Hardware