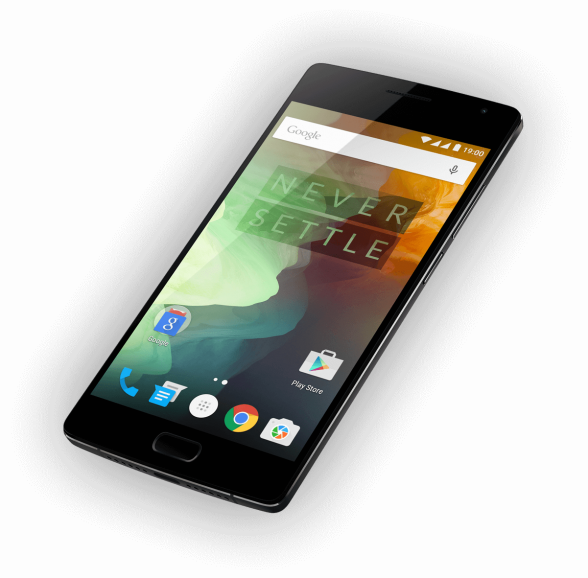 OnePlus, the Chinese mobile phone company trying to revolutionize cheap yet powerful smartphones has just revealed their latest flagship smartphone. Aptly named the 2016 flagship killer, the OnePlus 2 is looking to carry on the legacy set by its predecessor and continue the company's tradition of bringing flagship hardware to an affordable price-point.
The design of the OnePlus 2 largely coincides with the leaked pictures released earlier this week. The OnePlus 2 will indeed come with a metallic bezel and a flat back. The camera has been moved closer to the center of the phone for easy shooting in landscape mode, and the stock back cover will still feature the beloved soft-touch sandstone finish. Rather than a raised home button, the home button is now depressed into the phone. There's also a mysterious button on the left side which serves as a "notification slider" that cycles between different notification modes (silent, normal, etc).
Display
5.5″ 1080p IPS (401 ppi)
OS
Android 5.1 based Oxygen OS
Processor (SoC)
Qualcomm Snapdragon 810 V2.1 @ 1.8GHz, Adreno 430 GPU
Storage
16GB/64GB eMMC
RAM
3GB (16GB model) / 4GB (64GB model) LPDDR4
Camera
Rear: 13MP OIS Laser Focus with Dual LED Flash
Front: 5MP
Battery
3300mAh
Connector
USB Type-C
Weight
175g
Price
$329 (3GB, 16GB) / $389 (4GB, 32GB)
As expected, the OnePlus 2 will be built with the latest and greatest technologies on the market today. At its heart is the Qualcomm Snapdragon 810 V2.1 SoC, up to 4GB of LPDDR4 RAM, and up to 64GB of internal storage. Newly added (and much welcomed) features include dual-sim support, a fingerprint sensor, optical image stabilization, dual-LED flash, laser autofocus, and a 3300mAh battery. Unfortunately, OnePlus did skimp out with the screen as its 5.5″ IPS display carrying a resolution of just 1080p. It has been hypothesized that this was a trade off made for better power efficiency, but it's still unconfirmed at this time.
Finally, the thing that made OnePlus' previous flagship such a hit – its price. OnePlus' CEO, Peter Lau, revealed the price of the OnePlus 2 to be $328 USD for the 16GB model and $389 USD for the 64GB model. This undercuts the Samsung Galaxy S6 32GB by nearly $200 and the iPhone 6 16GB by more than $300. OnePlus expects the OnePlus 2 to be launched on August 11. Those who want to be one of the first to purchase the phone will need an invite, so be sure to check out the OnePlus website for more details on how to get one!
https://www.youtube.com/watch?v=0beQH0UdfFQ
Source: OnePlus