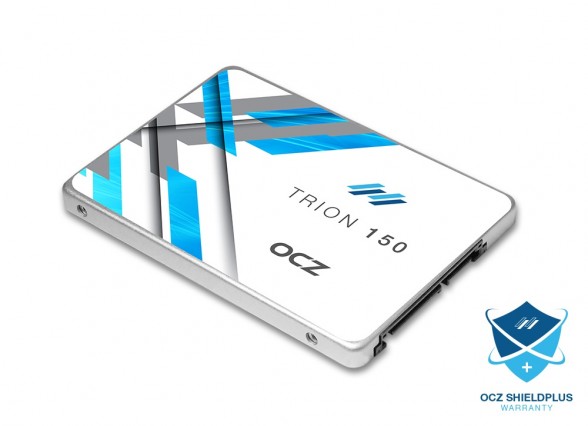 OCZ has just announced its budget-oriented Trion 150 SSDs designed to give old PCs a boost in performance without breaking the bank.
As an update to the Trion 100, the Trion 150 continues its budget friendly legacy by offering consumers more storage for their money. Depending on capacity, the cost per gigabyte can be as low as $0.28/GB.
Since OCZ is a subsidiary of Toshiba, it's not surprising to see that the Trion 150 leverages Toshiba's in-house controller and 15nm TLC NAND. The drive comes in 120GB, 240GB, 480GB, and 960GB capacities. The higher capacity drivers has more over-provisioned NAND, leading to higher endurance ratings. At its peak, the 960GB model can achieve up to 550MB/s sequential read and 530MB of sequential Write.
Manufacturer
OCZ
Capacity
120GB
240GB
480GB
960GB
Controller
Toshiba in-house
Interface
SATA 6Gb/s
Sequential Read/Write
550/450MB/s
550/520MB/s
550/530MB/s
550/530MB/s
4K Random Read/Write
79,000/25,000 IOPS
90,000/43,000 IOPS
90,000/54,000 IOPS
90,000/64,000 IOPS
NAND
Toshiba 15nm TLC
Endurance
30TB TBW
60TB TBW
120TB TBW
240TB TBW
Pricing
$45.99
$69.99
$139.99
$269.99
The OCZ Trion 150 is available for purchase starting today (prices quoted from Amazon.com).