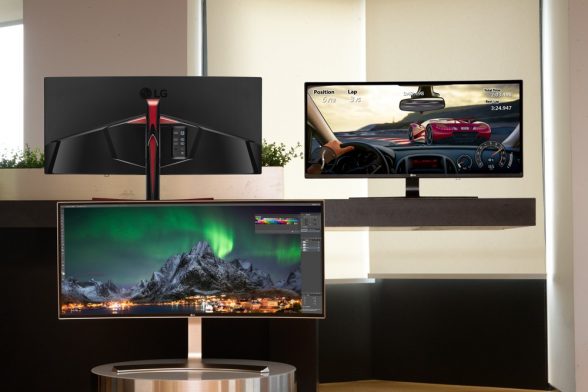 Not to be outdone by rival Samsung who recently launched two quantum dot curved gaming monitors, LG recently launched three new monitors of their own, each with some seriously awesome features.
LG 38UC99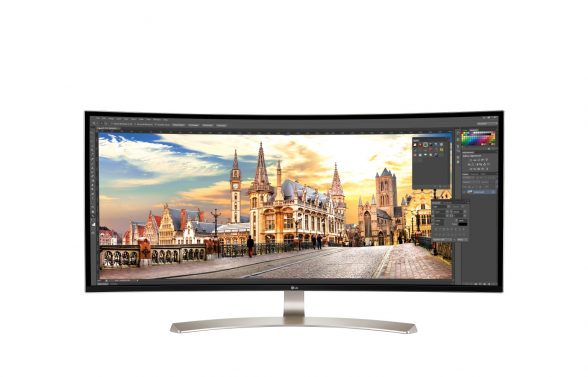 The first monitor is the LG 38UC99, which is a massive 38″ UltraWide curved monitor designed for the workstation user. Sporting a 21:9 UltraWide aspect ratio, the LG 38UC99 features IPS panel technology capable of displaying up to 99% of the sRGB color space and a phenomenal QHD+ (3840×1600) resolution. According to LG, the LG 38UC99 is the largest IPS UltraWide monitor in the world making it a perfect monitor for visual content creators, data crunchers, and multitasking professionals.
Additional features on the LG 38UC99 include USB Type-C port connectivity and two built-in 10w speakers with Bluetooth support.
The LG 38UC99 will retail for $1,499 when it becomes available in mid-September.
LG 34UC79G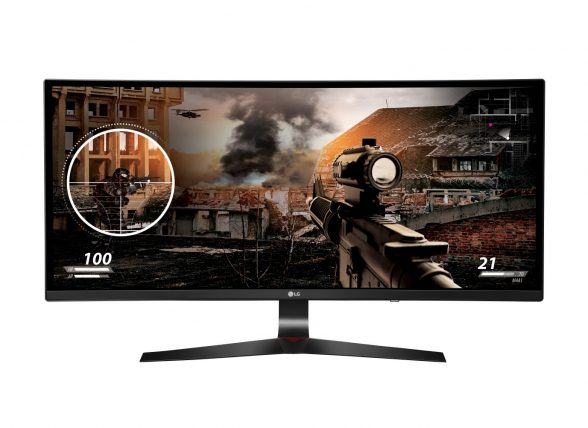 The second monitor is the LG 34UC79G which is a 34″ UltraWide curved monitor designed for gamers. Sporting a 21:9 UltraWide aspect ratio, the LG 34UC79G features IPS technology and a FHD (2560×1080) resolution. The LG 34UC79G's claim to fame however is its 144Hz refresh rate, which combined with LG's 1ms Motion Blur Reduction technology and AMD FreeSync will deliver the most studder and screen tearing free gaming experience.
Additional features include Black Stabilizer and Dynamic Action Sync with the former improving contrast and the latter reducing input lag.
The LG 34UC79G will retail for $699 when it becomes available in mid-October.
LG 34UM79M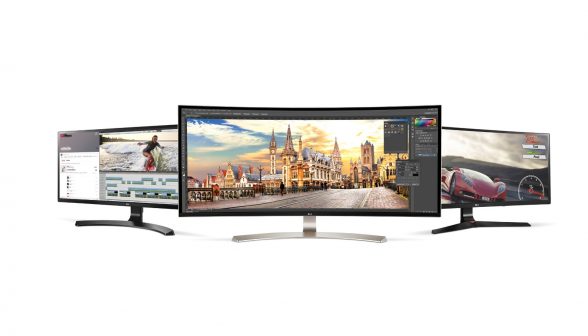 The third monitor is the LG 34UM79M which is a 34″ UltraWide flat monitor designed for workstation users. Sporting a 21:9 aspect ratio, the LG 34UM79M features IPS technology and an unknown resolution although it'll likely be FHD (2560×1080), the same as the LG 34UC79G. The LG 34UM79M's claim to fame is its LG CINEMA Screen design which utilizes an extremely thin bezel providing a more immersive experience.
LG's 34UM79M also features built-in Google Cast, which allows those with smartphones and tablets to stream content directly to the monitor. The 34UM79M also features split screen 2.0 which features 14 resizable presets for maximum multitasking efficiency.
The LG 34UM79M will retail for $599 when it becomes available in mid-November.
LG is currently displaying the new monitors at their booth at IFA 2016. More information about LG's UltraWide Monitors can be found at LG's website here.
Source: LG