Press Release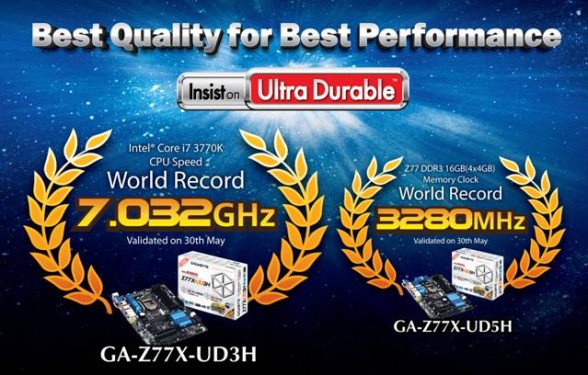 Taipei, Taiwan, May, 30th 2012 – GIGABYTE TECHNOLOGY Co. Ltd., a leading manufacturer of motherboards and graphics cards, today announced the record highest validated CPU clock speed on the Intel® Core™ i7 3770K processor using a GIGABYTE Z77X-UD3H motherboard, as well as the new world record highest DDR3 memory speed using the GIGABYTE Z77X-UD5H motherboard.
The 7.0 GHz milestone was surpassed using an Intel® 3rd generation Core™ i7 3770k processor (aka Ivy Bridge) by renownedoverclocker HiCookie, pushing the GIGABYTE Z77X-UD3H motherboard to a fully validated 7.03 GHz using liquid nitrogen cooling. This is regarded as the current #1 highest Ivy Bridge CPU frequency and a world record according to respected globaloverclocking website HWBot.org.
Additionally, HiCookie has broken the current highest memory speed for the Intel® Ivy Bridge platform, reaching an unprecedented 3280MHz with all 4 memory slots populated using the GA-Z77X-UD5H motherboards and G.Skill Trident X DDR3-2800 memory – also a new world record. This new record was achieved thanks in part to GIGABYTE's engineering prowess and tried-and-true memory tuning capabilities.
"These new world records highlight our belief that top notch quality and design deliver truly world-class, record breaking performance," commented Tim Handley, Deputy Director of Motherboard Marketing at GIGABYTE. "These new performance achievements come at a very opportune time as we prepare to introduce our next generation high-performance CPU power zone at Computex 2012, and we're expecting even better results from motherboard models with this new feature!"
Validated World Records – Because Seeing is Believing
These new world records announced today have been fully validated by CPUz and Canard PC, considered the standard validation mechanism for overclockers worldwide. Check out these new world records on HWBot.org by following the links below:
CPUz – 7.032 GHz – World Record
CPUzValidation
http://valid.canardpc.com/show_oc.php?id=2386564
HWBot Submission
http://www.hwbot.org/submission/2287687_hicookie_cpu_frequency_core_i7_3770k_7032.71_mhz?recalculate=true
HWBot Ranking
http://www.hwbot.org/benchmark/cpu_frequency/rankings?hardwareTypeId=processor_2493#start=0#interval=20#displayMode=complete
Video Link
Click the link below to watch a video of these world records being broken:
http://www.youtube.com/watch?v=pnDOPYgrP2s
System Specifications
GIGABYTE GA-Z77X-UD3H
Intel® Core™ i7 3770K
CPU Cooled by Liquid Nitrogen
Corsair Dominator GT (@2250 MHz)
Corsair AX1200 PSU
CPUz – 3280 MHz World Record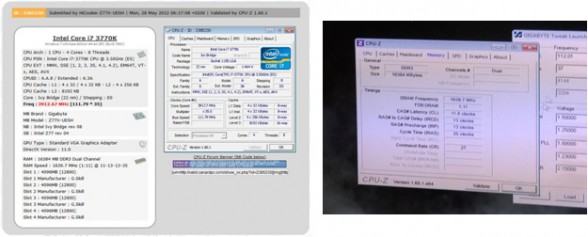 CPUz Validation 
http://valid.canardpc.com/show_oc.php?id=2385230
HWBot Submission
http://www.hwbot.org/submission/2287688_hicookie_memory_clock_ddr3_sdram_1639.7_mhz
HWBot Ranking
http://www.hwbot.org/benchmark/memory_clock/rankings?start=0#interval=20#start=0#cores=#displayMode=complete
Youtube Video
http://www.youtube.com/watch?v=Xiv6x283GAM
System Specifications – CPU Clock World Record
Intel® Core™ i7 3770K
CPU Cooled by Liquid Nitrogen
GIGABYTE Z77X-UD5H
Gskill Trident X DDR3-2800 4GB x 4 16GB (4 slots)
Corsair AX1200W PSU