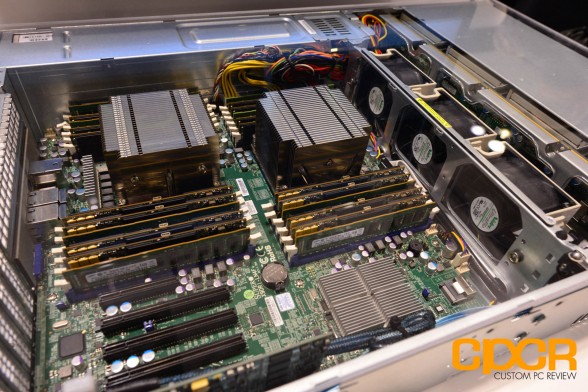 A federal court in Northern California recently granted a preliminary injunction stopping the sale of SSD controllers sold by Canadian chipmaker, Diablo Technologies. The Diablo Technologies' SSD controllers in question are most notably used in SanDisk's ULLtraDIMM SSDs and IBM's eXFlash modules. These SSDs exploit the much faster DRAM interface to achieve higher performance and lower latency than traditional non-volatile storage interfaces such as SATA, SAS, or PCIe.
The injunction was filed against Diablo Technologies by Netlist, a Southern California company who produces non-volatile memory modules similar to SanDisk's ULLtraDIMM SSDs. The federal court found that Diablo Technologies misused "… the technology that Diablo had been given in confidence under the Supply Agreement [with Netlist]…" and by doing so, "…Diablo gained an advantage it would not have otherwise had…"
In addition to stopping the sale and manufacture of the Diablo Technologies SSD controllers in question, the preliminary injunction will also stop the sale and manufacture of any product currently using the controller as well. SanDisk requested a motion of reconsideration to sell their remaining inventory of ULLtraDIMM SSDs; however, the motion was denied with the federal court noting that SanDisk and Smart Storage, a SSD company SanDisk acquired in 2013, "are 'persons who are in active concert with' Diablo." Several OEMs that have previously announced plans to incorporate ULLtraDIMMs into their server offerings include Supermicro, Lenovo and Huawei.
"We are very pleased with the court's decision", said C.K. Hong, Netlist's Chief Executive Officer. "We believe this extraordinary legal ruling is a validation of what we've said from the beginning about Diablo's flagrant actions. The ruling serves as a major step towards establishing the rightful ownership of the intellectual property contained in the ULLtraDIMM, and clears the path for Netlist products based on our proprietary memory interface technology. We look forward to the opportunity to present all of the evidence to a jury, particularly given the court's assessment of our likelihood of prevailing."
The preliminary injunction will be followed by a trial date on March 9, 2015. A permanent injunction may be issued after the trial if Diablo Technologies is found guilty of Netlist's allegations.
Source: PR Newswire