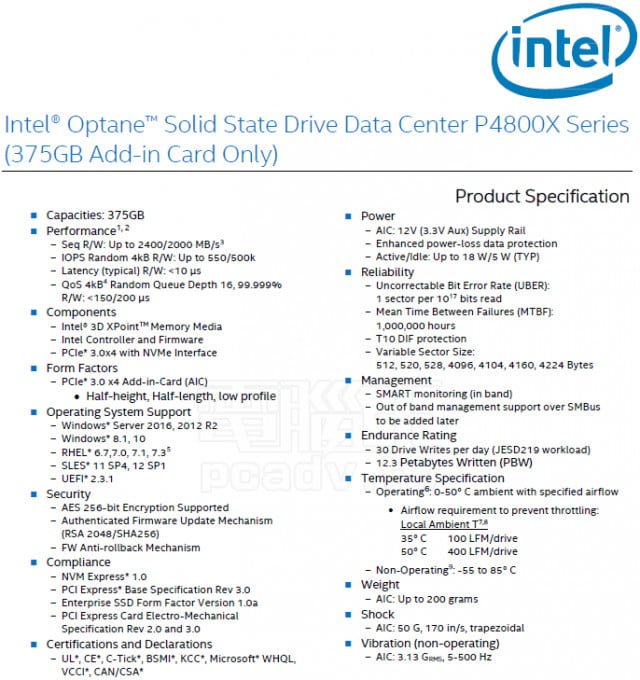 Intel's collaboration with Micron to develop 3D XPoint storage has been a long time in the works and for the first time, we're getting a concrete idea of how Intel's upcoming Optane 3D XPoint-based enterprise SSDs will perform.
According to a recently leaked spec sheet by Chinese technology website, Techbang, the upcoming Intel Optane DC P4800X a very admirable drive. Coming in the HHHL form factor, the Optane DC P4800X features up to 375TB of storage and features the PCIe NVMe interface which allows for sequential read/write speed of up to 2,400/2,000MB/s, and 4K random performance up to 550,000/550,000 IOPS respectively.
What's really impressive about the Optane DC P4800X however, is the latency and drive consistency. With the Optane DC P4800X, Intel advertises the drive with a <10 μs latency typical and 4K QD16 latency <150μs/200μs for 99.999% of the 4K reads/writes. Ever since its announcement, Intel touted endurance of its 3D XPoint memory as one of its strongest features and the Optane DC P4800X doesn't disappoint, being rated to last a whopping 12.3 petabytes of writes, or 30 full drive writes per day. This is longer than practically every NAND flash based storage device on the market and Intel always tends to be conservative on their endurance ratings.
Source: Techbang