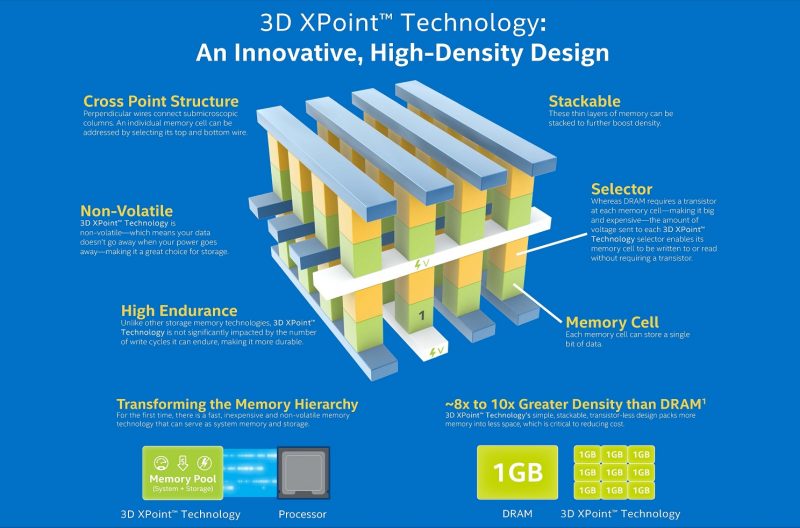 Intel's 3D XPoint has been long touted as a revolutionary new non-volatile memory technology ever since Intel announced it back in 2015. Unlike traditional NAND, 3D XPoint uses a mesh of storage cells that can greatly improve access times compared to conventional storage. According to Intel's internal testing, Optane SSDs can reach speeds up to 10x faster than current generation SSDs. However since its launch, 3D XPoint has been more talk than anything else with both Intel and development partner, Micron, doing little more than talking about the performance, applications, and missing potential launch dates.
That said, this time it appears that Intel may actually be finalizing their 3D XPoint based products for launch as demonstrated by the numerous motherboards at CES 2017 featuring support for Intel's 3D XPoint based Optane SSDs. According to Intel's recent earnings conference, Intel told investors that they have qualified their Optane SSDs and are expecting to begin shipping them in 1Q2017.
Another elusive 3D XPoint based product is Intel's 3D XPoint DIMMs which are designed to fit into DDR4 RAM slots and used as ultrafast non-volatile memory. Intel claims that 3D XPoint DIMMs can provide up to 4x system memory capacity while being significantly lower cost.
According to Intel's latest earnings conference, Intel's 3D XPoint based Optane Memory is already sampling to its datacenter partners although a launch timeframe has not been provided at this time. Currently, there's no confirmation as to whether Intel plans to adapt the technology to the consumer market.
Source: Intel