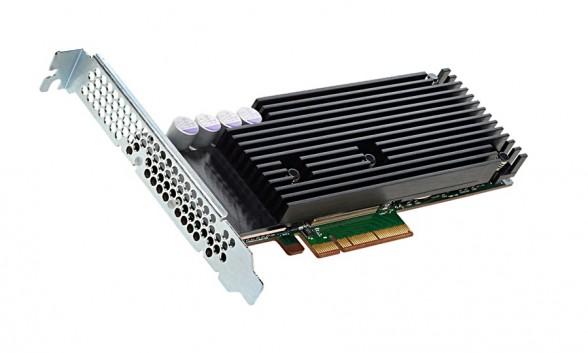 According to a press release, HGST recently announced a new HHHL PCIe SSD, the FlashMAX III PCIe Accelerator designed for performance intensive enterprise applications such as databases, big data, video production applications, etc.
In terms of specs, the HGST FlashMax III is expected to be available in capacities of up to 2,200GB (2.2TB) with performance up to 531,000 IOPS random read and 59,000 IOPS random write. Sequential read/writes max out at 2,700/1,400 MB/s with the drive running off a PCIe 3.0 x8 interface.
The HGST FlashMax III will carry an endurance rating of 2 DWPD for 5 years and is expected to be available sometime in Q4 this year. No pricing is available at this time, but HGST is sampling drives to select OEMs at this time.

In addition to the FlashMax III, HGST is also unveiling ServerCache software, which is HGST's latest caching software designed to help organizations make use of SSD caching to improve application performance. HGST claims their new ServerCache software can be implemented with no changes to existing infrastructure and is capable of improving performance up to 10x with any SSD, not just HGST branded SSDs.
HGST ServerCache is compatible with both Windows Server and Linux and is currently available for $995 per physical server. More information, including a free trial is available via HGST's website.