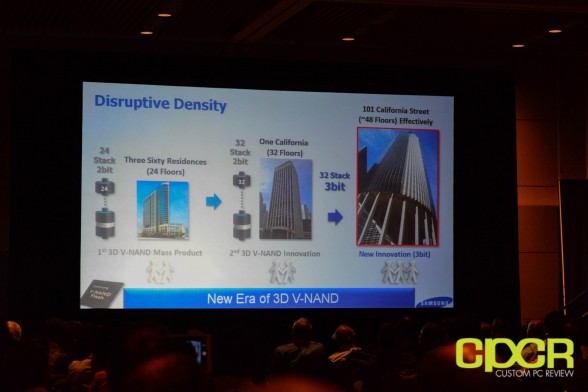 As previously hinted at during the Samsung SSD Summit last month, Samsung recently announced the world's first TLC (3-bit per cell MLC) 32-layer V-NAND product at Flash Memory Summit 2014.
During the keynote presentation, Samsung claims that their TLC 3D V-NAND is capable of increased capacity scaling, improved cost scaling, 50% reduction in programming times compared to planar TLC, and ~40% reduction of power consumption compared to planar TLC.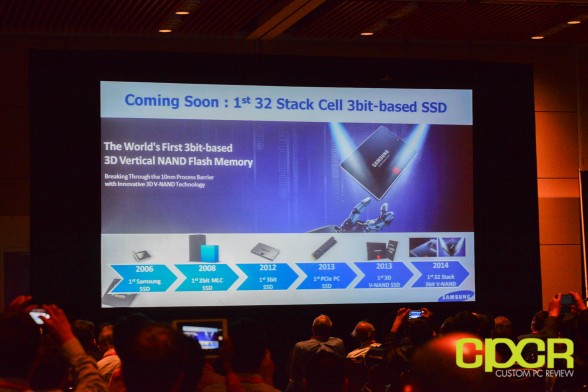 What's most exciting about this announcement is that Samsung also unveiled a future yet unnamed TLC based 32-layer 3D V-NAND SSD, which we can assume is going to be the Samsung 850 EVO. While specific timeframes haven't been announced, Bob Brennan, Senior VP Memory Solutions Lab at Samsung, told us that the drive will be "coming soon".
Although looking in the past Samsung doesn't normally make big announcements after their Global SSD Summit, I can't imagine them waiting a year until the 850 EVO announcement. My best guess is either CES or more than likely sometime before the holiday shopping season. If TLC 3D V-NAND is able to offer the same type of performance, endurance, and cost savings we saw going from planar 2-bit MLC to 3D V-NAND 2-bit MLC, Samsung has a huge opportunity to continue dominating both the mainstream and enthusiast SSD markets if they can get their TLC 3D V-NAND SSD out on store shelves this holiday season.