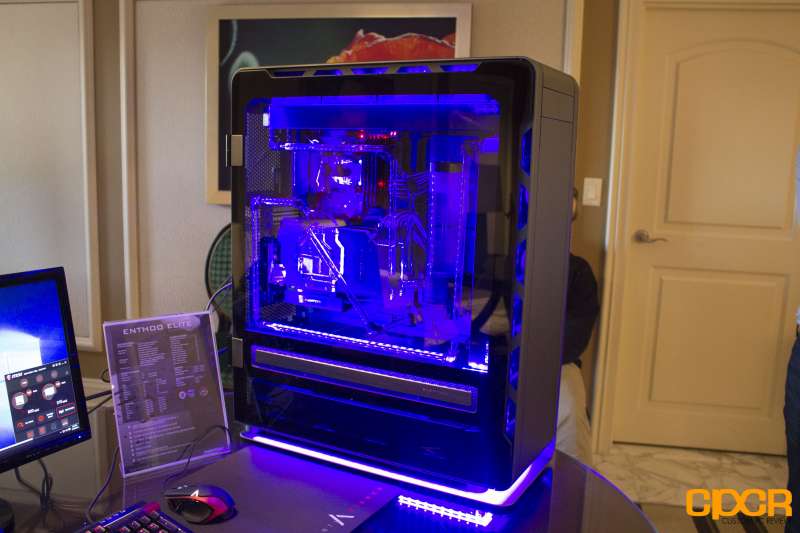 At CES 2017, we had the opportunity to spend some time with our friends at Phanteks, and take a look at some of their awesome new cases and concept designs which includes their highly anticipated, flagship Enthoo Elite chassis.
Phanteks Launches Enthoo Elite Ultra Full Tower Chassis
The Enthoo Elite is what Phanteks is calling an "Ultra Full Tower" chassis for its massive size, which makes it even larger than your run-of-the-mill full tower chassis. In fact, the system is so large that it can actually house two whole systems, complete with liquid cooling loops.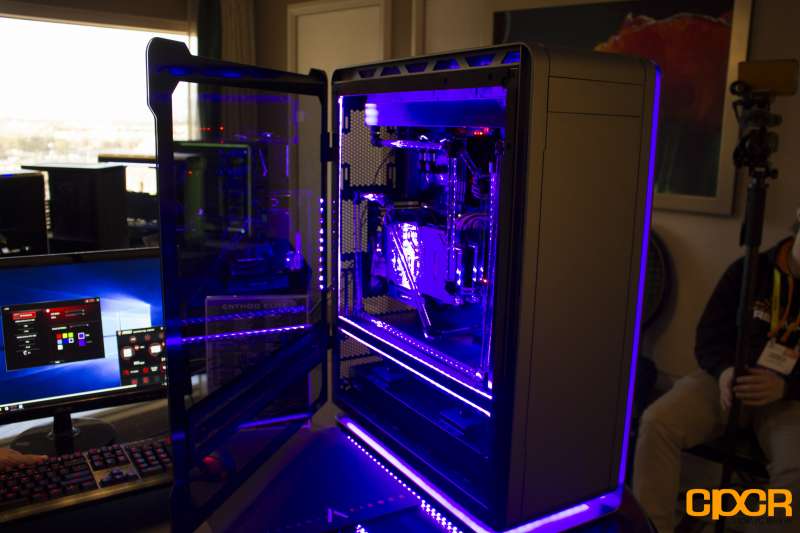 The final version of the Enthoo Elite includes a number of refinements compared to the earlier prototypes we've seen, the first of which I happen to appreciate quite a bit which is the new tempered glass side panels which are tool-less, meaning they no longer use any sort of screws for securing the panel to the chassis. Instead, one side of the panel is attached using a full-swivel hinge while the other is equipped with a pair of magnets which allows the panel to be easily opened and securely closed. This is a huge improvement over the company's previous solution for tempered glass side panels, which I personally had a difficult time with in my review of their otherwise excellent Enthoo Evolv ATX Tempered Glass.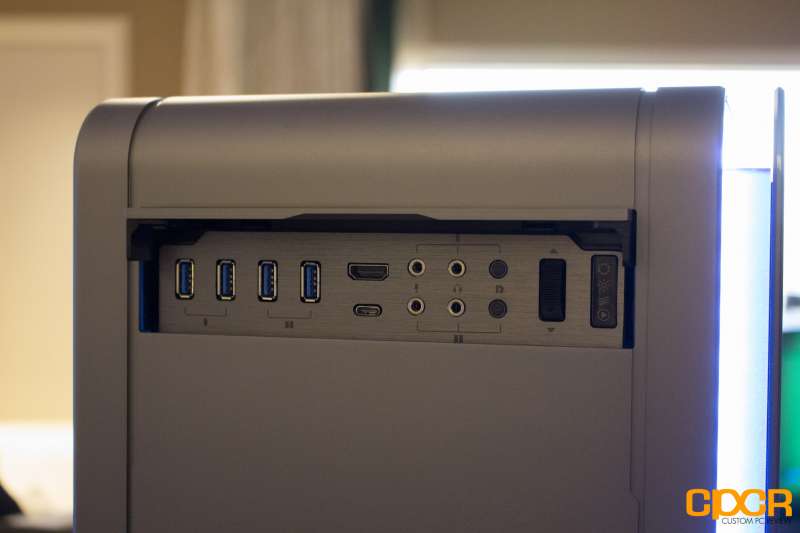 One of the other enhancements can be seen in the front I/O. It now includes a single USB 3.1 Typc-C connector. On top of that, we also have USB 3.0 and front audio connectors available for two different systems with markings designating which system they belong to. Of course, we still have the control wheel which is used for manually controlling the case's interior and exterior RGB lighting strips.
Speaking of RGB lighting, Phanteks has also improved on that, providing RGB lighting which can now be controlled via software. Not just any software, but both ASUS Aura and MSI Mystic lighting control systems. Of course, this will only work with compatible motherboards, but it's always nice to see Phanteks open to embracing other companies' standards.
Of course, this being a Phanteks chassis, it includes the company's fantastic velcro cable tie system for excellent cable management. The rear side panel is still secured with a pair of thumbscrews around back, but the company says they have made an extra effort in ensuring the panel slides on and off with ease.
The chassis is available in two colors: Satin Black or Anthracite Grey. Pricing is set at $899 and is currently available for pre-order and should be shipping next month.  For more information, check out Phanteks' website here.
Phanteks Project 217 and 217S Prototypes
Just like when the company first unveiled the Enthoo Elite, then codenamed Project 916, the company has once again decided to push the boundaries with chassis design and has brought fourth another interesting concept. Only this time, it has the living room in its sights.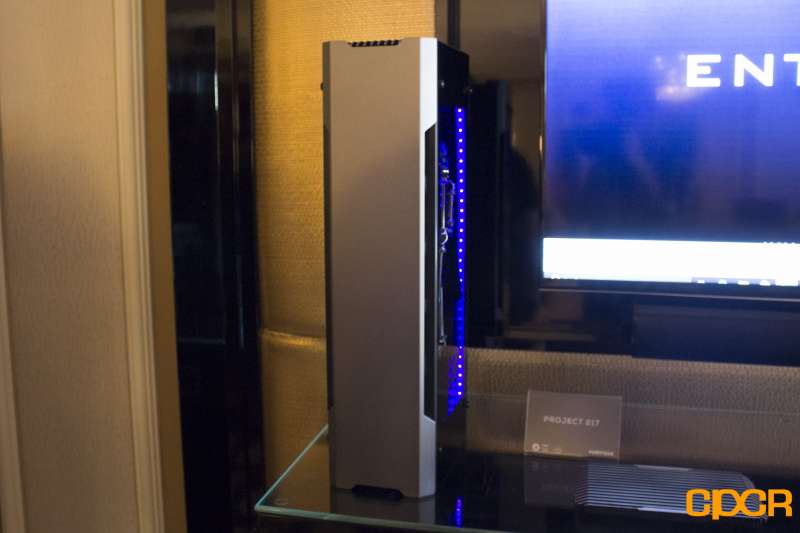 Project 217 and it's little brother the smaller Project 217S are completely new designs for the company which feature a relatively small footprint and a symmetrical design.
The Project 217 chassis supports ITX motherboards, SFX power supplies and utilizes a 90-degree mounting angle for the motherboard along with a PCI riser to allow the graphics card to be set behind it and all the connections placed at the top, hidden behind a removable, decorative grill.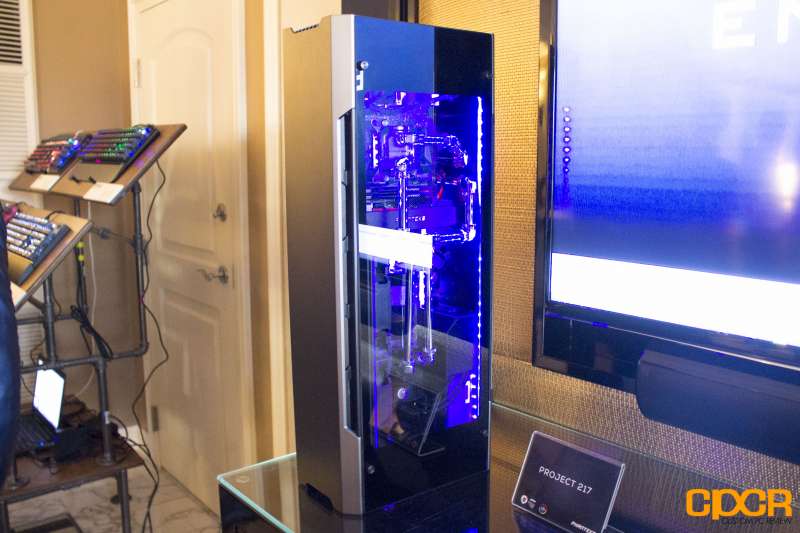 It also features a sleek, solid aluminum panel on both the front and back and identical tempered glass panels on either side. Despite the small footprint, the company has still managed to include support for a full custom water cooling setup.
The smaller version, the Project 217S, features essentially the same design as Project 217, with the only difference being the size and the two large holes on either end of the aluminum side panels. There is no word on pricing or release as this is still an early concept which the company is still finalizing. Still, it's a really interesting design that seems like it is fairly well-thought out. I for one can't wait to see the finished product.