CES 2017: In Win Debuts Tou 2.0, D-Frame 2.0 and 301 Chassis, Aurora RGB Fans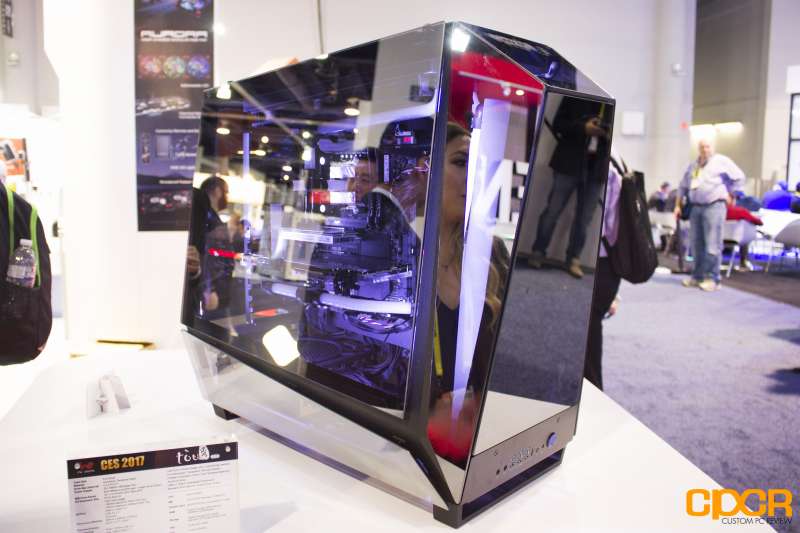 At CES 2017, we had the opportunity to visit In Win, a company known for making some of the most interesting and innovative PC chassis available today. With a reputation like that, it goes without saying that there are some high expectations for any new product they release, fortunately, we were not disappointed with what they had to offer this year.
In Win Tou 2.0 Mirrored Chassis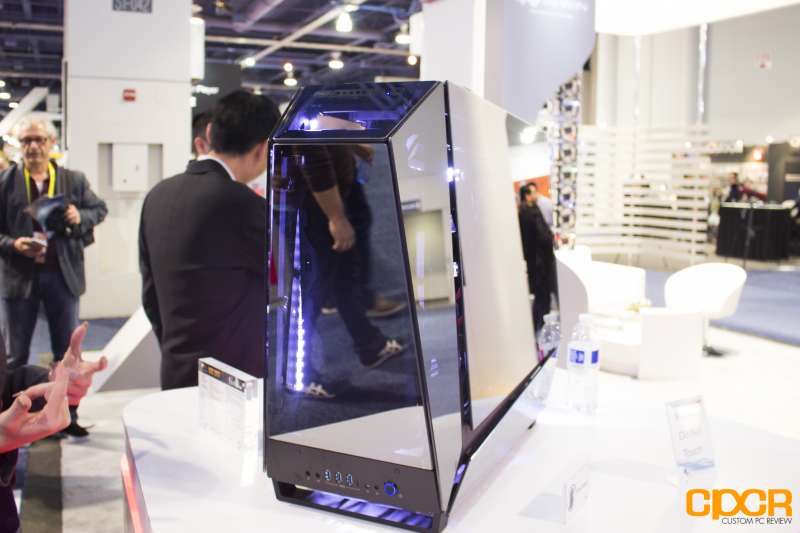 Starting off our tour, we took a look at the latest in the company's "Signature" series of cases: the tou 2.0. Like its predecessor, the tou 2.0 is an all-aluminum chassis fitted with angled tempered glass panels which are fully reflective and mirror-like when the system is shut down. Once the is turned on, the interior lighting comes to life and reveals the internals of the chassis. The chassis maintains much of the same design language as the original tou, with the main differences being the lack of handles at the front and back on the top of the case, as well as the removal of the exposed screws fitted around the chassis, which gives the tou 2.0 a much cleaner and sophisticated look compared to its predecessor. The case also comes included with a specially designed 1065w illuminated power supply.
In Win D-Frame 2.0
Another "Signature" product for In Win, the new D-Frame 2.0 is the sequel to previously released D-Frame and D-Frame Mini chassis.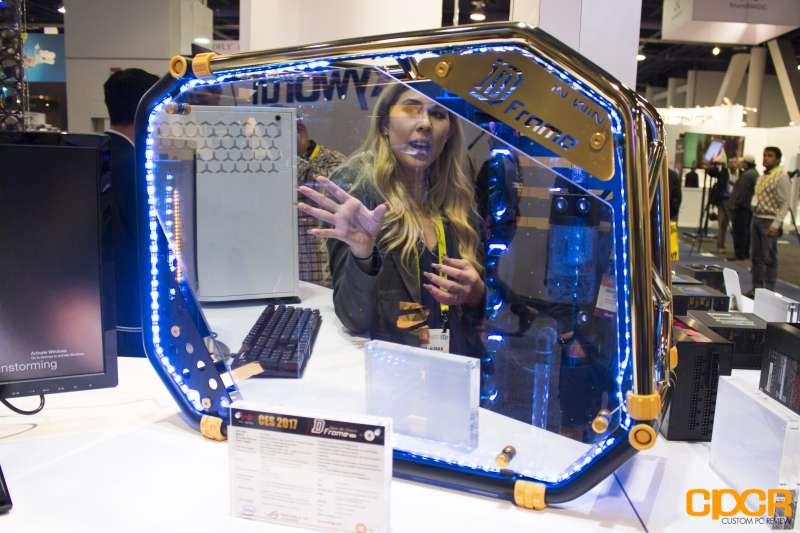 Featuring much of the same design language as the previous versions with a completely open air layout, the D-Frame 2.0 was produced in partnership with EKWB, this means that this chassis will fully support a number of EK's water cooling products without the need for any modifications. Like the tou 2.0, the D-Frame 2.0 also comes equipped with an exclusive 1065W power supply designed specifically for the chassis. The case is available in multiple colors including Black and Gold (pictured above), White and Blue, and Black and Green.
In Win 303 Type-C
By now, you might be thinking that In Win cases are made only for the 1%, but I promise, they've got something for everyone. Their budget-minded In Win 303 chassis released last year seems to be getting a spectacular refresh.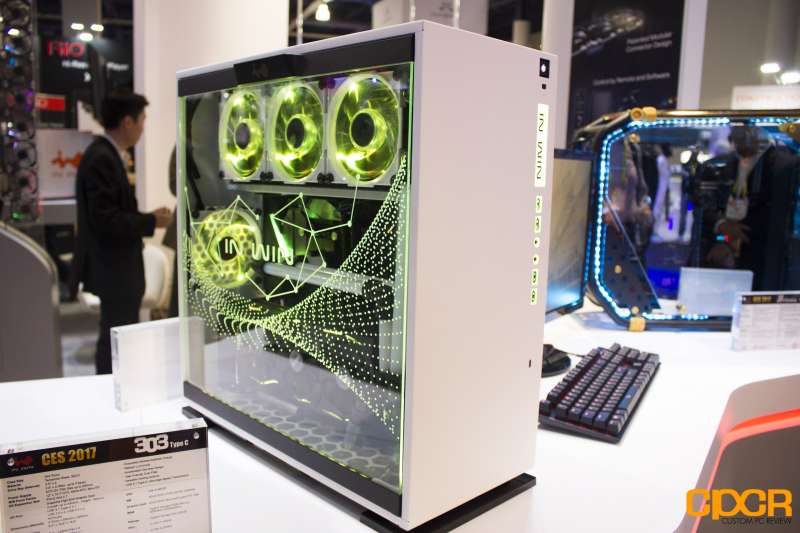 The In Win 303 Type-C is mostly the same case the company debuted last year, with the exception of a few notable changes: First, as the name implies, it now supports USB 3.1 Type-C on the front I/O. That's pretty cool, but it's definitely not the most exciting feature of this case, no, that is reserved for the second notable change. With the 303 Type-C, In Win has decided to debut an all new design innovation it has been working on.
Using a special, wireless contact system on the side panel, In Win is able to house RGB LEDs along the bottom edge of the glass which when combined with the design etched into the glass itself, creates an illuminated work of art. Now, we're not sure if the design they displayed is final or whether or not there will be multiple options available at launch (or even customization!), but we're sure this isn't the last we'll be seeing of this awesome design concept from In Win.
In Win 301 Mini Chassis
The 303 Type-C is not the only more budget-focused product In Win had on display, they also introduced their all-new 301 mini chassis, which is basically a smaller version of the 303.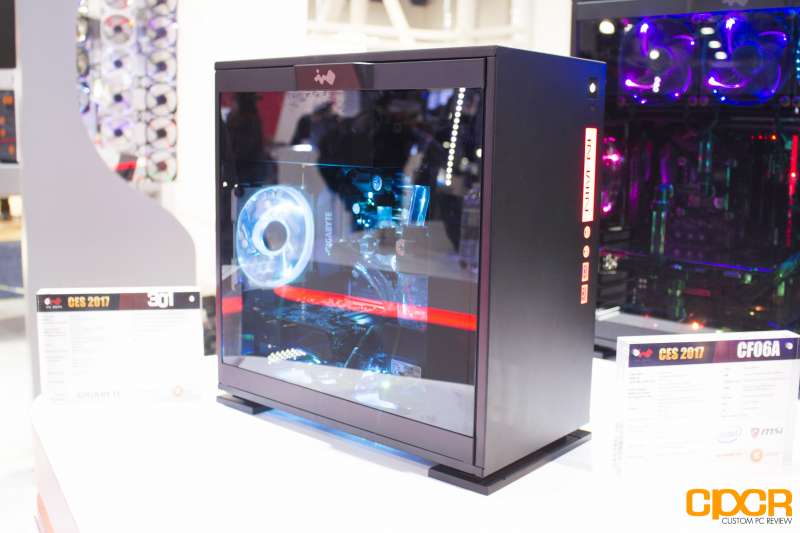 The In Win 301 is a microATX compatible chassis, meaning there's actually a bit more inside than you'd find on some other small form factor cases, which usually only support miniITX form factor motherboards. Like the 303, the 301 features a 1.2mm thick steel construction and a toolless tempered glass side panel which can be removed with just one hand. The case also features support for liquid-cooling, with space for radiators at the front and rear of the chassis.
No word on pricing or specific availability, but we'll be sure to update as we have more information.
In Win Aurora RGB Fans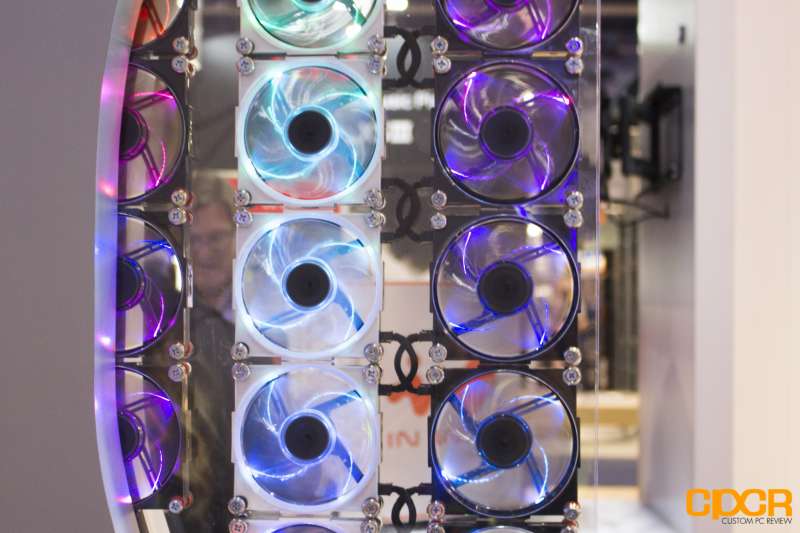 Finally, we took a look at the company's all-new Aurora RGB fans, which unlike most RGB fan solutions, do not require any sort of external controller. This is because each individual LED is embedded with its own special IC chip. This allows for the fans and LED strips to display a variety of colors simultaneously, which can make for some pretty cool effects.
The fans can also be daisy-chained to one another thanks to a modular connector design, and controlled via In Win's specialized software or even an optional remote control.
For more information on all these products, feel free to check out In Win's website.