At Computex earlier this year, we got our first glimpse at the Silicon Motion SM2260 controller, but only a few basic details were shared at the time. Silicon Motion promised some additional details at FMS, so we decided to check out their booth to take a look at their next generation controller.
According to Silicon Motion, the SM2260 will be the first turnkey PCIe Gen 3 x4 NVMe 1.2 SSD controller solution. The SM2260 uses a high performance 8 channel design and support pretty much every type of NAND. This includes MLC (2-bit MLC), TLC (3-bit MLC), and upcoming 3D NAND from every major vendor.
The Silicon Motion SM2260 claims a maximum performance up to 2,200/1,100 MB/s sequential reads/writes and up to 200K/125K IOPS random reads/writes.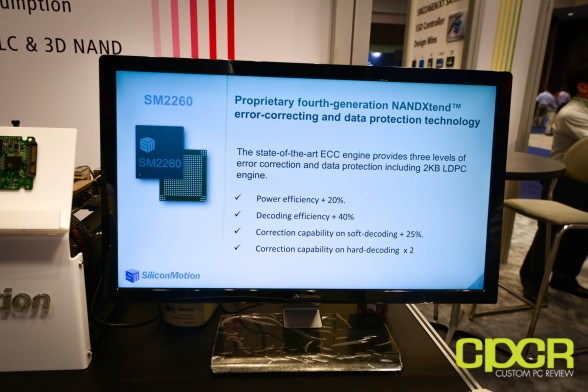 The Silicon Motion SM2260 will feature Silicon Motion's 4th Generation NANDXtend ECC technology. According to Silicon Motion, their proprietary LDPC ECC algorithms will improve power efficiency by up to 20%, decoding efficiency by up to 40%, correction capability on soft decoding by up to 25% and correction capability on hard decoding by up to 100%. If NANDXtend can perform as well as advertised, this should be a huge benefit for vendors looking to utilize upcoming Toshiba/SanDisk and Micron TLC NAND.
Silicon Motion is planning on sampling the SM2260 in 1Q2016 and beginning mass production in 2Q2016.