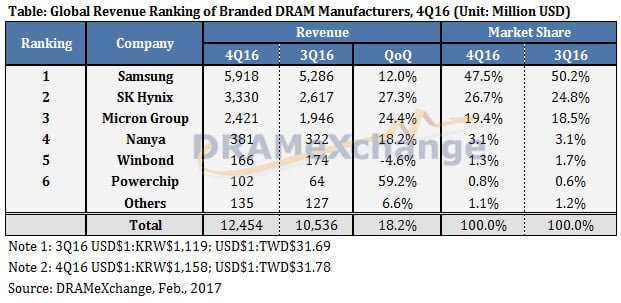 It's good to be in the DRAM business these days. According to a recent report from DRAMeXchange, global DRAM revenues have increased 18.2% sequentially for 4Q2016.
Much of the demand is fueled by strong smartphone sales, particularly Chinese brands along with the iPhone 7. This has resulted in massive shortages of PC DRAM, resulting in a 30% price increase over the previous quarter. Server DRAM is expected to follow suit in 1Q2017.
Memory manufacturers are currently increasing efforts to expand DRAM production capacity, but their efforts aren't expected to be realized until the 2H2017. As a result, the supply problem is expected to continue to worsen. Contract prices of DRAM modules are expected to increase by 40% on average for 1Q2017 and prices are expected to continue rising over 2Q2017 as well.
Thanks to the constrained supply situation, the top three memory manufacturers saw a healthy year-end revenue. Samsung stood in first place topping out at $5.9 billion dollars with SK Hynix and Micron trailing at $3.33 billion and $2.4 billion respectively.
18nm DRAM Transition
As for DRAM technology, Samsung, SK Hynix, and Micron are all expected to transition to an 18nm fabrication node this year.
Micron is leading the pack in this regard as they've already begun mass production of 18nm DRAM and expects to convert most of their manufacturing lines by the end of this year. Samsung hasn't revealed a date for when 18nm would go into mass production however, they expect to have at least 40% total DRAM output at the 18nm manufacturing node by the end of the year. SK Hynix is also expected to begin mass production of 18nm DRAM by the 2H2017, but is currently focused on raising 21nm yields to take advantage of the current DRAM shortage.
Source: TrendForce