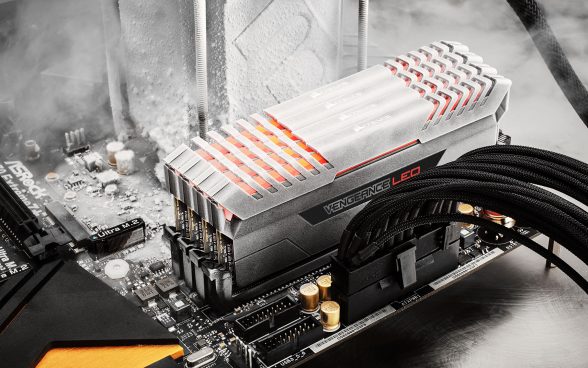 So you've got the LED lit case, you've got the LED lit motherboard, you've got the LED lit graphics card, you've got the LED lit power supply, and you've even got the LED lit SSD, but you're missing LED lit memory. That sounds like a pretty unfortunate situation, but thanks to Corsair, you might just be in luck.
Memory giant Corsair recently announced their new Vengeance LED series DDR4 memory which as you've guessed, has LED lights! Available in red and white LED variants (unfortunately, no RGB), the new Vengeance LED memory feature a light bar at the top of each memory module's aluminum heatspreader which light up as the system is powered on. Corsair's even got a spiffy new video with dramatic music to show you how cool it looks!
Of course, lights are only half the picture as performance is what you're really looking for when it comes to memory. Corsair has that covered too. The new Vengeance LED modules will come in a variety of capacities ranging from 16GB (2x8GB DIMMs) to 64GB via (4x16GB DIMMs), and a variety of frequencies from 2,666MHz to 4,333MHz. As always Corsair's Vengeance LED series memory are covered under Corsair's lifetime warranty.
Currently, Corsair has kits ranging from 16GB to 32GB with frequencies ranging from 2,666MHz to 3,400MHz available with kits with the higher frequencies on the way. More details can be found on Corsair's website here.