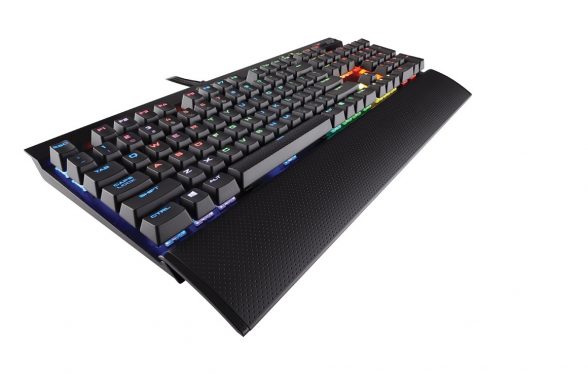 Corsair has been one of the most popular mechanical keyboard manufacturers on the market and are looking to continue their market leadership by making their full range of LUX keyboards available worldwide.
Previously launched in the US in April, the K70 LUX, K70 LUX RGB and the K65 LUX RGB complement the highly popular K70 RGB and K65 RGB mechanical keyboards. New features on the LUX series keyboards include a new large font on laser etched keycaps for brighter, easier to see backlighting, an improved RGB lighting controller (LUX RGB only), and a USB passthrough port.
Aside from these new features, the LUX models will still retain all the features of the non-LUX models including the aircraft grade anodized aluminum frame, full RGB backlighting (LUX RGB models), CUE (Corsair Utility Engine) software, and a choice between Cherry MX Red, Brown, or Blue switches although not every switchtype will be available in every LUX keyboard model. The K70 LUX and K70 LUX RGB will sport a full-sized keyboard form factor while the K65 LUX RGB will sport a tenkeyless form factor.
The Corsair K70 LUX will retail for $119.99, the K70 LUX RGB for $159.99, and the K65 LUX RGB for $129.99. The keyboards are now available worldwide.
More information about the Corsiar LUX series keyboards can be found via the Corsair website here. Those interested in a Corsair LUX series keyboard can find them now on Amazon.
https://www.youtube.com/watch?v=PuGxlX1yClU