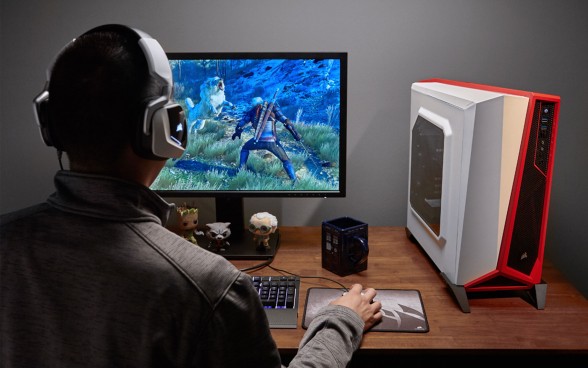 In the days leading up to the CES main events, Corsair is introduced the Carbide Spec-Alpha, Carbide 400C, and Carbide 400Q to its budget gaming series chassis.
The Carbide Spec-Alpha rocks some aggressive angular lines that are reminiscent of the ever so popular Corsair Bulldog. Its mesh front cover has sufficient room for up to three 120 mm fans but, due to the lack of clearance from the hard drive cage, there is only enough space for a 240 mm radiator. Buyers can choose between red or blue as the primary color, each comes with color matching fans. These and any other additional fans can then be controlled via a built in three speed fan controller.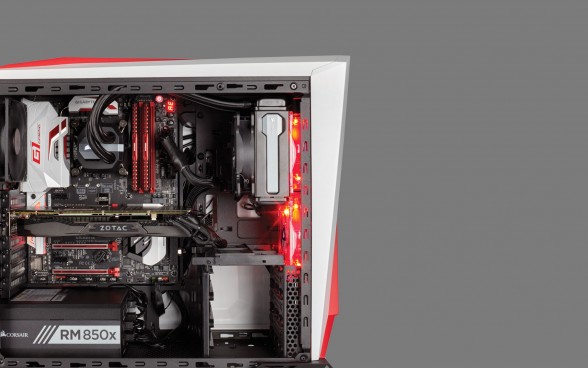 A large window on the side panel shows off a standard interior. Well spaced cut outs and locations for cable ties should provide places to keep cable management looking clean; however, a lack of rubber grommets on the cutouts is disappointing. The interior pictures in the press release also indicates a tight fit with a mid grade system not leaving too much room for expansion.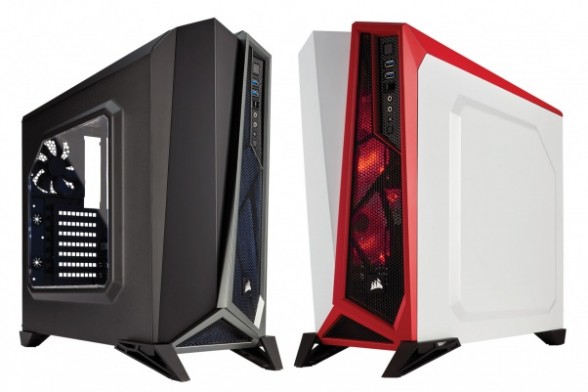 The Spec-Alpha will be available in two distinct color options: red or black. The red color wave is accented by an eye catching bright red that makes the gamer inspired design pop even more, while the black color waves sticks a classier grey accent with blue lighting. Pricing sets it at an attractive $79.99 MSRP and the case will be available March of this year.
If you are looking for a minimalistic design the 400C and 400Q may be the ideal cases. The C in the 400C refers to the large clear windows side panel, similar to that of the 760T. The Q on the other hand refers to the quiet edition of the case that is lined with sound dampening foam. Apart from the window and sound dampening foam, the two cases are essentially identical with full steel construction, clearance for a front 360 mm radiator, rubber grommets, tool free installation, and Direct Airflow technology.
The Carbide 400C and 400Q may be exactly what Corsair needs to re-establish their dominance in the budget to mid tier case market after the rather odd inverted layout 600C that did not gain much traction in late 2015. The two cases will be available for $99.99 MSRP this February.
Source: Corsair