CyberPowerPC, best known for their custom gaming PCs and laptops, unveiled several new products today at this year's CES in Las Vegas. The new products include the new Pro Streamer Series PCs, a 34-inch curved screen All-In-One, a new line of gaming laptops, and several gaming PCs which are "VR Ready"
2-in-1 Pro Streamer Series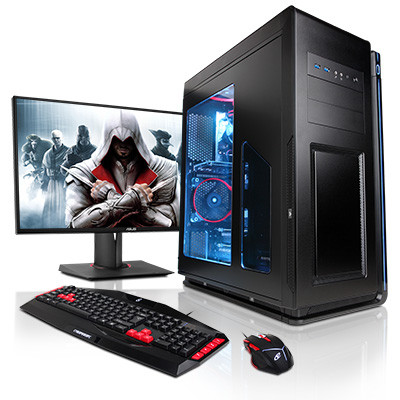 CyberPowerPC's all-new 2-in-1 streaming and gaming PCs, dubbed "Pro Streamer Series" are an all new series of systems from the company which feature Phanteks' Mini XL Dual System chassis to house two complete Mini ITX and MicroATX systems.
The systems will be available in three models featuring 6th Generation Intel Skylake processors ranging from the Core i3 to Core i7. They also include 8GB of DDR4 system memory, H110 Mini-ITX motherboards, 128GB SSDs, and an Avermedia Live Gamer HD capture card. Pro Streamer Series systems start at $1899 for an Intel Core i5-6600K + NVIDIA GeForce GTX 970 4GB GDDR5 system along with the Core i3-6100 3.70GHz "Standard" streaming setup with Windows 10 Home. All systems are also pre-installed with OBS and Xsplit Live game recording and streaming applications.
Arcus 34-inch Curved Screen AIO (All-in-One)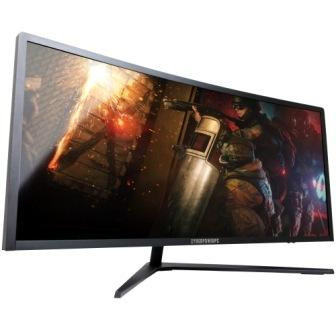 CyberPowerPC's Arcus is a customizable AIO gaming system that doubles as a TV with a 34-inch curved Samsung display. The Arcus can accommodate a 6th Gen. Intel Core i7 processor and up to a single NVIDIA GTX Titan graphics card.
The 34-inch curved display features 3440 X 1440 resolution; 60Hz Refresh Rate; and 21:9 ultrawide aspect ratio. The series utilizes off-the-shelf components and offers both air and liquid cooling options. It also features a custom USB webcam with dual microphones, support for dual 2.5″ HDD/SSD drives, and standard U-DIMM desktop memory.
Fangbook 4 SK-X with G-SYNC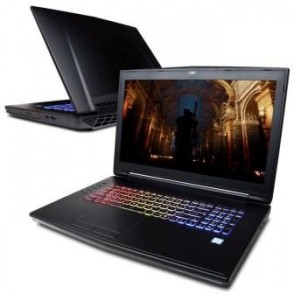 The CyberPowerPC Fangbook 4 SK-X features an overclockable Intel Skylake Core i7-6820HK mobile processor, a 17.3″ display with support for NVIDIA G-Sync, and is powered by NVIDIA GeForce mobile series graphics cards.
It supports up to 32GB (8GBx4) DDR4/2133MHz SODIMM memory, as well as USB 3.0 and USB-C connectors, a SD card reader, HDMI 1.4, and mini-Display ports, in addition to Killer GbLAN and 802.11AC WiFi. The base model Fangbook 4 SK-X starts at $1,885 with Windows 10 Home (64-bit Edition) pre-loaded.
Vector and Tracer Gaming Notebooks
CyberPowerPC is also introducing two additional new gaming laptops at CES 2016 – both featuring 6th Gen Intel Core i7 mobile processors. The Vector is the latest 17.3″ gaming laptop to be introduced by CyberPowerPC. It features a 1080p IPS display and an Intel Core i7 6820HK unlocked mobile processor. Other specs include an NVIDIA GeForce GTX 970M, up to 16GB of DDR4 memory, M.2 SSD and mechanical hard drive options, backlit gaming keyboard, and Windows 10 Home.
The Tracer is the smaller and lighter alternative to the Vector. Coming in at 15.6″, it still sports 1080p IPS display 6th Gen. Intel Core i7-6700HQ and NVIDIA GeForce GTX 965M graphics. The Tracer also includes DDR4 memory support, M.2 SSD/mechanical hard drive options, and a backlit gaming keyboard.
CYBERPOWERPC VR-Ready Systems
CyberPowerPC is working with Valve's Steam VR team and HTC Vive team to bring affordable high-performance gaming PCs as VR goes mainstream. CyberPowerPC is gearing a lineup of gaming PCs starting $999 optimized to deliver a perfect VR gaming experience out of the box. Configurations will include a 6th Gen. Intel Core i5 processor and NVIDIA GeForce GTX 900 series graphics cards.
No word on when these systems will be released at this time.