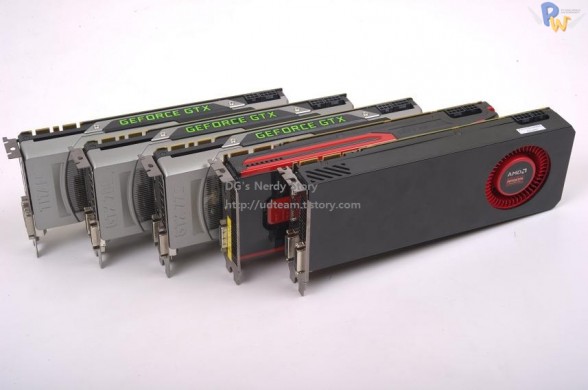 With AMD's next generation graphics launch happening at AMD's GPU '14 Tech Day event next week, the rumormill has been spinning nonstop regarding the next generation Radeon R9 200 series GPUs. Among the information recently leaked by Korean website DG's Nerdy Story is some pictures of AMD's upcoming flagship Radeon R9 290X graphics card along with some benchmarks as well.
Taking a look at the pictures above, we can see that AMD is still sticking to the usual blower style cooler for the reference design of the R9 290X. It's unclear how long the GPU is going to be, but from the pictures above, it seems to be around the same length as the ~11-inch reference Radeon HD 7970. Up top we get two CrossFire fingers and 8+6 pin power connectors.
Removing the heatsink assembly, we can see that the Hawaii GPU die is slightly larger than in comparison to the current flagship Tahiti GPU (Radeon HD 7970) die. AMD has revealed in an interview with Forbes that the new R9 290X will still be based on the 28nm process rather than moving to the 20nm process.
Around the GPU, we can see that AMD has gone with a digital PWM design (Cooper Bussmann ICs) along with what looks like 16 memory chips. Given the fact that the HD 7970 had 12 memory chips for 3 GB (384-bit memory bus), this could indicate that the R9 290X will include 4GB of memory and will include an increased 512-bit memory bus width providing up to 384 GB/s of memory bandwidth. It's also rumored that custom designed 6GB models will be available after launch, which should be useful for those running high resolution, multi-monitor configurations.
In addition to the pictures, preliminary benchmarks on the Radeon R9 290X has also been leaked, which clearly shows the R9 290X to be significantly faster than AMD's current Radeon flagship, the Radeon HD 7970, and on par with Nvidia's $1,000 GTX Titan GPU, which is currently the fastest GPU currently out on the market. According to a AMD, the GPU die on the R9 290X will be 30% smaller than Nvidia's GK110 (Kepler) GPU, so it's more efficient (more power efficient too?) as well.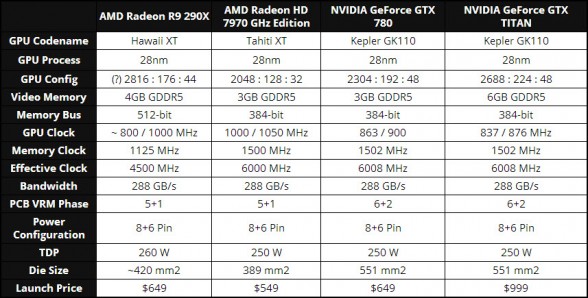 Taking a look at a table compiled by graphics card site Videocardz, we can see a preliminary (unconfirmed) specifications chart on the R9 290X based on rumors floating around the web. According to their specifications table, the upcoming R9 290X will feature 2,816 stream processors, 176 TMUs, 44 ROPs, 4GB of GDDR5 on a 512 bit memory bus, a 5+1 VRM array, and GPU clocks ~ 800 MHz core/1000 MHz turbo.
The major win for AMD here is obviously the pricepoint, which if it does end up arriving at $649, it would be significantly cheaper than the GTX Titan yet provide similar performance. Nvidia, looks like the ball's in your court now.
We'll keep our eyes peeled for AMD's announcement this week. Until then, stay tuned!
Source: DG's Nerdy Story, Videocardz, Forbes
Image Source: DG's Nerdy Story