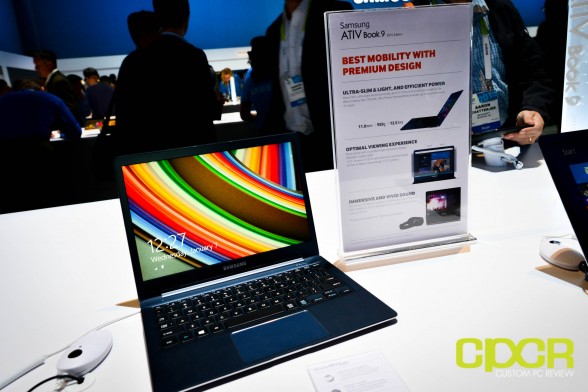 Among the companies updating their Ultrabooks to take advantage of Intel's recently announced Broadwell processors is Samsung who recently showcased their latest ATIV Book 9 Ultrabook at CES 2015.
Measuring at 0.46″ (11.8mm) at its thickest point and weighing a mere 2.09 lbs (970g), Samsung claims that the 12.2″ ATIV Book 9 is their thinnest and lightest Ultrabook ever produced. It's probably also the quietest too as the entire unit is passively cooled to ensure completely silent operation under load thanks to its new ultra power efficient Broadwell-based Intel Core M 5Y10C CPU. Broadwell's 14nm lithography is expected to improve power efficiency by 30% compared to Haswell and Samsung claims that the 2015 Edition ATIV Book 9 can last a staggering 12.5 hours on a single charge.
Most impressive on the new ATIV Book 9 however, is the 12.2″ WQXGA IPS screen which packs an incredible 2560×1600 resolution (16:10 aspect ratio). Its vibrant colors complemented by its excellent viewing angles make it one of the best Ultrabook screens we've seen at CES this year, only seconded by the 2015 Lenovo ThinkPad Carbon X1's 2560×1440 14″ WQHD+ IPS panel. That said, there's no option for a touchscreen with the ATIV Book 9 however, so Windows 8.1 users who enjoy the touch experience maybe out of luck here.
Aesthetically speaking, the 2015 Edition ATIV Book 9 is hands down one of the best I've seen as well. Its premium qualities is perfectly reflected through its design with the smoothly rounded aluminum unibody design was seamlessly finished with a layer of matte black coating and delicate platinum bezels. The keyboard is also one of the better ones on the market with nice, tactile feedback and keys that were actually beefy enough for an average sized hand to type on despite the extra small chassis. Even with a relatively large trackpad at the base, there's still plenty of room on either side for the user's wrists. Huge props to Samsung for not skimping on small details.
The starting configuration of the 2015 Edition ATIV Book 9 12.2″ is 4 GB of LPDDR3 RAM and a 128GB SSD with a pricetag of $1,199.99. The specs can be bumped up to 8GB LPDDR3 RAM and a 256GB of SSD for $200 more. The expected availability date is sometime in Q1 2015.
Specifications
| | |
| --- | --- |
| Manufacturer | Samsung |
| Model | ATIV Book 9 |
| Processor | Intel Core M 5Y10c |
| Memory | 8GB (4GB option also available) |
| Graphics | Intel HD Graphics 5300 |
| Display | 12.2″ 2560×1600 WQXGA LED |
| Storage | 256GB SSD (128GB option also available) |
| Audio Type | PC-Fi (Wolfson WM5102 integrated) |
| Speakers | Stereo speakers (1.5W x2) |
| Webcam | 720p |
| Connectivity | 2 x USB 3.0, micro HDMI and SD, RJ45 (dingle), headphone/Mic combo |
| OS | Windows 8.1 |
| Battery Life | Up to 12.5 hours |
| Dimensions | 11.19″ x 8.37″ x 0.46″ |
| Weight | 2.09 lbs |
| MSRP | Starting at $1,199.99 with 4GB of memory and 128 SSD; $1,399.99 for 8GB and 256GB SSD |
| Availibility | Q1 2015 |