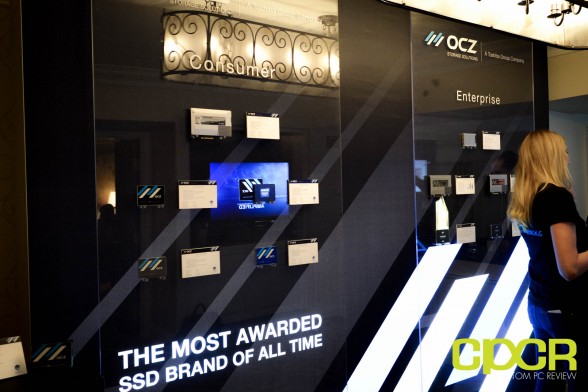 While OCZ's biggest focus for CES 2015 was their upcoming JetExpress SSD controller, OCZ also took the opportunity to talk to us about their new OCZ Vector 180 consumer SSD and the OCZ Z-Drive 6000 enterprise SSD.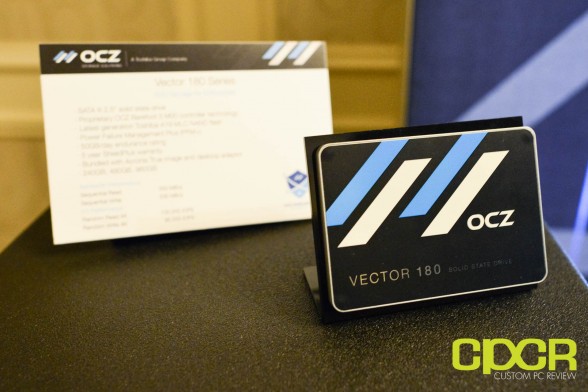 The OCZ Vector 180 will be OCZ's latest flagship consumer SATA SSD which will replace the aging Vector 150 introduced back in late 2013. Component wise, OCZ is still sticking with the Barefoot 3 M00 controller, but it'll now use Toshiba's latest second generation 19nm (A19nm) toggle mode NAND. No surprises there. Performance on the drive is rated at up to 550/530 MB/s sequential reads/writes and 100K/95K IOPS 4K random read/writes.
New for the Vector 180 however, is Power Failure Management Plus, or PFM+, technology which is a set of capacitors onboard that will serve as partial power loss protection for the drive. While the drive won't be receiving full enterprise power loss protection, PFM+ will ensure that data at rest will be protected in the event of sudden power loss.
The OCZ Vector 180 will be available in capacities of 240GB, 480GB, and, new for the Vector series, 960GB. It'll carry a 5 year warranty and a respectable endurance rating of 50GB/day. OCZ expects the drive to be available shortly. Pricing is still unknown at this time.
Additionally, OCZ also spoke briefly about their new Z-Drive 6000 which is a new enterprise PCIe Gen 3 x4 SSD with NVMe 1.1 support. Physically, the drive will come in a 2.5″ 15mm form factor and will use the SFF-8639 connector via the PCIe Gen 3 x4 interface. Internally, the Z-Drive 6000 will use the PMC Sierra Princeton controller along with OCZ's own firmware and most likely some sort of Toshiba flash. Performance on the drive is rated at 3,000/2,000 sequential reads/writes and 700K/175K IOPS 4K random read/writes.
The OCZ Z-Drive 6000 will be available in capacities of 800GB, 1.6TB, and 3.2TB. OCZ is currently sampling several key partners with better availability coming in the next few months.