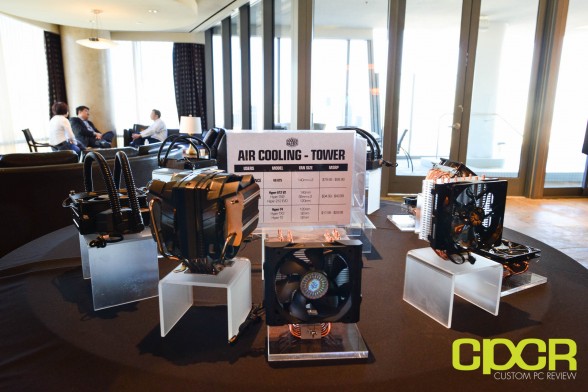 2014 has been an unusually quiet year for Cooler Master. The computer component and peripheral giant who typically launches at least five to ten products every quarter hasn't really made a whole lot of noise over the past year. As such, we were a bit curious to find out what happened to such a prominent force in the industry, so we took a quick trip to the Cooler Master CES suite to talk to Marketing Manager, Rajiv Kothari.
When we arrived at the Cooler Master suite this year, the suite was unusually clean, uncluttered, and relatively quiet. Here we met up with Rajiv, who spoke to us for a good hour about Cooler Master's plans for the new year. As usual, Rajiv was both enthusiastic and brutally honest.
During our conversation, he confessed that over the years, Cooler Master had lost its way. What started as the most innovative case manufacturer in the world became a company that would sell practically anything, no matter how niche, based on a whim as long as there was a chance that it would be profitable. As a result, Cooler Master turned from innovator into follower with far too many product lines to support, and products that were becoming obsolete faster than new products could be launched. There was very low return for the amount of development and marketing funds they were pouring in, it severely devalued the brand, and worst of all it created a lot of confusion for customers.
That being said, Cooler Master is on a path of change. They've been spending the past year figuring out new strategies for both marketing and product design.
The most notable change is the way they'll be segmenting their products from here on out. Currently, there's no clear target audience for each product family. With the exception of a few product lineups, there's a lot of research that needs to be done to find out which product is the right product and with hundreds of products in the catalog, it's a bit overwhelming for the average PC builder. However, with Cooler Master's new tiered system, all Cooler Master product lines will be split into essential, mainstream, and performance segments based on their features.
While this may seem like a small move, it holds quite a bit of significance. Each segment has a common target audience, which will help consumers narrow in on the products they need to pay attention to. This helps save consumers time on researching what they need, and it helps improve design consistency and marketing.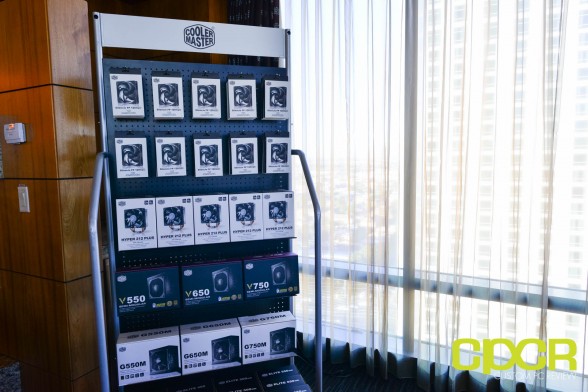 Speaking of consistent design and marketing, Cooler Master will also be standardizing packaging across the board so consumers can easily identify Cooler Master products. Previously, Cooler Master products came in packages of all shapes, colors and sizes which made the brand feel a bit unorganized and a bit… less premium, if you will.
Cooler Master will also be cutting a ton of their existing product lines to focus on the few high quality products that really represents the brand. Rajiv explained that this will cause less confusion among customers, improve quality among products, improve customer service, reduce RMA lead times, and finally help re-build customer trust in the Cooler Master brand.
Cooler Master definitely seems to be headed in the right direction and we're very excited to hopefully see them rise again as one of the most innovative component manufacturers on the planet.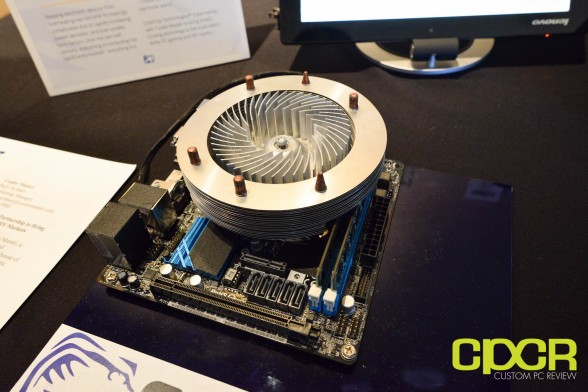 Since the biggest message from Cooler Master was their restructuring plans, Cooler Master didn't have any new product on display at their suite. However, they had several new things coming down the pipeline that they did want to talk about.
The first is their partnership with CoolChip Technologies who produces coolers using what they call Kinetic Cooling. The Kinetic cooler uses solid metal rotating heatsinks to dissipate heat, essentially combining fan and heatsink into one. CoolChip representatives were on hand to demonstrate that their Kinetic cooler prototype is not only quieter, but much more efficient than a traditional heatsink+fan combination of the same physical footprint. It can also be implemented anywhere where a traditional fan is used today.
No actual finished product was shown, but Cooler Master expects to have something by 2H2015.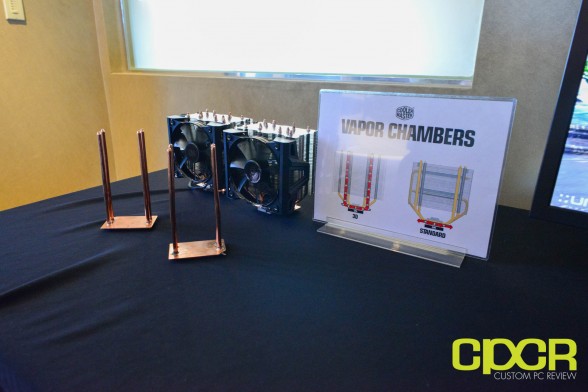 Next to the CoolChip demo bench, Cooler Master also showed off their new 3D Vapor Chamber. Compared to today's vapor chamber designs where the heated vapor stays at the base of the cooler, Cooler Master's new 3D vapor chamber lets the vapor rise all the way to the top of the heatpipe.
Again, no actual product announcements were made, but Cooler Master expects to have something ready by 2H2015. We'll be sure to check on their progress in 6 months. Until then, stay tuned!