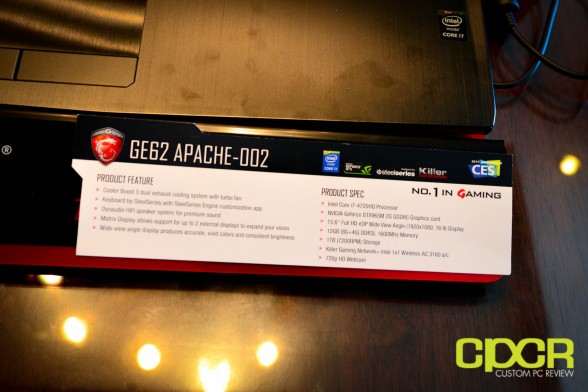 Although Nvidia and AMD had no major GPU announcements here at CES 2015, Nvidia did make a subtle GPU debut with the Nvidia GeForce GTX 965M GPU. Meeting with several notebook vendors, we spotted new gaming laptops such as MSI's new GE62 Apache-002 and Gigbayte's Aorus X5 gaming laptops advertised as using the GeForce GTX 965M. The GeForce GTX 965M has also made an appearance as a configurable option in Sager's custom laptops on their website.
Since this is a relatively new release, no benchmark results or official specifications have officially been made available however we do know that the GeForce GTX 965M is using a Maxwell GPU with a projected performance that is at least on par with the older GeForce GTX 870M GPU. MSI claims that the lower power consumption of the 965M will allow the GE62 to last for 6 hours under standard use and Gigabyte says that the 965M in SLI is 15 percent more powerful than a single GTX 980M.
The GeForce GTX 965M will fill the niche for mid-tier gaming laptops with an average configuration costing around $1300. MSI's GE62 Apache-002 will retail for $1300 with the GTX 965M. Gigabyte plans to update its P34, P35, and P37 laptop lines with the GTX 965M with prices ranging from $1149 to $1499 while the X5 in SLI will be $2299. Sager's GTX 965M configurations, the NP8670 and NP8650, will be $1299 and $1279 respectively.