[section label=1. ROCCAT Ryos]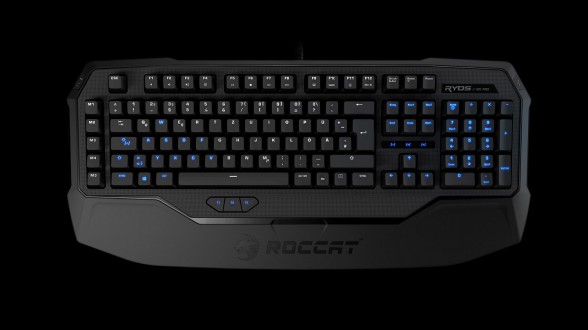 It's only been about a year since ROCCAT's debut in the North American market and it seems like the Hamburg based gaming peripherals manufacturer is doing quite well for themselves. A couple months ago, we reviewed the ROCCAT Isku gaming keyboard and while the keyboard is without a doubt one of the better membrane based gaming keyboards on the market, we've been too spoiled by mechanical keyboards to live without one.
Luckily, ROCCAT has heard our wishes and prayers as they've recently announced the Ryos mechanical gaming keyboard. Armed with your choice between four different Cherry MX keyswitches (black, brown, red, blue), individually lit backlighting, dedicated macro keys, 2MB of onboard storage, and no less than two 32 bit ARM Cortex processors, ROCCAT is definitely about to unveil possibly the coolest mechanical gaming keyboard on the market.
The Ryos is currently planned for a Q1 2013 launch with pricing currently unavailable at this time. For more information about the Ryos, be sure to check out the product page here.
[section label=2. Press Release]
Press Release
ROCCAT™ Debuts 2013 Lineup of PC Gaming Peripherals
ROCCAT's first-ever mechanical keyboard, Ryos, along with a Beta version of Power Grid, and the newly available Kone XTD and Kone Pure all on display at CES – LVH #2065

ROCCAT will be showing its new product developments in gaming peripherals and software at CES in Las Vegas on January 8 – 11, 2013. Some of the ROCCAT highlights at this year's show will include the brand's first-ever mechanical keyboard and the first software project for the company from Hamburg, Germany – the Power-Grid app, which has now passed Beta testing. In addition, several ROCCAT products at CES are newly available to US gamers, including the gaming mice Kone XTD and Kone Pure along with the multicolor gaming
keyboard Isku FX.
ROCCAT founder and CEO, René Korte, on the significance of CES for the company: "We announced ROCCAT's entrance to the American market here exactly 12 months ago. The feedback from gamers and media worldwide has been overwhelmingly positive and we're here again to prove that ROCCAT sets the rules when it comes to gaming peripherals."
ROCCAT™ Ryos – Mechanical Gaming Keyboard Series with unique per-key illumination
With Ryos, ROCCAT has succeeded in defining a new standard for mechanical gaming keyboards. The Ryos is the first gaming keyboard ever that features per-key lighting and up to two 32-bit ARM cortex processors. The keyboard can display key functions, macros and even health or mana bars thanks to this technology. The included SDK makes what's possible limited only by the player's imagination. 2 MB internal Flash storage makes the Ryos ultra responsive. The ROCCAT Ryos Keyboard Series comes with up to four different CHERRY MX key switches (black, brown, red, and blue). The release is planned for the first quarter of 2013. For more information, please view the teaser trailer.
ROCCAT™ Power-Grid – PC control via smartphone passes beta

The ROCCAT Power-Grid turns a smartphone into a fully customizable remote control for the PC. Users can set up different grids to control, for example custom settings for Windows, Skype, Media Player or games. The app provides pre-set grids for several games, e.g. Starcraft 2, Skyrim and League of Legends. But it also lets users set up their own grids that fit their individual needs. And not only does the Power-Grid control the PC – it works in reverse as well. The app can provide the user with additional information on his smartphone touchscreen. For instance, maps or high scores can be displayed. The user can call up the central news feeds from different hardware and gaming sites via the now standard integrated Media-Grid. ROCCAT has also completed the development of an accompanying SDK, which will provide developers with the opportunity to code unique features that benefits their users. One example is the integration of Born Ready Games' long-awaited space shooter, "Strike Suite Zero". At a glance, gamers will be able to see in-game statistics about their accuracy, the number of missiles fired, and much more. This information isn't available anywhere else in the game, and it provides additional advantages to the user: if you increase your accuracy, for example, you'll get more points.

New ROCCAT hardware for the American market

With the gaming mice ROCCAT Kone XTD and Kone Pure and the gaming keyboard
ROCCAT Isku FX, the gaming peripherals manufacturer from Hamburg is launching all of its new products onto the American market. Now US gamers can enjoy the latest ROCCAT hardware, too. ROCCAT will also be presenting these products again for interested visitors at the CES 2013 in LVH #2065.